Greg Carey Ties Game with 22.8 Second Left in 5-4 Shootout Win at Springfield
October 13, 2018
Springfield, Mass. – The Lehigh Valley Phantoms scored twice in the last 2:30 in a dramatic shootout win at Springfield. Trailing 4-2 with time winding down, David Kase's first career professional goal with 2:23 left pulled the Phantoms within striking distance ultimately setting up Greg Carey's tying strike with just 22.8 seconds remaining. Rookie center German Rubtsov scored the winning goal in the fourth round of the shootout and then Anthony Stolarz finished the night with a poke-check to seal the victory in Springfield's home opener in front of a sellout crowd.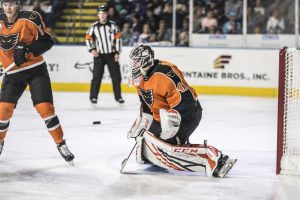 Stolarz is recovering from two different knee surgeries in 2017 and recorded his first win with the Phantoms since March 26, 2017 which was 566 days prior (or 18 months and 17 days). Almost ironically, the last win for Stolarz also featured a two-goal comeback in the third period for the Phantoms.
This comeback win avenges a loss at home to the very same Springfield team the night before as the Phantoms record improves to 2-1-0. Cole Bardreau (1st), T.J. Brennan (1st), David Kase (1st) and Greg Carey (3rd) all scored to pace the offense while Taylor Leier and German Rubtsov tallied in the shootout. Stolarz made 27 saves in the victory as the Phantoms improved to 2-1-0 overall.
Former Phantom and Flyer Harry Zolnierczyk started the scoring with a fortunate bounce teeing up a big one-timer at 6:37 into the game. Ian McCoshen's point-shot hit off the back of the leg of Greg Carey defending and then deflected perfectly for the Harry Z blast.
Lehigh Valley responded at 14:41 on Cole Bardreau's intercept and rush up the left wing for the team's first shorthanded conversion of the season. It was also Bardreau's second shorthanded goal in this building. Bardreau had Fazleev busting up the middle but decided to snipe for the upper left corner from the left circle beating goalie Chris Dreidger on the right shoulder side for a 1-1 tie after one rather penalty-filled opening period.
T.J. Brennan's 149th career goal in the American Hockey League opened the second period on a carry-over power play in the first minute. His blast through traffic was assisted by Phil Varone and Greg Carey and put the Phantoms into the lead at 2-1. Brennan is now 17 away from the all-time AHL defenseman record for career goals held by AHL Hall of Famer and former Philadelphia Phantoms standout John Slaney who had 166.
Jake Horton deflected a Riley Stillman point-shot at 7:09 for a point-blank tip over the left shoulder of Stolarz at 7:09 to again equalize the game at 2-2.
Springfield thought they had taken the lead on a power-play goal at the very end of the second period but Henrik Borgstrom's blast from the right circle as the horn sounded was determined on video-review to have come just as time expired. That fortunate break kept the game even at 2-2 entering the third period where the Phantoms had to kill almost four full minutes of power play right from the start.
Lehigh Valley's penalty kill successfully battled their way through the long disadvantage but shortly thereafter the Thunderbirds pushed two across just 18 seconds apart to take the lead again. Blaine Byron's goal at 6:05 was the tie-breaker and then Paul Thompson rebound put-back from the left of the cage stretched the lead to 4-2.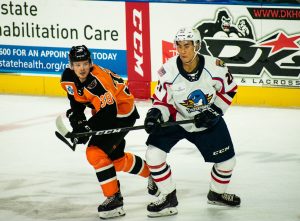 But the Phantoms were still alive and successfully struck for a pair of extra-attacker goals in the closing minutes of the game in the exciting come-from-behind effort. The two teams traded several exciting chances in a wildly entertaining 3-on-3 overtime before Leier and Rubtsov would would score in the shootout while Stolarz turned away three of four Springfield skaters.
Lehigh Valley had lost on Friday against Springfield 7-0 at PPL Center allowing 5 power-play goals. But in the Saturday rematch, the Phantoms penalty kill came through with a perfect 8-for-8 performance. The Phantoms were 1-for-7 on the power play and also notched their first shorthanded goal of the season on Bardreau's unassisted strike in the first period. The Phantoms out shot the Thunderbirds 35-31 including 18-10 in the third period and overtime combined.
The Phantoms are next in action on Friday night hosting the Wilkes-Barre/Scranton Penguins at PPL Center before embarking on a six-game road-swing.
The Phantoms are back at PPL Center on Friday, October 19 against the Wilkes-Barre/Scranton Penguins on "Hat Trick or Treat" Night featuring a Halloween Theme for some spooky-good times as well as a ball-cap giveaway courtesy of Service Electric. Tickets are available at the WFMZ-69 Box Office at PPL Center and online at PPLCenter.com
Lehigh Valley Phantoms 5 (SO) at Springfield Thunderbirds 4 – Status: Final SO
Saturday, October 13, 2018 – MassMutual Center
Lehigh Valley 1 1 2 0 – 5
Springfield 1 1 2 0 – 4
1st Period-1, Springfield, Zolnierczyk 1 (McCoshen, Thompson), 6:37. 2, Lehigh Valley, Bardreau 1 14:41 (SH). Penalties-Bystrom Spr (interference), 7:33; Aube-Kubel Lv (slashing), 10:31; Mangene Spr (interference), 11:22; Aube-Kubel Lv (slashing), 13:07; Lowry Spr (double minor – high-sticking), 15:27; Carey Lv (interference), 15:39; Varone Lv (tripping), 16:07; Thompson Spr (slashing), 19:32.
2nd Period-3, Lehigh Valley, Brennan 1 (Varone, Carey), 0:54 (PP). 4, Springfield, Horton 1 (Stillman, Greco), 7:09. Penalties-Bardreau Lv (boarding), 2:25; Myers Lv (interference), 8:35; McCoshen Spr (interference), 15:42; Myers Lv (hooking, interference), 19:53.
3rd Period-5, Springfield, Byron 1 (Melchiori), 6:05. 6, Springfield, Thompson 3 (Schemitsch, Zolnierczyk), 6:23. 7, Lehigh Valley, Kase 1 (Conner, McDonald), 17:37. 8, Lehigh Valley, Carey 3 (Samuelsson, Brennan), 19:37. Penalties-Lowry Spr (hooking), 7:58; Aube-Kubel Lv (high-sticking), 9:02.
OT Period- No Scoring.Penalties-No Penalties
Shootout – Lehigh Valley 2 (Conner NG, Leier G, Kase NG, Rubtsov G), Springfield 1 (Byron NG, Borgstrom G, Ang NG, Bystrom NG).
Shots on Goal-Lehigh Valley 12-4-14-4-1-35. Springfield 13-8-9-1-0-31.
Power Play Opportunities-Lehigh Valley 1 / 7; Springfield 0 / 8.
Goalies-Lehigh Valley, Stolarz 1-0-0 (31 shots-27 saves). Springfield, Driedger 0-0-1 (34 shots-30 saves).
A-6,793
Referees-Brandon Blandina (39), Guillaume Labonte (35).
Linesmen-Frank Murphy (29), Glen Cooke (6).
Ticket Information
Tickets for each and every Phantoms home game throughout the 2018-19 season are available online at pplcenter.com, by calling 610-347-TIXX [8499] or in-person at the QNB Box Office [7th & Hamilton].
Season tickets offering a wide range of benefits as well as 20-Game and 12-Game plans and 10-game Flex-Voucher Packs are available by calling the Phantoms at 610-224-GOAL (4625).