Brennan Scores OT Winner After Lehigh Valley Had Trailed 4-0
March 21, 2017
St. John's NL – Down but not out. T.J. Brennan capped a crazy and historic comeback from a four-goal deficit at the St. John's IceCaps with his tying and overtime winning goals in a near-unbelievable 5-4 triumph. The Lehigh Valley Phantoms trailed 4-0 late in the second period but scored five unanswered goals in the last 22:00 of play in the incredible performance.
Cole Bardreau, Max Lamarche and Nicolas Aube-Kubel also provided lamplighters in the biggest Phantoms comeback in franchise history. The only other time the team rebounded from a four-goal deficit was on March 31, 1999 when the Philadelphia Phantoms won 8-7 in overtime at the Worcester IceCats after previously trailing 5-1.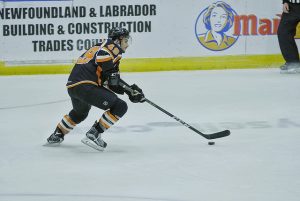 The veteran defenseman and two-time Eddie Shore Award winning Brennan began his journey to the professional hockey ranks in the very same building as a teenager over a decade earlier when he skated for the St. John's Fog Devils of the Quebec Major Junior League. It was a fitting way for the popular four-time All-Star to open his final series of games in Newfoundland where the St. John's IceCaps are winding down in their final season in the American Hockey League.
The Phantoms surrendered the first four goals of the game and just past the midway point found themselves facing a near-insurmountable 4-0 hole. Mark MacMillan (6th) sniped five-hole on Anthony Stolarz and just 21 seconds later Jeremy Gregoire's (8th) pass across the crease deflected off a Phantoms skate and it for a 2-0 lead less than eight minutes into the game.
Jacob de la Rose (10th) raced away for a shorthanded breakaway strike to the right post early in the second period. And just past the midway point, Max Friberg would find an open Daniel Audette (8th) in the slot who converted over the right shoulder of Stolarz for a 4-0 lead at 9:25 remaining in the second period. Audette's goal came just moments after Brennan cranked a drive off the post that could have cut the deficit to 3-1.
The Phantoms comeback machine started up in the final minutes of the second period. Cole Bardreau's (9th) strike from the left circle with 59.9 seconds showing on the clock provided the Phantoms with some much needed momentum heading into the locker room despite still trailing 4-1.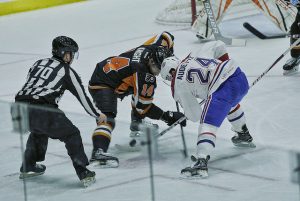 Max Lamarche (4th) scored on a deflected puck in the slot that appeared to tip over the shoulder of Lindgren and with 12:15 remaining the Phantoms were within two. Lamarche's second goal in less than a week was assisted by Andy Miele who won a quick faceoff back to Travis Sanheim who slid the puck point-to-point for the lamplighter.
With 8:06 remaining in the third the Phantoms would close the gap to just a single goal when Nicolas Aube-Kubel's 9th of the season would deflect through Lindgren after Samuel Morin carried the puck quickly towards his left to open a shooting lane along the board. Mark Alt also assisted on the tally.
Lehigh Valley was close to pulling goalie Anthony Stolarz for an extra attacker when Brennan made the decision moot. His drive from the right point through a key McDonald screen eluded Charlie Lindgren for the tying tally with just 1:44 to go. The goal was initially credited to Colin McDonald on a tip but the scoring decision was officially changed shortly after the game.
The Phantoms carried a power play into the overtime period and T.J. Brennan's 4-on-3 strike from the left circle went bar-down behind the right shoulder of Lindgren to conclude the epic comeback.
The Phantoms won their second straight and have points in their last 11 games at 7-2-2. Lehigh Valley's overall record stands at 41-19-4 with just 12 games remaining in the regular season. The Phantoms remain three points back of the first-place Wilkes-Barre/Scranton Penguins who won their Tuesday night clash against Hartford. Lehigh Valley and Wilkes-Barre/Scranton still have four head-to-head showdowns remaining on the regular-season docket.
The last time the Phantoms had overcome any four-goal deficit was on January 23, 2013 at the Connecticut Whale (now Hartford Wolf Pack) when the Adirondack Phantoms were down 5-1, rallied to tie at 5-5, and then lost in overtime at 6-5.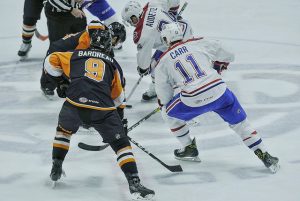 The Phantoms out shot the IceCaps 38-33. Lehigh Valley was 1-for-4 on the power play while the IceCaps were 0-for-3. The Phantoms improved to 2-1-0 against St. John's this season. The two teams will meet for the season-series finale on Wednesday night at 6:00 p.m. Eastern (which is 7:30 p.m. in the Newfoundland Time-Zone).
Wednesday's game can be heard on 1470-WSAN, the Phantoms 365 app, and Phantoms radio 24/7 available on TuneIn. Away game broadcasts are also shown on the screens at Chickie's and Pete's at PPL Center and Wednesday night features a Phan Club viewing party with all fans invited to attend for free where they can cheer on the Phantoms together.
The Phantoms return to PPL Center on Saturday, March 25 against the Wilkes-Barre/Scranton Penguins on meLVin Garden Gnome Night for the first 2,500 kids age 14 and under presented by Capital Blue Cross and Service Electric. Then on Sunday, March 26 at 5:05 p.m. the Phantoms host the Bridgeport Sound Tigers on Silver Phantoms Night featuring special discount packages exclusively for fans 60 and older including a game ticket, food voucher, Phantoms silver blanket, Phantoms grocery tote-bag and more.
Tickets for upcoming games can be purchased HERE or call the Phantoms at 610-224-GOAL (4625) for further information.
Lehigh Valley Phantoms 5 (OT) at St. John's IceCaps 4 – Status: Final OT
Tuesday, March 21, 2017 – Mile One Centre
Lehigh Valley 0 1 3 1 – 5
St. John's 2 2 0 0 – 4
1st Period-1, St. John's, MacMillan 6 (Farnham, Friberg), 7:06. 2, St. John's, Gregoire 8 (Johnston, MacMillan), 7:27. Penalties-served by Martel Lv (bench minor – too many men), 4:02.
2nd Period-3, St. John's, de la Rose 10 (Hanley), 2:40 (SH). 4, St. John's, Audette 8 (Friberg, Carr), 10:35. 5, Lehigh Valley, Bardreau 9 (Sanheim), 19:00. Penalties-Johnston Stj (tripping), 2:30; Sanheim Lv (cross-checking), 3:00; Farnham Stj (unsportsmanlike conduct), 3:00.
3rd Period-6, Lehigh Valley, Lamarche 4 (Sanheim, Miele), 7:45. 7, Lehigh Valley, Aube-Kubel 9 (Morin, Alt), 11:54. 8, Lehigh Valley, Brennan 19 (Lamarche, Leier), 18:16. Penalties-Lowe Stj (tripping), 3:53; Leier Lv (holding), 4:43; Veilleux Stj (slashing), 9:02; Goulbourne Lv (tripping), 12:10; Terry Stj (interference), 19:06.
OT Period-9, Lehigh Valley, Brennan 20 (Miele, Carey), 0:34 (PP). Penalties-No Penalties
Shots on Goal-Lehigh Valley 8-14-15-1-38. St. John's 10-12-11-0-33.
Power Play Opportunities-Lehigh Valley 1 / 4; St. John's 0 / 3.
Goalies-Lehigh Valley, Stolarz 16-7-0 (33 shots-29 saves). St. John's, Lindgren 21-16-6 (38 shots-33 saves).
A-3,394
Referees-Pierre Lambert (47), Mike Langin (90).
Linesmen-Darryl Butt (70), Joe Maynard (24).
For the latest Phantoms news, visit www.phantomshockey.com or follow the team on Facebook (www.facebook.com/lehighvalleyphantoms), Twitter (@lvphantoms), Instagram (@lehighvalleyphantoms) and Snapchat (lvphantoms).
The Phantoms are coming off their 20th Anniversary Season and are in the midst of their third campaign in the Lehigh Valley playing at the state-of-the-art PPL Center. Established in 1996, the Phantoms spent their first 13 seasons at the Spectrum in Philadelphia before re-locating to Glens Falls, New York in 2009 where the team spent the next five seasons as the Adirondack Phantoms. A new era of Phantoms hockey began in the fall of 2014 when the Lehigh Valley Phantoms began play at the state-of-the-art PPL Center. Through 20 incredibly successful campaigns, the Phantoms have captured two Calder Cup Championships (1998, 2005), two Conference Championships (1998, 2005), two Regular Season Titles (1996-97, 1997-98) and four Division Championships (1996-97, 1997-98, 1998-99, 2003-04).