Portland Pirates Take Exciting Overtime Contest 4-3
Portland, ME – The Lehigh Valley Phantoms secured another valuable standings point and stretched their point-streak to four straight in a 4-3 overtime loss at the Portland Pirates on Saturday night. Lehigh Valley is 2-0-2 in their last four games with all of the contests in the streak having taken place away from PPL Center. The Phantoms narrowly missed out on a chance to bump their season record over the .500 mark when Kyle Rau drove home his second of the game for the decision in the 3-on-3 extra period.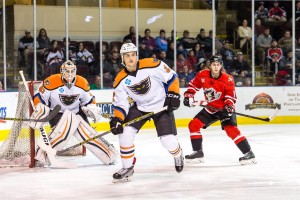 The game was the opener of a weekend series between the two Atlantic Division rivals with the rematch upcoming on Sunday afternoon at 4:00 p.m. at Cross Insurance Arena. That is also the final game of the Phantoms five-game road-trip which equals their longest of the 2015-16 campaign.
Lehigh Valley's record moved to 16-16-3 leaving them in close-range of a playoff spot in the hotly contested Atlantic Division race. The Phantoms now have points in 15 of their last 23 games with a 12-8-3 mark in that run which includes the current streak of points in the last four consecutive games. The "road warriors" also have points in 11 out of 18 away games in the 2015-16 season sporting an impressive 9-7-2 mark away from the home-advantage confines of PPL Center.
Petr Straka (17), Mark Alt (3) and Aaron Palushaj (8) all recorded markers for the Phantoms in the exciting and fast-paced affair. Straka's goal just 15 seconds into the game equaled his own Lehigh Valley record for the fastest goal to start a game. He strengthened his hold on the league-leadership in goals with his 17th which is two more than three other players including Portland's top star for the night, Kyle Rau, who now stands at 15.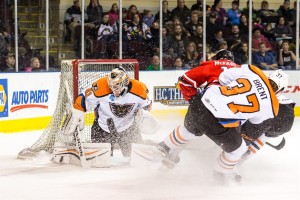 Anthony Stolarz turned aside 28 Portland drives in taking the overtime loss while veteran netminder Mike McKenna made 29 saves in the victory.
The evenly played affair to commence the 2016 portion of the schedule featured a fast-paced, high-transition style with both teams willing to roll the dice in order to generate offensive chances even at the risk of surrendering opportunities coming back at them.
The Phantoms got off to a roaring start practically right off the center face-off. Samuel Morin's lead pass connected with Tim Brent racing up the left wing who quickly found a hustling Straka up the middle. Straka's rapid-strike staked the visitors to the early 1-0 advantage while the fans were barely getting settled back in their seats after the National Anthem.
Portland would score two times later in the period to take the lead beginning with Rob Schremp (13) notching a tying tally at 10:46 on the finisher of a quick flurry of shots.
Taylor Leier thought he had scored with about four minutes left in the period but the goal-mouth scramble resulting in the nudged puck finding the back of the net was immediately waved off by the referee who determined goaltender interference on the play.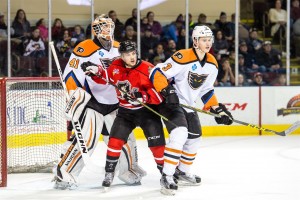 Shortly after that misfortune it would be Garrett Wilson driving down low to get to puck just before Stolarz could secure matters. Wilson's fourth of the season pushed the PIrates to a 2-1 margin at the first intermission.
Kyle Rau took advantage of a Phantoms turnover late in the second period and converted on a laser from the left dot over the right shoulder of Stolarz and off the inside of the left iron for his first of the night.
But the Phantoms quickly responded from the 3-1 deficit. Less than two minutes after Rau's goal, Lehigh Valley would score back-to-back lamplighters just 47 seconds apart. Mark Alt's goal at 16:36 appeared to hit off something to change it's direction and into a top-shelf goal. It might not have even been Alt's intention to put the puck on net but when it snuck through McKenna it was good for Alt's third of the season with assists credited to hard-working fourth-liners Cole Bardreau and Tyrell Goulbourne.
Shortly thereafter it would be Aaron Palushaj suddenly springing free for a breakaway and burying his backhander on the right post past the blocker of the lefty-style goaltender McKenna. Palushaj's eighth of the season at 17:23 of the second period and pulled the Phantoms back to even at 3-3 on a goal that was assisted by Taylor Leier and Andrew MacDonald.
After a scoreless, but still exciting, third period it was on to another 3-on-3 overtime with Rau burying his second of the night on a close-range drive that Stolarz almost was able to knock away.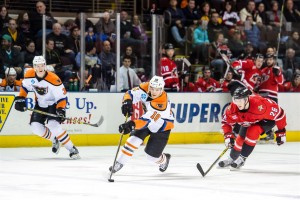 The Phantoms are 4-3 in games decided after regulation this season including 3-1 in shootouts and 1-2 in overtimes but they have gone 0-2 in such affairs on this five-game road-trip also including a shootout loss at the Binghamton Senators on Tuesday. Basically, that's how close the Phantoms have been to a 100% perfect 4-0 road-trip instead of the nearly perfect four-game point streak and 2-0-2 mark in the past week of road games.
The game was the first for Scott Allen since being officially announced as Portland's new head coach on Friday following Tom Rowe's departure from the Portland bench to assume Associate General Manager duties with the Florida Panthers. Allen had technically won in head coaching debut on Thursday night but the announcement had not been made public at that time.
The pair of Massachusetts natives were coaching colleagues with the New York Islanders when Scott Gordon as head coach specifically sought after Scott Allen and brought him along as Gordon's right-hand man.
Straka's goal 15 seconds into the game equaled his own record with Lehigh Valley but did not break the Phantoms' franchise record. Tye McGinn took just nine seconds to score at the beginning of a game on March 24, 2012 in Glens Falls, New York for the Adirondack Phantoms against the Portland Pirates.
The Phantoms conclude their five-game road-swing on Sunday afternoon at Portland at 4:00 p.m. Broadcast coverage can be heard on 790-AM and 790WAEB.com and on the iHeartRadio app beginning at 3:25 with the Air Products Countdown to Faceoff.
The Phantoms are then back at PPL Center on Friday, January 8 when they welcome the first-place Wilkes-Barre/Scranton Penguins back to downtown Allentown for a 7:05 p.m. showdown. Lehigh Valley will also host the Binghamton Senators on Sunday, January 10th at 5:05 p.m. on Star Wars Night featuring several characters in costume. Tickets for Phantoms home games are currently available by logging on to pplcenter.com, by calling 610-347-TIXX [8499] or by visiting the Mealey's Furniture Box Office at PPL Center [701 Hamilton Street].
Lehigh Valley Phantoms 3 at Portland Pirates 4 (OT) – Status: Final OT
Saturday, January 2, 2016 – Cross Insurance Arena
Lehigh Valley 1 2 0 0 – 3
Portland 2 1 0 1 – 4
1st Period-1, Lehigh Valley, Straka 17 (Brent, Morin), 0:15. 2, Portland, Schremp 13 (Racine, McFarland), 10:46. 3, Portland, Wilson 4 (Simpson, Olson), 17:02. Penalties-Wilson Por (hooking), 12:46.
2nd Period-4, Portland, Rau 14 (Schremp), 14:53. 5, Lehigh Valley, Alt 3 (Bardreau, Goulbourne), 16:36. 6, Lehigh Valley, Palushaj 8 (Leier, MacDonald), 17:23. Penalties-Gagner Lv (high-sticking), 4:41.
3rd Period- No Scoring.Penalties-No Penalties
OT Period-7, Portland, Rau 15 (Grimaldi, Gaunce), 1:46. Penalties-No Penalties
Shots on Goal-Lehigh Valley 12-12-7-1-32. Portland 12-10-9-1-32.
Power Play Opportunities-Lehigh Valley 0 / 1; Portland 0 / 1.
Goalies-Lehigh Valley, Stolarz 12-7-1 (32 shots-28 saves). Portland, McKenna 14-7-0 (32 shots-29 saves).
A-3,252
Referees-Tom Chmielewski (43).
Linesmen-Francois Dussureault (60), Jeremy Lovett (78).
Upcoming Home Games:
Friday, January 8, 2016, WB/Scranton Penguins vs. Lehigh Valley Phantoms, 7:05 p.m. | TIX
Sunday, January 10, 2016, Binghamton Senators vs. Lehigh Valley Phantoms, 5:05 p.m. | TIX
(Star Wars Night.)
Friday, January 15, 2016, Hershey Bears vs. Lehigh Valley Phantoms, 7:05 p.m. | TIX
(T-Shirt Giveaway. Free to First 8,500 Fans in Attendance.)
Saturday, January 16, 2016, Hartford Wolf Pack vs. Lehigh Valley Phantoms, 7:05 p.m. | TIX
(Girl Scouts Night.)
In the midst of their 20th season of operation, the Phantoms are coming off their Inaugural Season as the Lehigh Valley Phantoms playing at the brand-new PPL Center. Established in 1996, the Phantoms spent their first 13 seasons at the Spectrum in Philadelphia before re-locating to Glens Falls, New York in 2009 where the team spent the next five seasons as the Adirondack Phantoms. A new era of Phantoms hockey began in the fall of 2014 when the Lehigh Valley Phantoms began play at the state-of-the-art PPL Center. Through 19 incredibly successful campaigns, the Phantoms have captured two Calder Cup Championships (1998, 2005), two Conference Championships (1998, 2005), two Regular Season Titles (1996-97, 1997-98) and four Division Championships (1996-97, 1997-98, 1998-99, 2003-04).