Exhausted Phantoms Cap Successful 3-0-2 Road-Trip
Portland, ME – Jason LaBarbera stepped up his game when his teammates needed him the most. The 35-year-old veteran goaltender turned aside 17 shots in the third period among his 37 saves overall in leading the Phantoms to a 2-1 win at the high-flying Portland Pirates on Sunday evening to cap a highly successful five-game road-trip.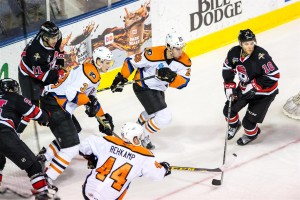 The exhausted Phantoms contingent finally get some much-deserved rest after playing six games in the last nine days in five different cities. Lehigh Valley went 3-0-2 while securing eight out of a possible 10 standings points in the road-trip that began last Sunday in Wilkes-Barre and included stops in Binghamton and Hershey before the weekend series at Portland. The Phantoms also pushed past the .500 mark for the first time this season after several close calls. Lehigh Valley now boasts a record of 18-17-3 overall as they continue to close the gap on the top four teams in the Atlantic Division in an increasingly tightening playoff chase.
Cole Bardreau (2nd) and Danick Martel (13th) provided the offense for Lehigh Valley to stake the visitors to a 2-0 lead. Former Phantom Shane Harper scored his fifth of the season in the opening two minutes of the third period to pull Portland into contention and from there it was a long and arduous grind to the finish line for a Phantoms team that was out shot by the Pirates 18-4 in the final frame. But LaBarbera rose to the occasion and made several big stops including a couple of difficult denials on Harper's bids to tie.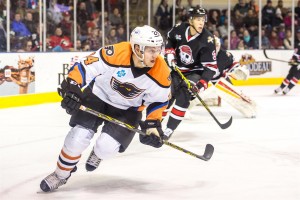 All of this while the Phantoms were without two key veteran players; Andrew MacDonald and Aaron Palushaj both sat this one out with ailments that are not believed to be serious. But a hectic slate of six games in nine days will take a toll on the best of them and in the final game of this crazy stretch it was predictably necessary for a couple of the guys to receive a respite.
LaBarbera's teammates made several key blocks as well with Davis Drewiske and Tyrell Goulbourne and Petr Straka among those who courageously got in the shooting lanes to impede big blasts. Straka blocked a shot off his right leg in the closing minute and had to be helped off the ice.
Some of those blocks were on key penalty kill situations as the Phantoms were required to hold one of the top scoring offenses in the AHL to 0-for-5 on the power play in order to maintain the victory. Lehigh Valley has now killed 28 consecutive power plays dating back to December 18. The Phantoms have not surrendered an away power-play conversion since November 27 in a streak that has now stretched to an astonishing 38 straight.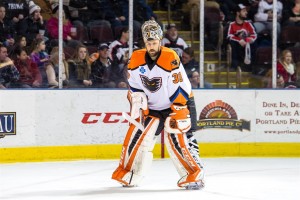 The fourth liners were some of the hardest workers and had some of the best individual performances for Lehigh Valley while being implemented in some key situations by head coach Scott Gordon. They also were the first on the scoresheet. Tyrell Goulbourne connected with Cole Bardreau in the right circle who rapidly wheeled around and powered a slapper through Pirates netminder Sam Brittain at 16:11 into the first period. The goal was Bardreau's second of the season while rookie Joe Rehkamp recorded his first-career AHL point with a secondary assist. Goulbourne notched a helper in both of the weekend battles in Portland.
The Phantoms would use their speed to double their lead in the second period. Samuel Morin's long drive from deep in the Phantoms zone was raced down by Nick Cousins who beat the Portland defense to wash out any icing call. Cousins quickly dropped the puck from the end-boards perfectly onto the stick for Danick Martel crashing the slot who buried his close-range blast for his 13th goal of the season and third of the week. Nick Cousins tallied his team-leading 21st assist of the year and also is the Phantoms' front-runner in points with 29. Morin accumulated his sixth point in his last eight games and the rapidly improving rookie defenseman also notched his eighth assist and ninth point in his last 14 games since December 4.
Portland broke LaBarbera's shutout bid as part of their powerful surge to open the third period. Rocco Grimaldi and Shane Harper connected on a nifty give-and-go on a 3-on-3 weave into the zone with Harper scoring from the top of the right circle at 1:59 for a 2-1 score. But the Phantoms were able to hang on from there with a hard-fought one-goal victory.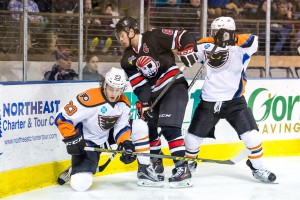 LaBarbera went 3-0 on the road-trip with two goals allowed on 101 total shots for a save percentage of .980 and a goals-against average of 0.67.
Lehigh Valley was 0-for-3 on the power play while the Pirates finished at 0-for-5. The Pirates out shot the Phantoms 38-24 including 18-4 with their hard press in the third period. The weekend series represented the Phantoms lone visit to Maine this year. The Pirates will travel to Allentown for a February 12 rematch.
The Phantoms return to PPL Center for their first home game of 2016 on Friday, January 8 when they welcome the first-place Wilkes-Barre/Scranton Penguins back to downtown Allentown for a 7:05 p.m. showdown. Lehigh Valley will also host the Binghamton Senators on Sunday, January 10th at 5:05 p.m. on Star Wars Night featuring several characters in costume. Tickets for Phantoms home games are currently available by logging on to pplcenter.com, by calling 610-347-TIXX [8499] or by visiting the Mealey's Furniture Box Office at PPL Center [701 Hamilton Street].
Lehigh Valley Phantoms 2 at Portland Pirates 1 – Status: Final
Sunday, January 3, 2016 – Cross Insurance Arena
Lehigh Valley 1 1 0 – 2
Portland 0 0 1 – 1
1st Period-1, Lehigh Valley, Bardreau 2 (Goulbourne, Rehkamp), 16:11. Penalties-McDonald Lv (hooking), 4:02; Grimaldi Por (tripping), 5:34.
2nd Period-2, Lehigh Valley, Martel 13 (Cousins, Morin), 8:27. Penalties-Bardreau Lv (roughing), 12:32; Matheson Por (unsportsmanlike conduct, roughing), 12:32; Lashoff Lv (roughing, unsportsmanlike conduct), 16:16; Flick Por (roughing), 16:16; Morin Lv (tripping), 17:58; Schremp Por (interference), 18:55.
3rd Period-3, Portland, Harper 5 (Grimaldi, Olsen), 1:59. Penalties-Pettersson Lv (hooking), 6:32; Leier Lv (hooking), 11:46.
Shots on Goal-Lehigh Valley 9-11-4-24. Portland 10-10-18-38.
Power Play Opportunities-Lehigh Valley 0 / 3; Portland 0 / 5.
Goalies-Lehigh Valley, LaBarbera 4-7-0 (38 shots-37 saves). Portland, Brittain 4-6-0 (24 shots-22 saves).
A-3,100
Referees-Ryan Hersey (8), Tim Mayer (19).
Linesmen-Francois Dussureault (60), Alex Stagnone (7).
Upcoming Home Games:
Friday, January 8, 2016, WB/Scranton Penguins vs. Lehigh Valley Phantoms, 7:05 p.m. | TIX
Sunday, January 10, 2016, Binghamton Senators vs. Lehigh Valley Phantoms, 5:05 p.m. | TIX
(Star Wars Night.)
Friday, January 15, 2016, Hershey Bears vs. Lehigh Valley Phantoms, 7:05 p.m. | TIX
(T-Shirt Giveaway. Free to First 8,500 Fans in Attendance.)
Saturday, January 16, 2016, Hartford Wolf Pack vs. Lehigh Valley Phantoms, 7:05 p.m. | TIX
(Girl Scouts Night.)
In the midst of their 20th season of operation, the Phantoms are coming off their Inaugural Season as the Lehigh Valley Phantoms playing at the brand-new PPL Center. Established in 1996, the Phantoms spent their first 13 seasons at the Spectrum in Philadelphia before re-locating to Glens Falls, New York in 2009 where the team spent the next five seasons as the Adirondack Phantoms. A new era of Phantoms hockey began in the fall of 2014 when the Lehigh Valley Phantoms began play at the state-of-the-art PPL Center. Through 19 incredibly successful campaigns, the Phantoms have captured two Calder Cup Championships (1998, 2005), two Conference Championships (1998, 2005), two Regular Season Titles (1996-97, 1997-98) and four Division Championships (1996-97, 1997-98, 1998-99, 2003-04).