Vecchione Nets First Pro Goal in Victory
October 14, 2017
Lehigh Valley, PA – Mike Vecchione scored his first professional goal Saturday evening and Alex Lyon turned in an impressive 27-save performance as the Lehigh Valley Phantoms dropped the rival Wilkes-Barre/Scranton Penguins 3-2 in front of 7,606 fans inside PPL Center. With the win, the Phantoms improved to 2-1-0-1 on the young season and are now a perfect 2-0 in games played in downtown Allentown this year.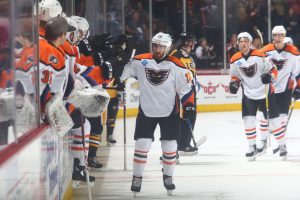 Matt Read (1st) and Greg Carey (2nd) also found the back of the net for Lehigh Valley as the Phantoms converted in each period Saturday evening.
Saturday's game featured a dozen combined power plays and Lehigh Valley exerted a herculean effort on special teams in securing the victory. The Phantoms' power play connected in the opening period to kick off the scoring but it was the team's penalty kill that turned in a performance to remember on Saturday. Not only did Lehigh Valley effectively thwart 1:15 of two-man advantage time for the Penguins in a scoreless tie midway through the opening period, but the Phantoms also didn't allow Wilkes-Barre/Scranton to score even once during a five-minute major penalty just past the midway point of regulation. All told, Lehigh Valley's penalty kill went 5-for-6 on the evening.
A standout at Union College, Vecchione is in the midst of his first full professional season and is coming off an incredibly impressive college career during which he compiled 71 goals, 105 assists and 176 total points across 149 games with the Dutchmen. He was named ECAC Hockey Player of the Year last season and as a result of his incredible campaign, Vecchione was inked to an entry-level contract by the Philadelphia Flyers last March.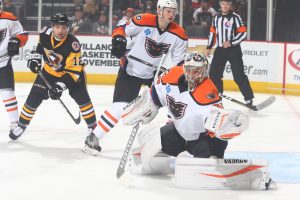 With the win on Saturday, Lyon improved to 2-1-1 on the year and has now allowed two goals against or fewer in three of his four starts this season. Meanwhile, Wilkes-Barre/Scranton's Tristan Jarry suffered the setback in goal despite a solid 32 saves on 35 Phantoms' shots.
With Saturday's victory, Lehigh Valley earned a split in its weekend home-and-home series with the Penguins after a 5-0 decision at Mohegan Sun Arena in Wilkes-Barre/Scranton on Friday. The in-state rivals will meet another 10 times during the course of the 2017-18 regular season with the next showdown slated for Friday, November 3 at PPL Center.
Saturday's contest also marked an impressive milestone for veteran winger Chris Conner who skated in his 725th career professional game. A vet now of 545 career AHL games coupled with 180 NHL outings, he's amassed 186 goals, 306 assists and 492 total points to this point in his illustrious 12-year career.
The Phantoms opened the scoring late in the first period when, while on the power play, Conner slipped a perfect pass from behind the net to the top of the goal crease where Read promptly punched home his first goal of the season. Conner earned the only assist on the man-advantage marker netted 16:30 into the opening frame.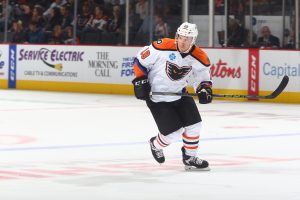 Lehigh Valley then doubled its advantage just prior to the midway point of the contest when a cross-ice outlet pass from Danick Martel connected with Vecchione on the right wing who darted in before snapping home his first goal of the season. Martel garnered the only assist on the even-strength strike converted 9:18 into the second period.
The Phantoms swelled their lead to a 3-0 advantage early in the third period when a side-angle shot by Phil Varone produced a rebound in the slot that was promptly punched in by Carey for his second goal of the season. Mark Alt collected the secondary assist on the five-on-five tally netted 1:40 into the finale frame.
Wilkes-Barre/Scranton sliced into Lehigh Valley's advantage with third period goals from Daniel Sprong (3rd) and Garrett Wilson (1st) but the Phantoms' defense held strong in preserving Lehigh Valley's second win of the season.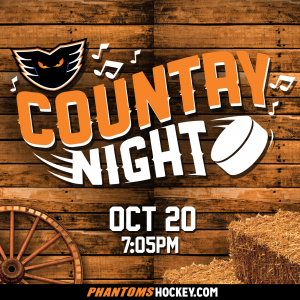 The Phantoms cap this week's action on Sunday when the team visits the Giant Center in Hershey for the first time this season for a 5:00 p.m. road clash with the rival Bears. Sunday's collision will mark the second of 12 total meetings this season between Lehigh Valley and Hershey after the Phantoms downed the Bears 7-2 at PPL Center last Saturday.
The Phantoms are then back in action in downtown Allentown on Friday, October 20 as they welcome the Bridgeport Sound Tigers, AHL affiliate of the New York Islanders, to PPL Center for the first time this year. Friday's game is Country Night with a special performance by Porter & Sayles. Only a limited number of tickets remain for Friday's game and can be purchased online by clicking HERE.
Wilkes-Barre/Scranton Penguins 2 at Lehigh Valley Phantoms 3 – Status: Final
Saturday, October 14, 2017 – PPL Center
W-B/Scranton 0 0 2 – 2
Lehigh Valley 1 1 1 – 3
1st Period-1, Lehigh Valley, Read 1 (Conner), 16:30 (PP). Penalties-Czuczman Wbs (cross-checking), 4:05; Burton Wbs (slashing), 9:09; Varone Lv (goaltender interference), 9:09; Myers Lv (interference), 11:57; Morin Lv (elbowing), 12:42; Kostopoulos Wbs (slashing), 15:09; Pedan Wbs (hooking), 16:30.
2nd Period-2, Lehigh Valley, Vecchione 1 (Martel), 9:18. Penalties-Sestito Wbs (fighting), 11:12; Brennan Lv (major – cross-checking, fighting, game misconduct – cross-checking), 11:12; Wilson Wbs (tripping), 18:22.
3rd Period-3, Lehigh Valley, Carey 2 (Varone, Alt), 1:40. 4, W-B/Scranton, Sprong 3 (Bengtsson, Thomas), 5:05 (PP). 5, W-B/Scranton, Wilson 1 (Simon, Czuczman), 16:53. Penalties-Aston-Reese Wbs (high-sticking), 1:54; Conner Lv (slashing), 3:16; Goulbourne Lv (slashing), 5:00; Zink Wbs (closing hand on puck), 9:37; Aube-Kubel Lv (slashing), 14:43.
Shots on Goal-W-B/Scranton 9-12-8-29. Lehigh Valley 15-5-15-35.
Power Play Opportunities-W-B/Scranton 1 / 6; Lehigh Valley 1 / 6.
Goalies-W-B/Scranton, Jarry 0-2-0 (35 shots-32 saves). Lehigh Valley, Lyon 2-1-1 (29 shots-27 saves).
A-7,606
Referees-Reid Anderson (49).
Linesmen-Luke Murray (92), Jason Mandroc (17).
Reserve your season tickets and group outings for the 2017-2018 season of Phantoms hockey. For more information on how to reserve your seat at PPL Center to the hottest ticket in town, call the Phantoms front office today at 610-224-GOAL [4625]!