Conner Shootout Conversion Caps 5th Straight Triumph in Chocolatetown
October 15, 2017
Hershey, PA – The Lehigh Valley Phantoms have certainly found Hershey to be the Sweetest Place on Earth as far as their own success has been concerned. Chris Conner's shootout goal in the third round clinched an exciting 4-3 victory on the road at Giant Center where Lehigh Valley has stunned the local faithful to the tune of five consecutive decisions.
Philippe Myers scored his first career professional goal and Danick Martel sniped his league-leading fifth of the year as part of an exciting third-period comeback for the visiting Phantoms. Nicolas Aube-Kubel also scored his second goal of the season and Alex Lyon turned in a 34-save performance while also denying the Bears in all three rounds of the shootout.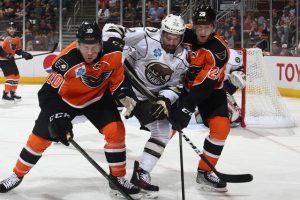 The Phantoms entered the third period trailing 1-0 but goals by Myers and Aube-Kubel just 49 seconds apart turned the tables on Hershey and put the Phantoms in front. Lehigh Valley led the American Hockey League last year with nine come-from-behind victories when trailing after 40 minutes.
Normally considered to be one of the best home-ice advantages in the American Hockey League, the Phantoms have consistently found a way to win at the home of the Herhsey Bears in a streak that includes two playoff games from last April and two more regular-season wins at the end of the 2016-17 regular season.
The Phantoms improved to 3-1-1 on the season and won two straight to conclude their weekend. Two of the Phantoms' victories have come against the Chocolate and White. The Bears remained winless at 0-2-1. Head Coach Scott Gordon is enjoying his team's successful weekend and two-game win streak against key Pennsylvania rivals and fellow Atlantic Division heavyweights.
"Great to see us come out in the 3rd period and score 3 goals," Gordon said. "It's a big character win for us to be able to finish up (the weekend). Especially when you play a game that wasn't right, and I thought our guys handled last night and tonight the way they should and as a result we had a lot of offensive zone time. They brought their A-game mentally tonight."
Lehigh Valley had multiple opportunities to open the scoring in the first period with a quartet of power plays afforded them by the penalty-prolific Hershey Bears but the Phantoms chances were denied repeatedly by netminder Parker Milner while the penalty killers came up with some timely blocks to keep the game scoreless to the first break.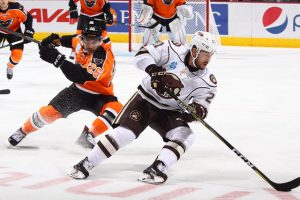 The Phantoms power play attack was without one of their key cogs with the absence of T.J. Brennan who missed the contest due to an injury.
Hershey took momentum out of the opening-period survival and struck in the second period on the power play on a slap-shot from the left circle by Chris Bourque.
Lehigh Valley was again on the verge of breaking through and had several tremendous chances including a couple of drives by Corban Knight and Mark Friedman that hit the post. Aube-Kubel was sprung free on a quick breakaway by Mike Vecchione but the backhander was denied on the right pad of Milner to preserve the 1-0 advantage.
The Phantoms surged back with three quick lamplighters in the third. Myers was left open in the slot for his powerful blast at 4:50 into the final frame when Greg Carey found him. Myers shot was mostly stopped by Milner but still had enough on it to dribble through five-hole and roll slowly across the line for the equalizer.
"Gregor (Carey) made a great pass and I was just trying to get it on net," Myers said. "We had a good screen going on there and I'm just happy to be able to contribute to the win. Obviously I was really happy to see it go in, but you got to move on after that and focus on the game, but obviously I was really happy."
Gordon was also happy to see his talented, young blueliner receive the statistical reward for his efforts.
"This was his best game of the weekend," Gordon said. "I thought he struggled Friday night and we talked to him the next day and showed him some clips and right away he adapted to the adjustments we asked him to make. He's going to be a good player."
Less than a minute later, Danick Martel from close to the Phantoms bench found an open Mikhail Vorobyev who connected with Aube-Kubel on the left of the cage. Milner tried stacking the pads as he dove across on his right hip but the shot still beat him allowing the Phantoms to take their first lead of the night.
It was less than three minutes later for Martel to snipe from the right dot to become the first in the league to reach five goals this season. Vecchione and Samuel Morin worked to win the puck along the boards in the Phantoms zone to set up the play. Martel would also hit the post later on in the period on a bid for another multi-goal game. And he also had a close-range try that was stuffed by Milner.
Martel scored a hat trick against the Bears last week in the team's 7-2 opening night win and four of his five goals this season have come at the expense of Hershey.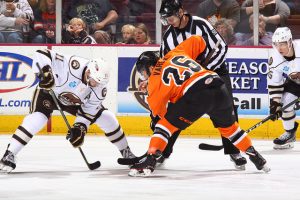 The Phantoms short-lived 3-1 advantage at 8:18 into the third would quickly be cut to size by the Bears who bounced back just 18 seconds later on a perfect shot from the high-slot by an open Jonas Siegenthaler whose blast neatly struck the upper-right corner.
Lehigh Valley was looking to escape with the one-goal victory in regulation but a tripping penalty late in the third gave the Bears some life. Their second power-play goal of the evening tied the game at 3-3 with just 2:30 to go when Colby Williams rocked on home from the left circle following some nifty, quick passing by Bourque and Travis Boyd.
The Phantoms had a power play of their own at the end of 3-on-3 overtime in which Will O'Neill cranked up a center-point slapper that hit the right post with about 1:00 left.
Both teams had already secured one standings point with the regulation tie. Chris Conner pumped his hands back and forth in rapid-fire fashion to freeze Milner just enough to sneak through his shootout attempt five-hole for the game-winner in the third round. The 33-year-old Conner is in his third season with the Phantoms after enjoying success with the Hershey Bears a season prior. Conner scored six goals against the Bears in the regular season last year including a hat trick at Giant Center on April 2 and also an overtime winner in Game 3 of the playoffs on April 25.
The Lehigh Valley Phantoms are 1-1 in shootouts this year and have played the ONLY shootout games in the AHL so far. Hershey out shot the Phantoms 37-30. Lehigh Valley was 0-for-7 on the power play while the Bears were 2-for-4.
The Phantoms are back in action in downtown Allentown on Friday, October 20 as they welcome the Bridgeport Sound Tigers, AHL affiliate of the New York Islanders, to PPL Center for the first time this year. Friday's game is Country Night with a special performance by Porter & Sayles. Only a limited number of tickets remain for Friday's game and can be purchased online by clicking HERE.
Lehigh Valley Phantoms 4 (SO) at Hershey Bears 3 – Status: Final SO
Sunday, October 15, 2017 – Giant Center
Lehigh Valley 0 0 3 0 – 4
Hershey 0 1 2 0 – 3
1st Period- No Scoring.Penalties-Lewington Her (slashing), 5:42; Sill Her (tripping), 10:32; Labrie Her (cross-checking), 11:16; Williams Her (elbowing), 14:54.
2nd Period-1, Hershey, Bourque 2 (Albert, Boyd), 5:43 (PP). Penalties-Morin Lv (tripping), 0:16; Read Lv (slashing), 5:18; Siegenthaler Her (hooking), 11:41; Friedman Lv (holding the stick), 13:49; O'Brien Her (cross-checking), 13:49; Siegenthaler Her (cross-checking), 17:29.
3rd Period-2, Lehigh Valley, Myers 1 (Carey, Varone), 4:50. 3, Lehigh Valley, Aube-Kubel 2 (Vorobyev, Martel), 5:39. 4, Lehigh Valley, Martel 5 (Vecchione, Morin), 8:18. 5, Hershey, Siegenthaler 1 (Simpson, Bourque), 8:36. 6, Hershey, Williams 1 (Bourque, Boyd), 17:30 (PP). Penalties-Alt Lv (tripping), 10:25; Martel Lv (interference), 15:53.
OT Period- No Scoring.Penalties-Barber Her (slashing), 3:37.
Shootout – Lehigh Valley 1 (Knight NG, Vecchione NG, Conner G), Hershey 0 (Simpson NG, Stephenson NG, Boyd NG).
Shots on Goal-Lehigh Valley 10-9-7-3-1-30. Hershey 7-16-12-2-0-37.
Power Play Opportunities-Lehigh Valley 0 / 7; Hershey 2 / 4.
Goalies-Lehigh Valley, Lyon 3-1-1 (37 shots-34 saves). Hershey, Milner 0-2-1 (29 shots-26 saves).
A-8,561
Referees-Ben O'Quinn (27), Reid Anderson (49).
Linesmen-Bob Goodman (90), Bill Lyons (27).
Reserve your season tickets and group outings for the 2017-2018 season of Phantoms hockey. For more information on how to reserve your seat at PPL Center to the hottest ticket in town, call the Phantoms front office today at 610-224-GOAL [4625]!
And for the latest Phantoms news, visit www.phantomshockey.com or follow the team on Facebook (www.facebook.com/lehighvalleyphantoms), Twitter (@lvphantoms) and Instagram (@lehighvalleyphantoms).