Chris Conner Breaks Third-Period Deadlock in Road-Trip Finale
February 24, 2018
Binghamton, NY – Chris Conner (13th) scored with 18:05 left in the third period to break a late deadlock and John Muse turned aside 26 consecutive shots in a 2-1 victory at the Binghamton Devils on Saturday night. Muse picked up his sixth straight win in net for the Phantoms and had to deny Mario Lucia on a point-blank chip on a 6-on-4 attack in the very last seconds to preserve the win.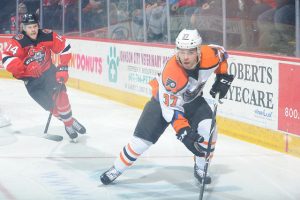 Greg Carey (23rd) also tallied for the Phantoms to move into a tie for second in the AHL in goals. And Phil Varone recorded an assist for his league-leading 56th point. Varone is four away from T.J. Brennan's total of 60 points last year which is the most ever for a Lehigh Valley Phantoms. Varone is trying to become the first Phantom since Peter White of the Philadelphia Phantoms in 1997-98 to win the AHL scoring title.
The Phantoms improved to 16-3-6 in one-goal decisions and secured their 35th overall victory of the season to go along with a division pace-setting 77 points. Lehigh Valley not only is first in the Atlantic but also is second out of 30 in the entire American Hockey League trailing only the Toronto Marlies by two points.
The Phantoms are also 8-1-1 in their last 10 games while boasting an impressive mark of 11-2-2 in their last 15 contests. Lehigh Valley also has standings points in 15 of the last 18 games with a mark of 13-3-2 dating back to January 13th.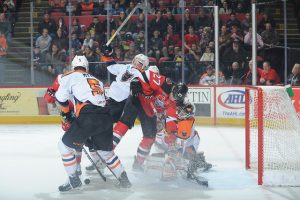 Muse improved to 7-1-0 and has not lost a game with Lehigh Valley since December 13th at Charlotte. The 29-year-old product of Boston College has a 2.05 goals-against average and .934 save percentage. In his personal win streak that dates back to December 16th, Muse has gone 6-0-0 with a 2.00 goals-against average and .938 save percentage. Muse has been equally stellar in his time with Reading in the ECHL going 17-5-0, 2.27, .930.
Lehigh Valley finished at 2-1-0 on their three-game New York road-swing that took the team through Utica (6-4 win) on Wednesday then to Syracuse (2-1 loss) on Friday before the Saturday finale at Binghamton in a 2-1 win. The Phantoms ended Binghamton's four-game win streak while going 3-0-0 in the Southern Tier.
Lehigh Valley's penalty kill came through in a big way holding the Devils to 0-for-4 on the power play. The Phantoms were forced to kill a 5-on-3 in the second period and a 6-on-4 in the last minute of the third.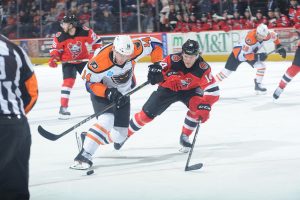 The highest scoring team in the league at 3.5 goals per game were having a tough time early breaking through against Devils' netminder Ken Appleby along with a defense that stymied the Lehigh Valley skaters.
Binghamton struck on their first shot of the game just 4:29 in when Blake Pietila picked off a clearing try along the left-wing boards and found Nick Lappin available in the slot to power through his team-leading 18th of the season for a 1-0 lead. After that it was 26 straight saves for John Muse all the way to the finish line.
The Phantoms finally broke through shortly past the midway point of the game when Mark Friedman's shot from the top of the right circle deflected high in the air off the shoulder of Appleby. Varone found the puck in the right and neatly touched a quick pass to an open Carey who unloaded the one-timer for his 23rd of the season with 6:35 remaining in the middle frame. Varone and Brennan were credited with assists on the goal that was the 51st all-time with the Phantoms for Carey who had 28 in the regular season last year.
Lehigh Valley broke the 1-1 tie early in the third period with Tyrell Goulbourne streaking up the left wing and touching a drop back to Chris Conner who somehow flipped the puck through the stick of a defenseman covering him and then past the right arm of Appleby who was perhaps fooled by an attempt he didn't see coming.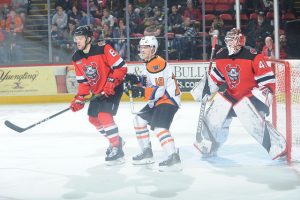 That held up as the game-winner for the Phantoms although it wasn't easy. The Devils had some significant pushes at the Phantoms and Muse made several impressive stops including the point-blank denial with under ten seconds left that completed the triumph.
Binghamton out shot Lehigh Valley 27-4. The Phantoms were 0-for-2 on the power play while the Devils finished at 0-for-4.
The Phantoms return to PPL Center on Friday, March 2nd and Saturday, March 3rd with back-to-back home games against the Hershey Bears and Binghamton Devils. Tickets for the highly anticipated showdowns are available at PPLCenter.com
Family 3-Packs are available for select games in March including three tickets, three hot dogs and three sodas with souvenir cups. The package is available for 67:50 and fans can add extra tickets to their group for $22.50 each. The Family 3-Packs are valid for games on March 2nd, March 9th, March 11th and March 18th. Secure your Family 3-Pack by calling the Lehigh Valley Phantoms at (610) 224-GOAL [4625].
Lehigh Valley Phantoms 2 at Binghamton Devils 1 – Status: Final
Saturday, February 24, 2018 – Floyd L. Maines Veterans Memorial Arena
Lehigh Valley 0 1 1 – 2
Binghamton 1 0 0 – 1
1st Period-1, Binghamton, Lappin 18 (Pietila), 4:29. Penalties-No Penalties
2nd Period-2, Lehigh Valley, Carey 23 (Varone, Brennan), 13:25. Penalties-Walman Bng (delay of game), 4:07; Brennan Lv (closing hand on puck), 9:30; Bardreau Lv (slashing), 10:42; Speers Bng (hooking), 13:44.
3rd Period-3, Lehigh Valley, Conner 13 (Goulbourne), 1:55. Penalties-Goulbourne Lv (tripping), 12:56; Carey Lv (slashing), 18:15.
Shots on Goal-Lehigh Valley 6-14-4-24. Binghamton 10-6-11-27.
Power Play Opportunities-Lehigh Valley 0 / 2; Binghamton 0 / 4.
Goalies-Lehigh Valley, Muse 7-1-0 (27 shots-26 saves). Binghamton, Appleby 9-11-2 (24 shots-22 saves).
A-4,012
Referees-Andrew Howard (50), Tyler Puddifant (9).
Linesmen-Rob Sauda (66), J.P. Waleski (14).
Reserve your group outings for the 2017-2018 season of Phantoms hockey. For more information on how to reserve your seat at PPL Center to the hottest ticket in town, call the Phantoms front office today at 610-224-GOAL [4625]!