Alex Lyon (30 Saves) Backstops Another Lehigh Valley Triumph
November 16, 2016
Lehigh Valley, PA – Everything is clicking right now for the Lehigh Valley Phantoms.
The Phantoms pushed their winning streak to seven straight games Wednesday evening thanks to a 4-1 victory over the rival Wilkes-Barre/Scranton Penguins in front of 8,428 fans at PPL Center. With the win, Lehigh Valley improved to 9-3-1 overall this year and has now captured seven consecutive victories.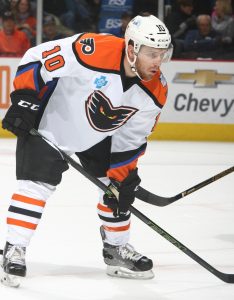 Corban Knight (4th), Greg Carey (8th), Taylor Leier (4th) and T.J. Brennan (4th) all converted for the Phantoms while goaltender Alex Lyon backstopped the winning effort with an impressive 30-save performance.
During Lehigh Valley's recent run, the team has done just about everything well. The Phantoms have outscored their opposition 32-11 during the streak and have only allowed more than two goals against in just one of their last seven outings. The special teams have played a huge part in the club's success with a power play that's produced eight man-advantage markers during the run while the penalty kill has successfully killed 21 of its last 22 man-down scenarios (95.5 percent).
15 different Lehigh Valley skaters have converted during the seven-game surge as part of an offense that leads all Eastern Conference teams in per-game scoring (4.08 goals/game).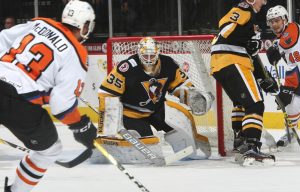 Wednesday's victory came in front of the team's third standing room-only sellout of the year and marked the beginning of another Phantoms/Penguins rivalry with the two sides set to meet an additional 11 times through the remainder of the season.
Neither side found the back of the net in the opening period despite a combined 23 shots on goal. The rivalry showdown featured a playoff-type atmosphere with the two sides jockeying for scoring opportunities amidst strong defensive play at both ends. Lehigh Valley peppered the Wilkes-Barre/Scranton net with 16 total shots in the opening frame but Penguins netminder Tristan Jarry was equal to the task on each one as was Lyon who denied each of the seven bids on goal he faced.
Wilkes-Barre/Scranton then opened the scoring just over two minutes into the second period when Thomas Di Pauli won a battle for a loose puck within the Lehigh Valley goal crease before sending in his first goal of the season. Oskar Sundqvist grabbed the only assist on the even-strength strike netted 2:23 into the middle frame.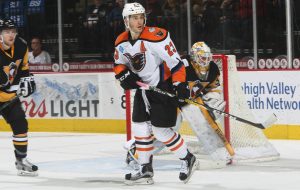 The Phantoms remained resilient though and leveled the contest before the close of the period when a sharp-angle shot by Fazleev produced a rebound at the side of the Wilkes-Barre/Scranton net that was grabbed out of mid-air by Knight before being swatted in at the side of the goal for his fourth tally of the season. Danick Martel collected the secondary assist on the five-on-five conversion netted 17:29 into the middle frame while Fazleev's assist extended his point streak to four straight games (goal, 3 assists).
Lehigh Valley then grabbed the lead for good with a pair of goals just 54 seconds apart in the third period. First, less than six minutes into the final frame, Carey pounced on a loose puck in the slot before waiting out Jarry and depositing his team-leading eighth goal of the year. Mark Zengerle and Chris Conner assist on the even-strength conversion tallied 5:57 into the third period.
Then, less than a minute later, the Phantoms doubled their advantage when a point shot by Travis Sanheim produced a rebound at the right side of the cage that was deftly roofed home in tight quarters by Leier for his fourth goal of the season. Sanheim and Scott Laughton assisted on the five-on-five tally scored 6:51 into the final frame. With an assist, Laughton has now tallied at least one point in five of six games since coming to Lehigh Valley from the Philadelphia Flyers.
Lehigh Valley added an insurance marker in the game's final minute with an empty-net tally from Brennan to seal the victory.
The Phantoms penalty kill was a perfect 5-for-5 in the game while Lehigh Valley's power play came up empty in three opportunities.
The Phantoms are back in action this Friday, November 18 when they invade the Dunkin' Donuts Center in Providence for a 7:05 p.m. clash with the Bruins.
Lehigh Valley is then back at PPL Center for a pair of games following the Thanksgiving holiday. First, on Friday, November 25, it's the Go Birds Tailgate with Eagles legend, Ron Jaworski, along with the Eagles Cheerleaders, on hand to meet fans and sign autographs before the Phantoms' 7:05 p.m. clash with the Binghamton Senators. Then, on Saturday, November 26, the Hartford Wolf Pack return to downtown Allentown for another rivalry showdown.
Tickets for both games are available now and can be purchased by clicking HERE.
Wilkes-Barre/Scranton Penguins 1 at Lehigh Valley Phantoms 4 – Status: Final
Wednesday, November 16, 2016 – PPL Center
W-B/Scranton 0 1 0 – 1
Lehigh Valley 0 1 3 – 4
1st Period- No Scoring.Penalties-Weal Lv (hooking), 13:28.
2nd Period-1, W-B/Scranton, Di Pauli 1 (Sundqvist), 2:23. 2, Lehigh Valley, Knight 4 (Fazleev, Martel), 17:29. Penalties-Warsofsky Wbs (tripping), 3:22; Carey Lv (boarding), 9:34.
3rd Period-3, Lehigh Valley, Carey 8 (Zengerle, Conner), 5:57. 4, Lehigh Valley, Leier 4 (Sanheim, Laughton), 6:51. 5, Lehigh Valley, Brennan 4 19:35 (EN). Penalties-Knight Lv (tripping), 2:54; Carey Lv (interference), 7:09; Kostopoulos Wbs (tripping), 8:52; Sundqvist Wbs (holding the stick), 10:14; Conner Lv (high-sticking), 14:55.
Shots on Goal-W-B/Scranton 7-11-13-31. Lehigh Valley 16-12-8-36.
Power Play Opportunities-W-B/Scranton 0 / 5; Lehigh Valley 0 / 3.
Goalies-W-B/Scranton, Jarry 6-3-1 (35 shots-32 saves). Lehigh Valley, Lyon 3-1-1 (31 shots-30 saves).
A-8,428
Referees-Chris Schlenker (48), Alex Garon (64).
Linesmen-Matt McNulty (26), Jud Ritter (34).
RISE UP! Another thrilling season of Lehigh Valley Phantoms hockey at PPL Center is underway! Reserve your season tickets and group outings for the 2016-2017 season of Phantoms hockey today. For more information on how to reserve your seat at PPL Center to the hottest ticket in town, call the Phantoms front office today at 610-224-GOAL [4625]!
And for the latest Phantoms news, visit www.phantomshockey.com or follow the team on Facebook (www.facebook.com/lehighvalleyphantoms), Twitter (@lvphantoms), Instagram (@lehighvalleyphantoms) and Snapchat (lvphantoms).
The Phantoms are thrilled to host the 2017 Capital BlueCross AHL All-Star Classic at PPL Center January 28-30. The Capital BlueCross AHL All-Star Classic weekend includes a Phan Fest during the day on Saturday, January 28 and a Tailgate Party that evening, followed by the AHL All-Star Skills Competition on Sunday, January 29 and the 2017 AHL All-Star Game on Monday, January 30. Don't miss this once-in-a-lifetime event. Packages starting at just $67 for the 2017 AHL All-Star Classic weekend are on sale now and include admission to Saturday's Phan Fest & Tailgate Party, Sunday's AHL All-Star Skills Competition and Monday's All-Star Game. To purchase tickets, please visit www.phantomshockey.com or www.pplcenter.com.
The Phantoms are coming off their 20th Anniversary Season and second campaign in the Lehigh Valley playing at the state-of-the-art PPL Center. Established in 1996, the Phantoms spent their first 13 seasons at the Spectrum in Philadelphia before re-locating to Glens Falls, New York in 2009 where the team spent the next five seasons as the Adirondack Phantoms. A new era of Phantoms hockey began in the fall of 2014 when the Lehigh Valley Phantoms began play at the state-of-the-art PPL Center. Through 19 incredibly successful campaigns, the Phantoms have captured two Calder Cup Championships (1998, 2005), two Conference Championships (1998, 2005), two Regular Season Titles (1996-97, 1997-98) and four Division Championships (1996-97, 1997-98, 1998-99, 2003-04).