Two Goals Apiece for Foerster and Sandin
September 18, 2021
Tarrytown, NY – Several Lehigh Valley Phantoms players stood out in today's Rookie Game matchup between the Philadelphia Flyers' prospects and New York Rangers' prospects at the Rangers' training facility in Tarrytown, NY.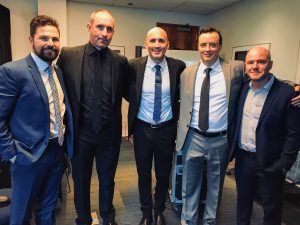 The Lehigh Valley Phantoms coaches, led by head coach Ian Laperriere, guided the team to a 6-3 victory over the Rangers with a pair of goals each for Tyson Foerster and Linus Sandin while Sandin also contributed an assist for a three-point game. Foerster and Sandin are coming off their professional rookie seasons with successful debut campaigns in Lehigh Valley last year.
Morgan Frost also had a three-point game with two assists and an empty-net goal to seal the victory and defenseman Egor Zamula recorded two helpers as well.
Wade Allison also got scrappy with a fight against one of the Rangers prospects. Kirill Ustimenko and Samuel Ersson split the goaltending duties.
The Flyers raced out to a 3-0 lead in the first period beginning with Sandin and Zamula moving the puck over to Foerster for his big power-play one-timer from the top of the left circle to open the scoring. Morgan Frost showed some slick hands along the right boards to start the sequence.
Fro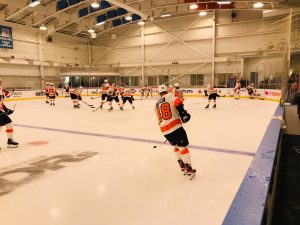 st moved the puck over to Isaac Ratcliffe to navigate the puck to the low slot for a power-play goal from Sandin for a 2-0 lead and then it was a Wyatte Wylie shot from the right boards that led to Foerster's second goal, this time getting to the rebound in front for the quick put-back.
The Rangers rallied in the second period to forge a 3-3 tie but Sandin struck again in the slot, on a feed from Frost, to retake the lead at 4-3 late in the second period.
Ethan Samson's shot from the right point, set up by Wylie's second assist of the game, made it through for a 5-3 lead. The shot may have changed direction on its way to the net.
And Frost sealed the victory with a long empty-netter to provide for the 6-3 final.
The Flyers and Rangers will have a Rookie Game rematch, this time in Voorhees, NJ at the Flyers Skate Zone, on Sunday at 5:00 p.m.
Scoring summary courtesy of Flyers.NHL.com contributor Bill Meltzer (Thanks, Bill!!)
1ST PD
Foerster (Zamula, Sandin) PPG
Sandin (Ratcliffe, Frost) PPG
Foerster (Wylie)
2nd PD
Sandin (Frost, Zamula)
3rd PD
Samson (Wylie)
Frost (unassisted) ENG