MacDonald Extends Point Streak in Front of Sold-Out PPL Center
February 12, 2016
Lehigh Valley, PA – The Lehigh Valley Phantoms threw everything they had at the Portland Pirates Friday evening en route to a season-high 46 shots on goal but Portland was able to escape PPL Center with a 3-1 win thanks to a herculean effort from their All-Star goaltender Mike McKenna. In addition to 45 saves, McKenna also chipped in a pair of assists as the Phantoms and Pirates squared off for the first time in downtown Allentown this year.
Despite the setback, Lehigh Valley has still won six of its last nine games overall. The Phantoms are now 1-1-1 in three meetings with Portland this season with the final regular season showdown set for Sunday, March 20 at PPL Center.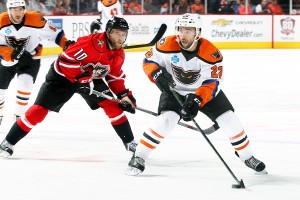 Friday's decision came in front of a standing room-only sellout crowd of 8,600 support as the Phantoms enjoyed their 12th capacity crowd at PPL Center this season.
With 46 total shots, including a jaw-dropping 21 second-period offerings, Lehigh Valley established a new season-high for shots in a single game besting the 45 shots produced in a January 15 tilt with the Hershey Bears.
Chris Conner (12th goal) remained red hot as he converted for the Phantoms. With a goal in Friday's game, the 32-year-old winger has now produced at least one point in 10 of his last 11 games overall amassing 16 total points (7 goals, 9 assists) during his recent surge.
Meanwhile, Taylor Leier followed up his hat trick in Wednesday's 7-2 triumph over the Binghamton Senators with an assist while Andrew MacDonald extended his point streak to a season-high nine games with an assist as well. For MacDonald, he's now registered 14 points (all assists) during his nine-game surge as he continues to lead all AHL defensemen with 31 assists and is now in sole possession of second place among AHL blueliners in total scoring with 36 points.
Making his fourth consecutive start in goal, Jason LaBarbera turned in another solid effort as he denied 19 of the Pirates 21 bids on goal.
Kyle Rau (16th), Rocco Grimaldi (10th) and Greg McKegg (9th) found the back of the net for Portland.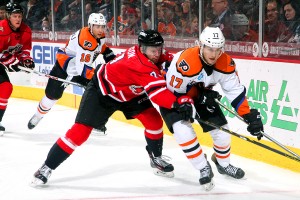 The first period was exactly what you'd expect from two teams battling for position within the tightly-contested Atlantic Division. Separated by just five standings points entering the night, the Phantoms and Pirates skated with an intensity resembling a playoff contest as the two sides deftly skated through a well-paced opening frame that was slowed by only a handful of whistles and featured one wave of action after another.
Portland opened the scoring less than eight minutes into the contest when Grimaldi turned a puck from below the goal line to the top of the crease where Rau was able to convert his 16th goal of the season. Michael Matheson earned the secondary assist on the five-on-five tally scored 7:57 into the first period.
The opening salvo didn't slow Lehigh Valley's efforts though as the Phantoms territorially controlled the first period en route to out shooting the Pirates 13-7 in the game's opening 20 minutes.
The Phantoms' resiliency paid off less than nine minutes into the second period when, while on the power play, Leier slipped a pass into the slot that was expertly directed by Conner into the back of the Pirates net. MacDonald collected the secondary assist on Conner's 12th goal of the season, which came exactly 8:53 into the middle stanza.
The man-advantage tally marked the eighth time over the last nine games Lehigh Valley has registered at least one power play conversion as the Phantoms have now produced 13 man-advantage markers over the team's last nine games.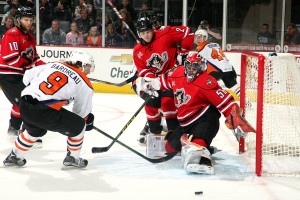 But, despite being out shot 21-5 in the second frame, Portland was able to hit the second intermission with the lead after Wayne Simpson's offering from the slot produced a rebound on the left wing that Grimaldi pounced on before burying his 10th goal of the season. McKenna collected the second assist on the even-strength strike scored 17:40 into the middle period.
The Phantoms continued to pepper Portland with one chance after another in the third period but McKenna held his ground denying each of Lehigh Valley's 12 third-period bids.
The Pirates landed the game's final conversion with just 11 seconds left in regulation when, with LaBarbera pulled in favor of the extra attacker, McKenna lifted a puck into the Phantoms end that was finished off by McKegg.
The Phantoms continue their five-game home stand this Saturday, February 13 when they welcome the Utica Comets, the AHL affiliate of the Vancouver Canucks, to PPL Center for the first time ever. Members of the Western Conference a season ago, Utica didn't visit downtown Allentown during Lehigh Valley's Inaugural Season. Saturday's game features Post-Game Photographs with the Phantoms players. Fans are encouraged to bring their cameras to the game and take the ice after Saturday's clash to get their picture taken with their favorite Phantoms players. A limited number of tickets remain so be sure to secure yours now at pplcenter.com, by calling 610-347-TIXX [8499] or in person at the Mealey's Furniture Box Office at PPL Center [701 Hamilton Street].
RISE UP! Reserve your season tickets and groups now for the 2015-2016 season of Lehigh Valley Phantoms hockey. For more information on how to reserve your seat at PPL Center to the hottest ticket in town, call the Phantoms front office today at 610-224-GOAL (4625)!
Portland Pirates 3 at Lehigh Valley Phantoms 1 – Status: Final
Friday, February 12, 2016 – PPL Center
Portland 1 1 1 – 3
Lehigh Valley 0 1 0 – 1
1st Period-1, Portland, Rau 16 (Grimaldi, Matheson), 7:57. Penalties-Schremp Por (hooking), 11:51.
2nd Period-2, Lehigh Valley, Conner 12 (Leier, MacDonald), 8:53 (PP). 3, Portland, Grimaldi 10 (Simpson, McKenna), 17:40. Penalties-Matheson Por (holding), 8:08; Grimaldi Por (interference), 15:18.
3rd Period-4, Portland, McKegg 9 (McKenna), 19:49 (SH EN). Penalties-Morin Lv (hooking), 0:32; Matheson Por (high-sticking), 6:09; Megan Por (delay of game), 19:16.
Shots on Goal-Portland 7-5-10-22. Lehigh Valley 13-21-12-46.
Power Play Opportunities-Portland 0 / 1; Lehigh Valley 1 / 5.
Goalies-Portland, McKenna 22-10-0 (46 shots-45 saves). Lehigh Valley, LaBarbera 7-12-0 (21 shots-19 saves).
A-8,600
Referees-Keith Kaval (40).
Linesmen-Jud Ritter (34), Jason Mandroc (17).