German Rubtsov Scores Twice to Pace Lehigh Valley Attack
Oct 20, 2018
Wilkes-Barre, Pa. – Russian rookie German Rubtsov tallied a pair of goals and Alex Lyon turned aside 42 Penguins drives leading the Lehigh Valley Phantoms to a 6-3 victory on the road at Wilkes-Barre/Scranton on Saturday night. The result avenges a 5-4 loss from 24 hours prior at PPL Center as the two teams traded victories at the other team's home arena.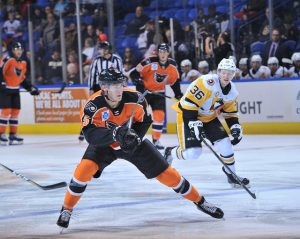 The Phantoms are commencing on a six-game road-trip to five different cities which will be their longest away-swing of the season. Lehigh Valley (3-2-0) is perfect on the road at 2-0 and received goals from Mark Friedman (1st), Rubtsov (2nd, 3rd), Phil Varone (2nd), Phil Myers (2nd) and Chris Conner (1st). Taylor Leier and T.J. Brennan each had a pair of assists for the visiting Phantoms.
Lehigh Valley trailed 2-0 at the start but would go on to score six of the next seven goals to breeze past the Penguins and their goalie, Anthony Peters. Sam Miletic scored a pair of goals four minutes apart in the first period as Wilkes-Barre/Scranton (4-2-0) had the early jump in the game and out shot the Phantoms 14-3 to begin.
The Phantoms quickly responded barely over a minute later when Leier spotted Friedman in the right circle to blast his first of the season to the upper-left corner.
Rubtsov rushed through the neutral-zone on a tip forward by Leier and then snapped a blast from the shot perfectly through Peters to tie the game in the second period. Then Greg Carey's power-play blast from the point was tipped by Varone from the left of the cage for a 3-2 lead.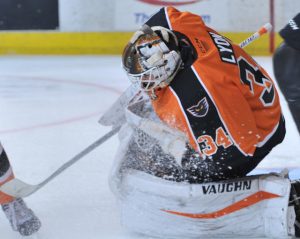 The Penguins' Ethan Prow shot high-glove on Lyon from center point to forge a 3-3 deadlock but the Phantoms quickly came up with another go-ahead goal when Connor Bunnaman's shot from the right of the cage popped out to Rubtsov in the slot who quickly buried another go-ahead marker.
Phil Myers practically fanned on a shot in the third period but had enough on his knuckling lob from center point to fool Peters over the shoulder for the Phantoms' fluky fifth of the night. And Lehigh Valley capped the scoring a couple minutes later on another power play with T.J. Brennan connecting down low for former Penguin Chris Conner who scored his first of the season.
The Phantoms pretty much completely stayed out of the box following Friday's feisty and intense affair. Former Phantom Will O'Neill jumped Taylor Leier with 33 seconds left in a late fight that resulted in the Phantoms lone penalty of the evening when Leier defended himself. O'Neill received an instigating penalty and a game misconduct and is subject to a suspension upon review from the American Hockey League due to the instigation penalty in the last five minutes of the contest.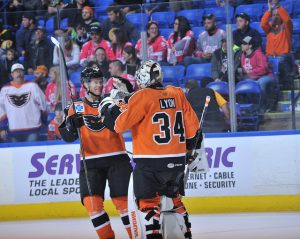 Lehigh Valley continues its road-trip on Sunday afternoon at 3:00 against the Bridgeport Sound Tigers and then travels to Hartford for a Wednesday night showdown against the Wolf Pack.
Lehigh Valley Phantoms 6 at Wilkes-Barre/Scranton Penguins 3 – Status: Final
Saturday, October 20, 2018 – Mohegan Sun Arena at Casey Plaza
Lehigh Valley 1 3 2 – 6
Wilkes-Barre/Scranton 2 1 0 – 3
1st Period-1, Wilkes-Barre/Scranton, Miletic 2 (O'Neill, Lafferty), 7:27. 2, Wilkes-Barre/Scranton, Miletic 3 (Summers, Elliott), 11:19. 3, Lehigh Valley, Friedman 1 (Leier, de Haas), 12:30. Penalties-No Penalties
2nd Period-4, Lehigh Valley, Rubtsov 2 (Leier, Brennan), 6:40. 5, Lehigh Valley, Varone 2 (Carey, Brennan), 11:44 (PP). 6, Wilkes-Barre/Scranton, Prow 2 (Abt, Josephs), 14:38. 7, Lehigh Valley, Rubtsov 3 (Bunnaman, Friedman), 19:08. Penalties-Blueger Wbs (slashing), 11:38.
3rd Period-8, Lehigh Valley, Myers 2 (Vecchione, Palmquist), 8:49. 9, Lehigh Valley, Conner 1 (Brennan, Varone), 12:36 (PP). Penalties-Lafferty Wbs (tripping), 12:28; Leier Lv (fighting), 19:26; O'Neill Wbs (instigating, fighting, misconduct – instigating, game misconduct – instigator (last 5:00)), 19:26.
Shots on Goal-Lehigh Valley 13-9-15-37. Wilkes-Barre/Scranton 20-18-7-45.
Power Play Opportunities-Lehigh Valley 2 / 3; Wilkes-Barre/Scranton 0 / 0.
Goalies-Lehigh Valley, Lyon 0-0-0 (45 shots-42 saves). Wilkes-Barre/Scranton, Peters 3-0-0 (37 shots-31 saves).
A-4,837
Referees-Mitch Dunning (43), Dan Kelly (55).
Linesmen-Tom DellaFranco (71), Luke Murray (92).
Ticket Information
Tickets for each and every Phantoms home game throughout the 2018-19 season are available online at pplcenter.com, by calling 610-347-TIXX [8499] or in-person at the QNB Box Office [7th & Hamilton].