Penguins Prevail 5-4 on Late Goal
October 19, 2018
Lehigh Valley, Pa. – The Phantoms and Penguins played true to their feisty-rivalry form in a wild, see-saw encounter on Friday night with visiting Wilkes-Barre/Scranton eventually prevailing 5-4 on a goal by Garrett Wilson with 1:03 remaining in the third period.
The Phantoms had roared back from a 3-2 deficit at the beginning of the third period on consecutive power-play goals by T.J. Brennan and Greg Carey but Wilkes-Barre/Scranton had some comeback ideas of their own and scored the last two goals of the contest in the topsy-turvy and intensity-fueled contest.
A "Hat Trick or Treat Night" gathering were treated to an immensely entertaining game and also received a Halloween style Black-and-Orange Phantoms ballcap as well
Mike Vecchione (1st), Philippe Myers (1st), T.J. Brennan (2nd) and Greg Carey (4th) all lit the lamp in the Lehigh Valley Phantoms attack while Carter Hart made 28 saves. Nicolas Aube-Kubel and reigning AHL MVP PHil Varone had two assists apiece.
Wilkes-Barre/Scranton picked up markers from Linus Olund (1st), Sam Miletic (1st), Zach Aston-Reese (2nd), Teddy Blueger (2nd) and Garrett Wilson (3rd) while Tristan Jarry backstopped the team to the finish-line with 28 saves.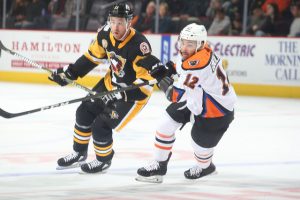 Lehigh Valley caught a couple of tough breaks that went against them in this. One Wilkes-Barre/Scranton goal happened after an accidental pick by a referee impeded the Phantoms pass this creating a turnover. And the Phantoms thought they had taken a 3-2 lead in the second period on a power-play strike by Greg Carey but the goal was immediately waived off for goalie interference in the crease. That's the way the puck bounces in hockey sometimes.
Wilkes-Barre/Scranton struck for the opening goal at 17:17 of the first period on Linus Olund's interception and unassisted snipe. Philip Samuelsson dug the puck out of the corner and was passing to Mike Vecchione who was impeded unintentionally by the referee allowing Olund to walk right in and score high-glove on Hart.
Vecchione got it back just over two minutes later on quick transition into the zone with Chris Conner smartly connecting for Carsen Twarynski right across the line who then found Vecchione in the slot to move the puck around the left skate of Jarry and into the net. Vecchione's first of the year had evened the count at 1-1.
The Penguins scored just barely over two minutes into the second period on a misplay by Hart behind the goal. Trying to flip the puck around, Hart found the puck stuck on the end-boards allowing for a steal by Sam Lafferty who rapidly connected with Sam Miletic in front of an open-net for a 2-1 lead.
Again the Phantoms were quick to respond. Philippe Myers blasted through a slap shot from the top of the right circle shortly after a Varone faceoff win to forge a 2-2 deadlock. Zach Palmquist also assisted on the play for his first point in a Phantoms sweater.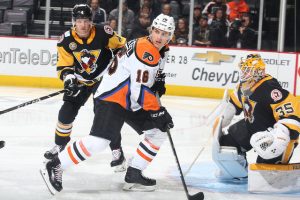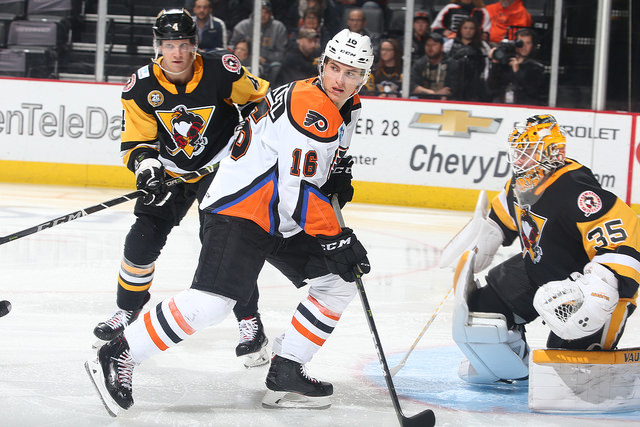 The Phantoms thought they had scored again on a power-play midway through the game but Greg Carey's goal was disallowed due to goalie interference when Tristan Jarry found himself with German Rubtsov's stick after a collision in the crease. Rubtsov was trying to pull his stick back into his possession when Carey scored. Head coach Scott Gordon contended the goal should have counted because Rubtsov had done nothing wrong but the decision stood and the score remained tied at 2-2.
Wilkes-Barre/Scranton built momentum off of their break and successful penalty kill and would score the tie-breaking goal themselves a couple minutes later. Chris Summers blast from the left rocketed off the end-boards and out to Aston-Reese on the right of the cage who succeeded in his sharp-angle efforts behind a recovering Hart for a 3-2 lead at 13:12 into the second period.
The Phantoms surged back in the third period with consecutive power play strikes less than a minute apart. First was Brennan's center-point blast that may have redirected off a Penguins' stick on its way through. Brennan's milestone 150th career goal pulled the five-time All-Star defenseman to with 16 of John Slaney's all-time AHL record for goals by a blueliner (166) and, more importantly, and knotted the count at 3-3.
Just 54 second later came Greg Carey's quick-release wrister from the left circle that was also assisted by Aube-Kubel as well as Brennan pushing the Phantoms into the lead for the first time on the night.
But Teddy Blueger would score on a rebound in the slot on the power play at 6:59 to the game at 4-4.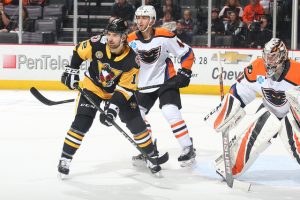 The feisty affair wasn't finished and the Phantoms were tagged with a pair of roughing minors in the third period on multiple-player skirmishes. Lehigh Valley killed back-to-back power plays late in the third on a Myers rough when he was clearing a man out of the crease and then a Too Many Men penalty. The Phantoms appeared to have momentum off the back-to-back successful kills but Wilkes-Barre/Scranton quickly transitioned out of their zone with Jimmy Hayes up the left-wing fronting a two-on-one. His shot off the chest of Hart appeared to almost be covered but the quick-thinking Hayes successfully reached his stick in for a successful poke to keep the play alive thus successfully knocking the puck into the open crease for a Wilson game-winner.
The Penguins only had one win in six tries at PPL Center a season ago but take the early advantage in the rivalry series this year. The two teams will rematch on Saturday night in Northeast Pennsylvania.
Wilkes-Barre/Scranton out shot the Phantoms 33-32. Lehigh Valley was 2-for-8 on the power play while the Penguins were 1-for-4.
Lehigh Valley embarks on a six-game road swing with a Saturday night encounter at Wilkes-Barre followed by a Sunday afternoon clash at Bridgeport.
The Phantoms return to PPL Center on Saturday, November 3rd taking on the Binghamton Devils featuring a "Go Birds Tailgate" paying tribute to the Super Bowl Champs. Tickets are available at PPLCenter.com or at the QNB Box Office located at the corner of Seventh and Hamilton at PPL Center.
Wilkes-Barre/Scranton Penguins 5 at Lehigh Valley Phantoms 4 – Status: Final
Friday, October 19, 2018 – PPL Center
Wilkes-Barre/Scranton 1 2 2 – 5
Lehigh Valley 1 1 2 – 4
1st Period-1, Wilkes-Barre/Scranton, Olund 1 17:17. 2, Lehigh Valley, Vecchione 1 (Twarynski, Conner), 19:22. Penalties-Summers Wbs (cross-checking), 4:52; Bardreau Lv (cross-checking), 11:04; Jarry Wbs (high-sticking), 19:59.
2nd Period-3, Wilkes-Barre/Scranton, Miletic 1 (Lafferty), 2:18. 4, Lehigh Valley, Myers 1 (Palmquist, Varone), 3:04. 5, Wilkes-Barre/Scranton, Aston-Reese 2 (Summers), 13:12. Penalties-Wilson Wbs (tripping), 3:14; McGrath Wbs (roughing, cross-checking), 6:34; Brennan Lv (roughing), 6:34; Aston-Reese Wbs (tripping), 9:40; Wilson Wbs (tripping), 15:00.
3rd Period-6, Lehigh Valley, Brennan 2 (Aube-Kubel, Varone), 2:36 (PP). 7, Lehigh Valley, Carey 4 (Aube-Kubel, Brennan), 3:30 (PP). 8, Wilkes-Barre/Scranton, Blueger 2 (Lafferty, Miletic), 6:59 (PP). 9, Wilkes-Barre/Scranton, Wilson 3 (Hayes), 18:57. Penalties-O'Neill Wbs (slashing), 2:31; Summers Wbs (slashing), 2:55; Willcox Lv (roughing), 5:50; Myers Lv (roughing), 13:15; served by Conner Lv (bench minor – too many men), 15:30.
Shots on Goal-Wilkes-Barre/Scranton 11-7-15-33. Lehigh Valley 8-11-13-32.
Power Play Opportunities-Wilkes-Barre/Scranton 1 / 4; Lehigh Valley 2 / 8.
Goalies-Wilkes-Barre/Scranton, Jarry 1-1-0 (32 shots-28 saves). Lehigh Valley, Hart 1-2-0 (33 shots-28 saves).
A-7,206
Referees-Dan Kelly (55), Chris Pontes (21).
Linesmen-Ryan Knapp (73), Matt McNulty (26).
Ticket Information
Tickets for each and every Phantoms home game throughout the 2018-19 season are available online at pplcenter.com, by calling 610-347-TIXX [8499] or in-person at the QNB Box Office [7th & Hamilton].
Season tickets offering a wide range of benefits as well as 20-Game and 12-Game plans and 10-game Flex-Voucher Packs are available by calling the Phantoms at 610-224-GOAL (4625).