Star Wars Night Generates Lehigh Valley's 3rd Straight Sellout
January 10, 2016
Lehigh Valley, PA – The Lehigh Valley Phantoms menaced the Binghamton Senators with scoring opportunities Sunday evening but it was the visitors who were able to hang on for a 2-1 win in front of 8,440 fans on Star Wars Night at PPL Center. The Phantoms out shot the Senators 30-20 for the game and All-Star forward Nick Cousins scored his 10th goal of the season and team-leading 31st point of the year in the fifth of eight total meetings this season between Lehigh Valley and Binghamton.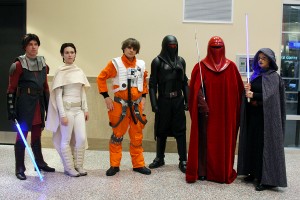 The capacity crowd marked the third straight standing room-only sellout in downtown Allentown and the fifth over the Phantoms' last six games. Sunday's sellout marked the eighth capacity crowd of the 2015-2016 season and 30th such regular season crowd since PPL Center opened its doors last Fall.
The Force was certainly strong with those in downtown Allentown Sunday evening as a number of Phantoms fans came to the game dressed as their favorite Star Wars characters. They joined the iconic heroes and villains already in attendance thanks to a special appearance from the 501st Garrison.
With his goal, Cousins moved into a tie for seventh among all AHL skaters with 31 total points this season and is now in sole possession of 20th place on the Phantoms' all-time scoring list with 117 total points.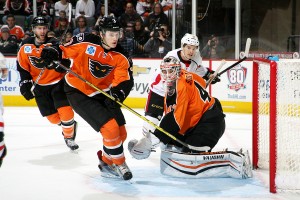 Fellow All-Star Anthony Stolarz turned in a solid effort between the pipes as he denied 18 of the 20 shots authored by the Senators on the evening.
Lehigh Valley's penalty kill was another bright spot for the club as it successfully thwarted all four of Binghamton's power play opportunities in the game. The Phantoms have now surrendered just two man-advantage markers over the club's last 10 games going an impressive 34-for-36 during its recent run.
Eric O'Dell and Nick Paul provided the offense for the Senators Sunday evening while Scott Greenham earned his first win of the season with a 29-save performance.
The Phantoms came out with the kind of attack that helped the Rebel Alliance take down the Death Star. Lehigh Valley captured two power plays in the game's opening eight minutes and used those opportunities to generate some of the best man-advantage attack time of the season creating one prime scoring opportunity after another. In all, the Phantoms out shot the Senators 12-4 in the first period.
But despite Lehigh Valley's dominance, in a cruel twist of fate, visiting Binghamton escaped the opening frame with a 1-0 advantage thanks O'Dell's even-strength strike notched a little more than six minutes into the contest. Ryan Dzingel and Dziurzynski garnered assists on the conversion netted 6:22 into the tilt.
The Phantoms endeavored to strike back in the second period but Binghamton was able to maintain its one-goal advantage despite 10 more Lehigh Valley shots on goal. The Phantoms enjoyed another two power plays in the middle frame and even saw a Petr Straka drive at point-blank range rattle off the post during the latter opportunity. Meanwhile, Stolarz defended Lehigh Valley's net just like the Rebels defended their secret base on the ice planet of Hoth as the All-Star netminder turned aside all 11 Senators shots that came his way in the middle stanza.
The Phantoms refused to back down though and leveled the contest just over five minutes into the final frame when Cousins executed a brilliant entry into Binghamton's zone before snapping home his 10th goal of the season. Sam Gagner and Davis Drewiske assisted on the five-on-five conversion scored 5:28 into the third period.
The Senators bounced right back though and regained the lead for good less than two minutes later when Paul chipped in his third goal of the season from just atop the Lehigh Valley goal crease. Tobias Lindberg and Cole Schneider earned assists on the game-winning conversion tallied 7:05 into the final period of regulation.
The Phantoms return to PPL Center for a pair of games next weekend. First, on Friday, January 15, Lehigh Valley welcomes the rival Hershey Bears to downtown Allentown for a 7:05 p.m. showdown. Friday's game features a T-Shirt Giveaway where the first 8,500 fans in attendance will receive a FREE shirt featuring the names of each member of the Phantoms organization. Then, on Saturday, January 16, it's Girl Scout Night when the Hartford Wolf Pack, the AHL affiliate of the New York Rangers, invade PPL Center for a 7:05 p.m. clash.
A limited number of tickets for both Friday and Saturday's games are available now at pplcenter.com, by calling 610-347-TIXX [8499] or in-person at the Mealey's Furniture Box Office at PPL Center [701 Hamilton Street].
RISE UP! Reserve your season tickets and groups now for the 2015-2016 season of Lehigh Valley Phantoms hockey. For more information on how to reserve your seat at PPL Center to the hottest ticket in town, call the Phantoms front office today at 610-224-GOAL (4625)!
Binghamton Senators 2 at Lehigh Valley Phantoms 1 – Status: Final
Sunday, January 10, 2016 – PPL Center
Binghamton 1 0 1 – 2
Lehigh Valley 0 0 1 – 1
1st Period-1, Binghamton, O'Dell 13 (Dzingel, Dav. Dziurzynski), 6:22. Penalties-Dav. Dziurzynski Bng (tripping), 4:09; Fraser Bng (roughing), 7:19; Goulbourne Lv (holding), 11:20; Bardreau Lv (elbowing), 19:48.
2nd Period- No Scoring.Penalties-Cousins Lv (high-sticking), 5:24; Lepine Bng (roughing), 8:36; Dzingel Bng (fighting), 11:10; Bardreau Lv (fighting), 11:10; Schneider Bng (unsportsmanlike conduct), 13:27; MacDonald Lv (unsportsmanlike conduct), 13:27; Flanagan Bng (goaltender interference), 14:23; Morin Lv (delay of game), 17:40.
3rd Period-2, Lehigh Valley, Cousins 9 (Gagner, Drewiske), 5:28. 3, Binghamton, Paul 3 (Lindberg, Schneider), 7:05. Penalties-Mullen Bng (delay of game), 12:46.
Shots on Goal-Binghamton 4-11-5-20. Lehigh Valley 12-10-8-30.
Power Play Opportunities-Binghamton 0 / 4; Lehigh Valley 0 / 5.
Goalies-Binghamton, Greenham 1-0-0 (30 shots-29 saves). Lehigh Valley, Stolarz 12-9-1 (20 shots-18 saves).
A-8,440
Referees-Chris Schlenker (23).
Linesmen-Tom DellaFranco (71), Matt McNulty (26).
Upcoming Home Games: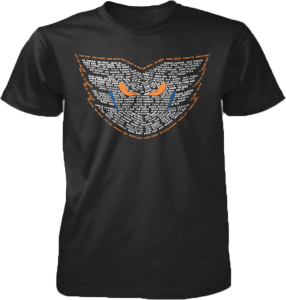 Friday, January 15, 2016, Hershey Bears vs. Lehigh Valley Phantoms, 7:05 p.m. | TIX
(T-Shirt Giveaway. Free to First 8,500 Fans in Attendance.)
Saturday, January 16, 2016, Hartford Wolf Pack vs. Lehigh Valley Phantoms, 7:05 p.m. | TIX
(Girl Scout Night.)
Wednesday, January 27, 2016, Binghamton Senators vs. Lehigh Valley Phantoms, 7:05 p.m. | TIX
(First Responders Awareness Night.)
Friday, January 29, 2016, WB/Scranton Penguins vs. Lehigh Valley Phantoms, 7:05 p.m. | TIX
("20 Years of Phantoms" Night. Commemorative Poster Giveaway 3 of 4.)
In the midst of their 20th season of operation, the Phantoms are coming off their Inaugural Season as the Lehigh Valley Phantoms playing at the brand-new PPL Center. Established in 1996, the Phantoms spent their first 13 seasons at the Spectrum in Philadelphia before re-locating to Glens Falls, New York in 2009 where the team spent the next five seasons as the Adirondack Phantoms. A new era of Phantoms hockey began in the fall of 2014 when the Lehigh Valley Phantoms began play at the state-of-the-art PPL Center. Through 19 incredibly successful campaigns, the Phantoms have captured two Calder Cup Championships (1998, 2005), two Conference Championships (1998, 2005), two Regular Season Titles (1996-97, 1997-98) and four Division Championships (1996-97, 1997-98, 1998-99, 2003-04).