Aube-Kubel Scores 2 in Feisty and Physical Rivalry Night Encounter
January 26, 2018
Lehigh Valley, PA – Nicolas Aube-Kubel registered his second career multi-goal game and Alex Lyon was magnificent in relief turning aside every shot he faced allowing the Phantoms to prevail 5-2 over the visiting Wilkes-Barre/Scranton Penguins. The night was filled with shoves, scraps and grappling befitting of a match-up of the top two teams in the division who were squaring off for a ninth time this season.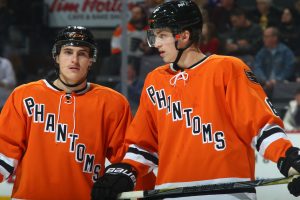 Aube-Kubel (12th, 13th) added an assist on his way to a three-point performance. T.J. Brennan (9th), Mike Vecchione (10th) and Greg Carey (19th) also scored for Lehigh Valley in the immensely entertaining contest witnessed by an enthusiastic crowd of 8,462 which represented the Phantoms' seventh sellout of the season at PPL Center.
The Phantoms have won three straight and five of their last six to improve to 26-13-5 overall. Lehigh Valley's 57 points are the most in the Atlantic Division but they still technically trail Wilkes-Barre/Scranton based on points percentage due to the Penguins' three games in hand. Wilkes-Barre/Scranton fell to 25-12-4 with the loss as the Phantoms gained the edge in the season series boasting a 5-3-1 mark over their arch-enemies from Northeast Pennsylvania.
The Penguins opened the scoring less than a minute into the rivalry showdown when a takeaway by Daniel Sprong in the defensive zone prompted a clean breakout for the first-year winger who quickly deposited his team-leading 19th goal of the season on a blast from the right circle. The unassisted even-strength strike came just 54 seconds into the contest.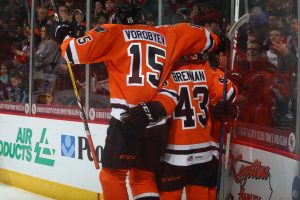 The Phantoms bounced right back though and leveled the contest just over four minutes later when a heads-up shot/pass by Aube-Kubel in the high slot was expertly redirected by Carey just atop the goal crease for his second goal in as many games and his team-leading 19th conversion of the year. Aube-Kubel and Maxim Lamarche collected assists on the five-on-five tally netted 5:06 into the opening frame which evened the score at 1-1.
Wilkes-Barre/Scranton re-established the lead just 80 seconds later when Andrey Pedan's shot from the left point made its way through a maze of traffic before deflecting off the body of Zach Aston-Reese and settling in the back of the Lehigh Valley net. Aston-Reese's eighth goal of the season. Ryan Haggerty garnered the secondary assist on the even-strength marker notched 6:26 into the first period.
That spelled the end of the night for Dustin Tokarski who was pulled from the game in favor of Alex Lyon.
"I liked the way we were playing," head coach Scott Gordon said of his decision. "2 goals on 4 shots…I usually don't do that. But I had a feeling we were ready to play. Alex has been playing well. Not that Dustin wasn't. I thought we could slow things down and could recoup and get the right mindset."
The resilient Phantoms didn't back down and the topsy-turvy opening frame ended with an equalizing marker from Aube-Kubel who was able to slip behind Wilkes-Barre/Scranton's defense before backhanding home his 12th goal of the year. Chris Conner and Cole Bardreau assisted on the five-on-five tally scored 17:01 into the first period.
Lehigh Valley then claimed its first lead of the night just past the midway point of the contest when beautiful outlet passes by Matt Read and Mikhail Vorobyev sprung Brennan on a breakaway and the All-Star blueliner made no mistake in snapping home his ninth tally of the year. The even-strength strike, which came 11:48 into the middle stanza, marked Brennan's fourth conversion over his last six games and seventh in the last 12.
The five-time AHL All-Star Classic representative now has 143 career goals placing him just 23 from John Slaney's all-time record for defensemen of 166. Brennan's strike would hold up as the game-winning tally for Lehigh Valley.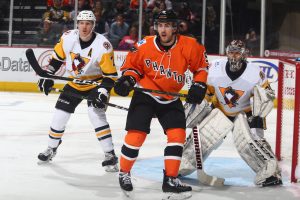 The Phantoms had to persevere through a couple of tough penalty kills as well as a couple of times when Alex Lyon had to acrobatically maneuver quickly around the crease for a couple of fine saves. At one point, Lyon's paddle had been knocked free and he had to make due as best he could but his teammates stepped up their game in front to hold the Penguins at bay.
It's been a bit of a whirlwind stretch for Lyon who won over Providence on Wednesday and then was quickly recalled by Philadelphia to serve as the backup goalie on Thursday followed by his unexpected relief entrance on Friday.
"I would say exhausting is the most accurate word for the last two days," Lyon said of the back-and-forth stretch. "We had a little bit of a late practice yesterday and then I went straight to Philly. That's the nature of the business. I think as much as it's tiring you have got to embrace the grind and love it so that's what I try and do."
Lehigh Valley finally broke through again against Anthony Peters for a pivotal insurance goal with just 6:41 remaining in the third on Mike Vecchione's two-foot tap-in in the blue paint. Colin McDonald from behind the net connected with Alex Krushelnyski in the left circle who offered a quick blast at Peters that was knocked down but was perfectly place for the rebound conversion by Vecchione who scored a goal for the second game in a row.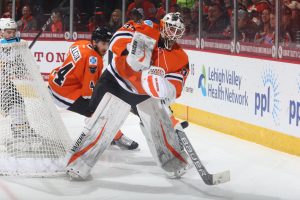 The Phantoms extended that lead just 1:12 later with Aube-Kubel sniping from the right circle on a set-up by Phil Varone and also assisted by Philippe Myers. That assist for Varone was good for his 43rd point of the year placing the veteran centerman into sole possession of the league lead in points.
Lehigh Valley and Wilkes-Barre/Scranton were tied in shots at 30-30. The Penguins were held to 0-for-5 on the power play while Lehigh Valley was limited to 0-for-3. The Phantoms have killed 15 out of 16 opposition man advantages in the past 5 games.
The Phantoms cap this week's action on Saturday when they host the Utica Comets, AHL affiliate of the Vancouver Canucks, during Star Wars Night at PPL Center. Saturday's game features a special appearance from the 501st Legion and a Mini Lightsaber Giveaway free to the first 2,000 kids 14 and under in attendance. A limited number of tickets remain for Saturday's game and are available HERE.
Wilkes-Barre/Scranton Penguins 2 at Lehigh Valley Phantoms 5 – Status: Final
Friday, January 26, 2018 – PPL Center
W-B/Scranton 2 0 0 – 2
Lehigh Valley 2 1 2 – 5
1st Period-1, W-B/Scranton, Sprong 19 0:54. 2, Lehigh Valley, Carey 19 (Aube-Kubel, Lamarche), 5:06. 3, W-B/Scranton, Aston-Reese 8 (Pedan, Haggerty), 6:26. 4, Lehigh Valley, Aube-Kubel 12 (Conner, Bardreau), 17:01. Penalties-Smith Wbs (diving/embellishment), 11:47; Lindblom Lv (tripping), 11:47; Thomas Wbs (holding), 13:52; Myers Lv (interference), 17:25.
2nd Period-5, Lehigh Valley, Brennan 9 (Read, Vorobyev), 11:48. Penalties-Read Lv (holding), 4:44; Pedan Wbs (tripping), 13:58; Brennan Lv (cross-checking), 15:03; Pedan Wbs (roughing), 17:25; Brennan Lv (roughing), 17:25.
3rd Period-6, Lehigh Valley, Vecchione 10 (Krushelnyski, McDonald), 13:19. 7, Lehigh Valley, Aube-Kubel 13 (Varone, Myers), 14:31. Penalties-Burton Wbs (interference), 8:25; Tinordi Wbs (roughing), 8:25; Willcox Lv (roughing), 8:25; Brennan Lv (roughing), 10:16; Conner Lv (slashing), 15:40.
Shots on Goal-W-B/Scranton 7-10-13-30. Lehigh Valley 8-11-11-30.
Power Play Opportunities-W-B/Scranton 0 / 5; Lehigh Valley 0 / 3.
Goalies-W-B/Scranton, Peters 7-4-2 (30 shots-25 saves). Lehigh Valley, Tokarski 11-4-3 (4 shots-2 saves); Lyon 13-8-2 (26 shots-26 saves).
A-8,462
Referees-Brandon Schrader (24), Michael Mullen (7).
Linesmen-Tom DellaFranco (71), Ryan Knapp (73).
Reserve your group outings for the 2017-2018 season of Phantoms hockey. For more information on how to reserve your seat at PPL Center to the hottest ticket in town, call the Phantoms front office today at 610-224-GOAL [4625]!