Spirited Comeback Falls Just Short on Opening Night
October 10, 2015
Lehigh Valley, PA – After a 173-day hiatus, Lehigh Valley Phantoms regular season hockey returned to downtown Allentown as the Phantoms hosted the Syracuse Crunch for Opening Night of the 2015-2016 regular season. Kicking off the franchise's 20th Anniversary Season, the Phantoms played in front of a raucous sellout crowd of 8,425 spirited fans. Despite a valiant comeback, Lehigh Valley was handed a 4-3 setback to visiting Syracuse in a back-and-forth affair that featured plenty of excitement.
Aaron Palushaj, Chris Conner and Danick Martel all scored for the Phantoms who picked up right where they left off last season earning a sellout on Opening Night after 22 standing-room sellouts a year ago. Palushaj netted Lehigh Valley's first goal of the 2015-16 campaign while Conner produced the team's first multi-point game with a goal and an assist Saturday evening.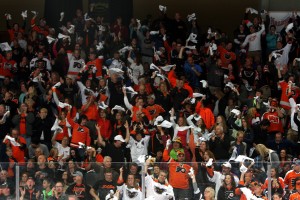 To help create a festive atmosphere for Opening Night, all fans in attendance received a free Phantoms rally towel courtesy of The Morning Call and the towels were put to good use early and often by the fans in Lehigh Valley who were ready to welcome their team back to action.
Opening Night marked the regular season Phantoms coaching debut for Scott Gordon who was hired in mid-July as the ninth head coach in franchise history. The contest also served as the professional debut for four first-year Phantoms including forwards Tyrell Goulbourne, Michael Parks and Pavel Padakin along with highly-touted defensive prospect and first-round pick in the 2013 NHL Entry Draft, Samuel Morin.
Jason LaBarbera earned the Opening Night nod in net for Lehigh Valley and registered 22 saves on 26 Syracuse shots. Meanwhile, Kristers Gudlevskis manned the Syracuse net and earned the victory between the pipes for the Crunch after 26 saves on 29 Phantoms shots.
Jonathan Marchessault, Syracuse's leading goal scorer from a season ago, led the offensive attack for the Crunch with a pair of goals while Dylan Blujus chipped in a pair of assists for the visitors.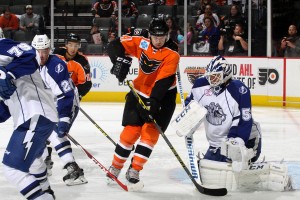 Despite the final outcome, several key statistical categories belonged to the Phantoms. Lehigh Valley ended up outshooting Syracuse 29-26 and limited the Crunch to just one uneventful power play opportunity. Meanwhile, the Phantoms went 1-for-4 with the man-advantage Saturday night.
Syracuse opened the scoring exactly nine minutes into the game when Mike Blunden corralled a loose puck atop the Phantoms goal crease before sending in the Crunch's first goal of the 2015-16 season. Mike Angelidis and Henri Ikonen assisted on the even strength strike.
The Phantoms bounced right back though and leveled the contest just over two minutes later when, while on the power play, Palushaj snapped in his first goal of the year and Lehigh Valley's opening salvo to the 2015-16 campaign. Taylor Leier, who tallied 18 assists and 31 points for the Phantoms a season ago, collected the primary assist while Shayne Gostisbehere earned the second assist on the man-advantage marker netted 11:39 into the opening period.
The Crunch regained the lead just under three minutes later when Marchessault landed his first goal of the season. Joel Vermin and Blujus assisted on the five-on-five conversion registered 14:31 into the first period.
Syracuse then doubled its advantage a little better than four minutes later when Tanner Richard's shot from the right wing redirected off a Phantoms defender before pinballing to a wide-open Philippe Paradis in the slot who made no mistake in sending in his first goal of the season. Meanwhile, Anthony DeAngelo, making his professional debut after a four-year junior career in the Ontario Hockey League, grabbed the secondary assist on the even-strength tally notched 18:38 into the opening frame.
The Crunch extended their lead to 4-1 just over six minutes into the second period when Marchessault curled into the slot before firing in his second goal of the game. Blujus and Jeff Tambellini assisted on Syracuse's fourth five-on-five tally of the night.
The Phantoms remained resilient though and cut the Crunch's lead down to two just prior to the midway point of the contest when a right wing offering by Padakin produced a rebound off Gudlevskis that was promptly collected by Conner and slammed into the back of the Crunch cage. Parks, making his professional debut after a four-year career under Philadelphia Flyers head coach Dave Hakstol at the University of North Dakota, earned the second assist on the even-strength conversion tallied 9:17 into the middle frame.
And Lehigh Valley wasn't done yet. With just under three and a half minutes left in regulation, Martel won a battle for a puck in mid-air just atop the Crunch goal crease before sending home his first goal of the new season. Nick Cousins, the Phantoms' leading scorer from a year ago, and Conner assisted on the game's final conversion.
The Phantoms are back in action next weekend when they hit the road for the first time during the 2015-16 regular season. The action starts on Friday, October 16 when Lehigh Valley heads to Springfield for a 7:00 p.m. showdown with the Falcons. The Phantoms then renew their in-state rivalry with the Wilkes-Barre/Scranton Penguins on Saturday, October 17 with a 4:05 p.m. tilt at Mohegan Sun Arena.
Syracuse Crunch 4 at Lehigh Valley Phantoms 3 – Status: Final
Saturday, October 10, 2015 – PPL Center
Syracuse 3 1 0 – 4
Lehigh Valley 1 1 1 – 3
1st Period-1, Syracuse, Blunden 1 (Angelidis, Ikonen), 9:00. 2, Lehigh Valley, Palushaj 1 (Leier, Gostisbehere), 11:39 (PP). 3, Syracuse, Marchessault 1 (Vermin, Blujus), 14:31. 4, Syracuse, Paradis 1 (Richard, DeAngelo), 18:38. Penalties-McGinn Syr (roughing), 11:13; Peca Syr (high-sticking), 11:13; Bardreau Lv (roughing), 11:13.
2nd Period-5, Syracuse, Marchessault 2 (Blujus, Tambellini), 6:07. 6, Lehigh Valley, Conner 1 (Padakin, Parks), 9:17. Penalties-Vermin Syr (holding), 3:08; Erne Syr (tripping), 17:54; Brent Lv (high-sticking), 18:03.
3rd Period-7, Lehigh Valley, Martel 1 (Conner, Cousins), 16:31. Penalties-Dotchin Syr (roughing), 2:30.
Shots on Goal-Syracuse 16-7-3-26. Lehigh Valley 9-8-12-29.
Power Play Opportunities-Syracuse 0 / 1; Lehigh Valley 1 / 4.
Goalies-Syracuse, Gudlevskis 1-0-0 (29 shots-26 saves). Lehigh Valley, LaBarbera 0-1-0 (26 shots-22 saves).
A-8,425
Referees-Evgeny Romasko (39), Furman South (55).
Linesmen-Leo Boylan (97), Jud Ritter (34).
Upcoming Events:
Saturday, October 24 (7:05) – Providence Bruins at Lehigh Valley Phantoms (FREE Magnet Schedules presented by Capital BlueCross and Pita King)
Sunday, October 25 (5:05) – Toronto Marlies at Lehigh Valley Phantoms (Youth Jersey Giveaway for the first 2,500 kids age 14 and younger presented by Capital BlueCross, Velaspan and Dick's Sporting Goods)
Wednesday, October 28 (7:05) – St. John's IceCaps at Lehigh Valley Phantoms (Pink in the Rink presented by Lehigh Valley Health Network)
RISE UP! Reserve your season tickets and groups now for the 2015-2016 season of Lehigh Valley Phantoms hockey. For more information on how to reserve your seat at PPL Center to the hottest ticket in town call the Phantoms front office today at 610-224-GOAL (4625)!