By Dan Fremuth
At just 23 and 24 years old respectively, Anthony Stolarz and Alex Lyon represent one of the youngest goaltending duos in the American Hockey League.
They just so happen to represent one of the AHL's most dynamic and impressive netminding tandems as well.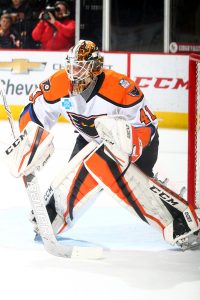 A 6'6", 232-pound goaltender from Edison, New Jersey, Stolarz is in the midst of third professional campaign and entered the week with a solid 18-7-0 overall record to go along with a 2.95 goals-against average and 0.910 save percentage. One of Lehigh Valley's representatives at the 2016 AHL All-Star Classic, he's now fifth in Phantoms' franchise history in games (104), wins (48) and saves (2,870).
A second-round selection (#45 overall) by the Philadelphia Flyers in the 2012 NHL Entry Draft, Stolarz has been a driving force in Lehigh Valley's recent success as he enters the week riding a six-game winning streak. He's won each and every start since a March 3rd victory at the Springfield Thunderbirds, which featured a season-high 44 saves, and has compiled a 2.76 goals-against average to go along with a 0.922 save percentage during his recent surge.
And while Stolarz has helped backstop a strong Phantoms' surge in recent weeks (Lehigh Valley has claimed seven of its last 10 games overall), he also missed 19 straight games from mid-November to late December as a result of a recall by Philadelphia.
That's where Lyon came in.
Upon Stolarz's recall to the Flyers, Lyon started 10 consecutive games between the pipes and 19 of Lehigh Valley's 20 games overall from November 13 to December 30. A 6'1", 200-pound netminder from Baudette, Minnesota, he went 7-3 in those 10 straight starts and 13-5-1 overall during that busy 20-game stretch.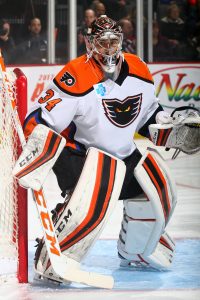 All told, the first-year netminder currently boasts an impressive 24-13-4 overall mark along with a 2.72 goals-against average and 0.910 save percentage. Lyon enters the week tied for fourth among all AHL goaltenders both in wins (24) and shutouts (four).
"Before the year started I set high expectations for myself," Lyon said. "And I'm just trying to meet those every single day. I feel more comfortable being around the rink, being around the guys, that's a big part of it as a rookie."
Lyon is coming off an incredibly successful three-year career at Yale University in which he compiled 50 wins, including 15 shutouts, and was a two-time Ken Dryden Award recipient (best goalie in Eastern College Athletic Conference) but his success at the pro level manifested itself almost instantly.
"I feel really comfortable but I think more than that, I've been putting in a lot of hard work," Lyon said. "I came from college and I was dominant and it's just about translating that and adjusting that to the pro level. That's where I'm at right now, just trying to regain that kind of confidence and dominance at a different level."
That dominance has displayed itself in the form of four shutouts, including a statement 31-save blanking of the AHL-leading Wilkes-Barre/Scranton Penguins at Mohegan Sun Arena on March 8. What's more, Lyon has allowed two goals against or fewer 18 times this season and Lehigh Valley is a perfect 18-0 on such occasions.
Of course, both Lyon and Stolarz have received tremendous offensive support from the AHL's highest-octane offense (3.55 goals/game) but their collective efforts haven't gone unnoticed especially on nights when even the league's best offense hasn't yet found its groove.
"You're bound to have games like that and that's when it's important for goalies to take over the game," said Phantoms forward Andy Miele. "Our goalies have been doing that for us lately and it gives us a lot of confidence to do our thing up front."
The last time the Phantoms participated in the Calder Cup Playoffs, names like Scott Munroe and Jean-Sebastien Aubin patrolled the team's goal crease. That was back in the spring of 2009. Now, the team is staring down its first postseason berth in eight years and the combined efforts of Lyon and Stolarz are a big reason why.