March 30, 2017
Lehigh Valley, PA – The Lehigh Valley Phantoms, proud AHL affiliate of the Philadelphia Flyers, are proud to announce that Danick Martel has been named the team's winner of the IOA/American Specialty AHL Man of the Year award for his outstanding contributions to the Lehigh Valley community during the 2016-17 season.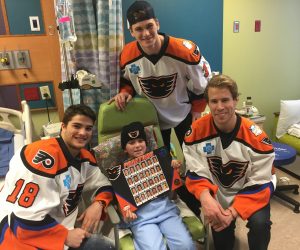 A regular contributor to the team's community outreach initiatives, Martel has participated in virtually every branch of the Phantoms' community relations this season.
One of his largest contributions has come in helping to foster the ongoing development of youth hockey in the Lehigh Valley. A fixture at Steel Ice Center in Bethlehem, Martel participated in at least one practice for nearly each of the 20 Phantoms Youth teams this season. What's more, he took it upon himself to attend several practices of Special Hockey of the Lehigh Valley, a program that gives individuals with special needs and developmental difficulties the chance to enjoy the game of hockey.
In addition, Martel attended two of the team's three Phantoms Fit appearances where Phantoms players provided skills and drills training as part of a comprehensive floor hockey equipment donation made by Phantoms Charities. During these appearances, he not only introduced students to a variety of hockey skills but also employed his outgoing and energetic personality in encouraging students to participate alongside the players.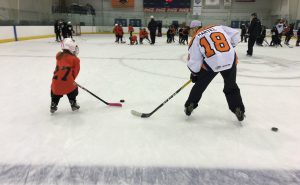 Finally, he was a regular attendee during team visits to the children's wing at Lehigh Valley hospital and made special in-person ticket deliveries to a handful of Phantoms season ticket holders before the season began.
Martel is now one of 30 finalists for the AHL's 2016-17 Yanick Dupre Memorial Award, honoring the overall IOA/American Specialty AHL Man of the Year. The league award is named after the former Hershey Bears forward and AHL All-Star who died in 1997 following a 16-month battle with leukemia. The winner of the Yanick Dupre Memorial Award will be announced by the American Hockey League at a later date.