Laughton Scores Twice in Front of Ouellette's 27 Saves
April 29, 2017
Hershey, PA – The Lehigh Valley Phantoms displayed their never-say-die spirit once again Saturday evening in leveling their best-of-five division semifinals with the Hershey Bears at two games apiece thanks to a 4-1 victory inside Giant Center. Lehigh Valley's triumph forces a decisive, winner-take-all Game 5 back at PPL Center on Sunday at 5:05 p.m. Tickets for Sunday's can't-miss contest are available now by clicking HERE.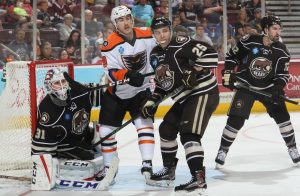 Of 99 teams in Calder Cup Playoffs history to have fallen behind 0-2 in a best-of-five series, the Phantoms are now just the 22nd team to battle back and force a decisive fifth game.
Scott Laughton (1st, 2nd), Danick Martel (1st) and Mark Zengerle (1st) provided the offense for Lehigh Valley on Saturday in front of goaltender Martin Ouellette who was sensational between the pipes turning aside 27 of Hershey's 28 total shots. In two starts in this series since Alex Lyon's Game 2 injury, Ouellette has allowed just two goals against while recording 56 saves on 58 total Bears shots.
Standout first-year defender Travis Sanheim recorded a pair of assists in the victory as Lehigh Valley's defensive effort limited Hershey to just 28 total shots. The Phantoms' penalty kill was a perfect 3-for-3 in the triumph and has now thwarted each of Hershey's 10 power play chances in the series. Lehigh Valley's penalty kill has been spectacular over the team's last 12 games in defending 38 of the club's last 40 man-down scenarios.
Chandler Stephenson netted the Bears' lone conversion in Game 4 in front of netminder Pheonix Copley who recorded 34 saves on 37 Lehigh Valley shots on goal.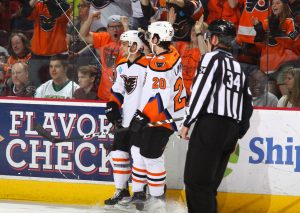 The Phantoms opened the scoring with just over three minutes left in the first period when a Tyler Lewington giveaway ended up on the stick of Andy Miele at the left point who alertly sent a slap pass down low to Martel who deked atop the goal crease before converting his first goal of the playoffs. Miele collected the only assist on the even-strength strike netted 16:51 into the opening period. Martel's conversion marked the second time in four games in this series in which Lehigh Valley has opened the scoring.
The Phantoms doubled their advantage less than four minutes into the middle stanza when Zengerle completed a phenomenal two-way play when his blocked shot in the defensive zone produced a breakout opportunity the other way leading to his first goal of the postseason. Sanheim garnered the only assist on the five-on-five conversion tallied 4:25 into the second period.
Hershey sliced Lehigh Valley's lead in half with just under five minutes left in the middle frame when Chandler Stephenson, fresh off a stint with the NHL's Washington Capitals, stepped over the blue line and into the slot before snapping home his first goal of the playoffs. Riley Barber and Nathan Walker assisted on the even-strength marker converted 15:01 into the second stanza.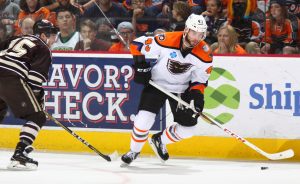 The Phantoms came out rejuvenated in the third period though and re-established their two-goal edge less than five minutes into the final frame of regulation when a tremendous stretch pass by Sanheim connected in stride with Laughton darting into the Hershey zone who promptly roofed his first tally of the postseason. Robert Hagg collected the secondary assist on the even-strength strike netted 4:48 into the third stanza.
Lehigh Valley landed the game's final conversion when, with Copley back to the bench in favor of the extra attacker, Laughton converted into an empty net from Samuel Morin and Colin McDonald with just 11.2 seconds left in regulation.
Lehigh Valley Phantoms 4 at Hershey Bears 1 – Status: Final
Saturday, April 29, 2017 – Giant Center
Lehigh Valley 1 1 2 – 4
Hershey 0 1 0 – 1
1st Period-1, Lehigh Valley, Martel 1 (Miele), 16:51. Penalties-Williams Her (hooking), 3:25; Sanheim Lv (slashing), 5:10.
2nd Period-2, Lehigh Valley, Zengerle 1 (Sanheim), 4:25. 3, Hershey, Stephenson 1 (Barber, Walker), 15:01. Penalties-Stephenson Her (interference), 11:21; Martel Lv (roughing), 15:34; R. Bourque Her (interference), 17:56.
3rd Period-4, Lehigh Valley, Laughton 1 (Hagg, Sanheim), 4:48. 5, Lehigh Valley, Laughton 2 (Morin, McDonald), 19:48 (EN). Penalties-Bardreau Lv (high-sticking), 5:49; Labrie Her (roughing), 5:49; Zengerle Lv (boarding), 12:39.
Shots on Goal-Lehigh Valley 12-11-15-38. Hershey 3-10-15-28.
Power Play Opportunities-Lehigh Valley 0 / 3; Hershey 0 / 3.
Goalies-Lehigh Valley, Ouellette 2-1 (28 shots-27 saves). Hershey, Copley 2-2 (37 shots-34 saves).
A-8,133
Referees-Tim Mayer (19), Furman South (44).
Linesmen-Kory Nagy (97), Jud Ritter (34).