Better Than 8,000 Fans on Hand for Lehigh Valley's First Teddy Bear Toss
December 6, 2014
Lehigh Valley, PA – Brett Hextall scored the goal that sent a swarm of teddy bears and stuffed animals to the ice and Rob Zepp registered 37 saves Saturday evening as the Lehigh Valley Phantoms earned a critical standings point in a 3-2 shootout defeat to the Bridgeport Sound Tigers in front of 8,068 fans at PPL Center. Following the shootout decision, the Phantoms moved to 9-9-2-1 overall and 6-2-2-1 at home this season.
"The Teddy Bear Toss goal, I've always been jealous of that one," Hextall said. "Every year somebody else gets it. It's always cool to get that one."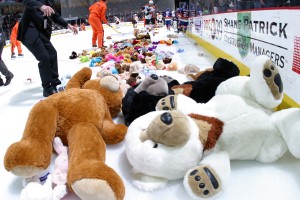 Darroll Powe also netted his fourth goal of the season for Lehigh Valley which has now garnered 15 of a possible 22 standings points in games played at PPL Center. Saturday's contest was another tightly-contested affair as the Phantoms battled through their 11th one-goal tilt this year and fourth straight one-goal decision at home. Lehigh Valley is 6-2-2-1 in one-goal games this season.
Saturday's contest also featured the seventh crowd of better than 8,000 supporters in 11 games at PPL Center this year.
"We played good here tonight," said Phantoms' head coach Terry Murray. "We played as good as we could here. For two periods we played very well. Hard, compete, battled, fought. Got the first goal. Had the lead. A young group of guys I thought we did a really good job."
History was made at the 6:08 mark of the second period Saturday when Hextall cut in on the right wing before depositing his second goal of the season inside the left post of the Bridgeport goal kicking off the first-ever Teddy Bear Toss at PPL Center. The ice was quickly covered in teddy bears and stuffed animals of all shapes, sizes and colors following Lehigh Valley's ninth game-opening goal this season. Steven Delisle and Kevin Goumas assisted on the historic marker which was Hextall's second conversion in as many games. All the teddy bears and stuffed animals will be donated to Valley Youth House, which provide prevention and intervention services to abused, neglected and homeless youth and their families here in the Lehigh Valley.
Bridgeport struck back quickly though as the Sound Tigers leveled the contest exactly 30 seconds later when Aaron Ness registered his third goal of the season. Alan Quine and Mark Nemec assisted on the even strength strike netted 6:38 into the middle frame.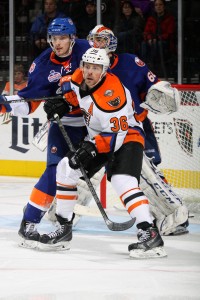 Lehigh Valley didn't let Bridgeport's equalizer slow their resolve as the Phantoms responded with a vengeance recapturing the lead just over a minute later when Andrew Gordon curled behind the Sound Tigers net before sweeping a perfect centering pass to the top of the crease that was decisively swatted in Powe. Mark Alt garnered the secondary helper on the go-ahead goal which came 7:59 into the second period.
Lehigh Valley's one-goal edge held through the rest of the second period and more than half of the third frame thanks in large part to Zepp's stellar play between the pipes. With 37 total denials, the 33-year-old netminder matched his second-highest save total of the season as Zepp moved to 7-4-2-1 overall this year.
The Sound Tigers were able to solve the Phantoms' acrobatic netminder once more in regulation as Bridgeport leveled the game 14:39 into the third period on Colin McDonald's seventh goal of the season. Jesse Graham and Kevin Czuczman assisted on the equalizing marker.
Both sides had their opportunities in the final minutes of regulation and throughout the overtime period but both Zepp and Bridgeport's Kevin Poulin preserved the 2-2 deadlock.
With neither side able to land the final conversion in overtime, the game moved to a shootout where Jason Akeson scored to lead off for the Phantoms only to see both C.J. Stretch and Kael Mouillierat convert for the Sound Tigers. Lehigh Valley is now 1-1 in shootouts this season as the Phantoms enjoyed their sixth overtime/shootout decision overall this season and fifth at PPL Center.
The Phantoms are back in action tomorrow when Lehigh Valley heads to Webster Bank Arena in Bridgeport for a 3 PM rematch with the Sound Tigers.
Meanwhile, the Phantoms return to PPL Center next Saturday, December 13th when they welcome the Wilkes-Barre/Scranton Penguins to town for a rivalry showdown. Saturday's contest features a "Go Birds" Tailgate with special guests Jeremiah Trotter, Brian Baldinger and the Eagles cheerleaders. The Phantoms will also don specialty jerseys that evening which will be auctioned off following the conclusion of the game. Tickets for next Saturday's highly-anticipated match-up are available now at the Mealey's Furniture Box Office at PPL Center (7th & Hamilton), by calling 610-347-TIXX or online at pplcenter.com.
Check it out! Don't miss the action and fun of Lehigh Valley Phantoms hockey at PPL Center in downtown Allentown! Contact the Phantoms Front Office for information on season tickets and affordable partial-season plans by calling 610-224-GOAL (4625).
Bridgeport Sound Tigers 3 (SO) at Lehigh Valley Phantoms 2 – Status: Final SO
Saturday, December 6, 2014 – PPL Center
Bridgeport 0 1 1 0 – 3
Lehigh Valley 0 2 0 0 – 2
1st Period- No Scoring.Penalties-Hagg Lv (interference), 0:57; Czuczman Bri (roughing), 7:30; Sundstrom Bri (roughing, roughing), 7:30; Jones Lv (roughing), 7:30; Lauridsen Lv (roughing, roughing), 7:30; Gallant Bri (unsportsmanlike conduct, fighting), 7:33; Mathers Lv (unsportsmanlike conduct, fighting), 7:33; McDonald Bri (roughing, roughing), 9:28; Hagg Lv (boarding, roughing), 9:28; Graham Bri (cross-checking), 9:37; Mayfield Bri (interference), 12:01; Stretch Bri (slashing), 12:01; Fyten Lv (tripping), 17:42.
2nd Period-1, Lehigh Valley, Hextall 2 (Delisle, Goumas), 6:08. 2, Bridgeport, Ness 3 (Quine, Nemec), 6:38. 3, Lehigh Valley, Powe 4 (Gordon, Alt), 7:59. Penalties-McDonald Bri (goaltender interference), 1:31; Zolnierczyk Bri (hooking), 3:09; Akeson Lv (tripping), 11:32; Stretch Bri (slashing), 16:06; Jones Lv (roughing), 18:58.
3rd Period-4, Bridgeport, McDonald 7 (Graham, Czuczman), 14:39. Penalties-Gillies Bri (boarding), 4:52; Stortini Lv (holding), 5:23; Zolnierczyk Bri (roughing), 18:28.
OT Period- No Scoring.Penalties-Graham Bri (hooking), 2:46; Manning Lv (slashing), 6:52.
Shootout – Bridgeport 2 (Stretch G, Mouillierat G), Lehigh Valley 1 (Akeson G, Jones NG, Gordon NG).
Shots on Goal-Bridgeport 9-15-9-6-1-40. Lehigh Valley 7-12-7-3-0-29.
Power Play Opportunities-Bridgeport 0 / 6; Lehigh Valley 0 / 9.
Goalies-Bridgeport, Poulin 9-3-1 (29 shots-27 saves). Lehigh Valley, Zepp 7-4-1 (39 shots-37 saves).
A-8,068
Referees-Michael Mullen (18), Tim Mayer (19).
Linesmen-Bill Lyons (27), Jud Ritter (34).