The Lehigh Valley Phantoms were thrilled to go to Valley Youth House's Camp Fowler to drop off the toilet paper donations from the team's toilet paper drive sponsored by Air Products on Saturday, January 14th.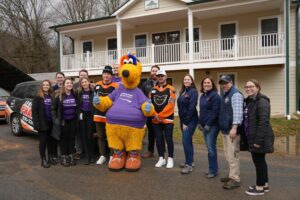 At the Phantoms game on February 14th, sponsored by Air Products, fans were encouraged to bring wrapped rolls of toilet paper to the game in exchange for a raffle ticket with the chance to win multiple prizes. In total, 4,430 rolls of toilet paper were collected benefitting Valley Youth House's multiple programs.
Toilet paper is a necessity for everyone, yet many homeless and less fortunate members of the community cannot afford to buy. Each year, 42 million tons of toilet paper are used, equating to 184 million rolls of toilet paper.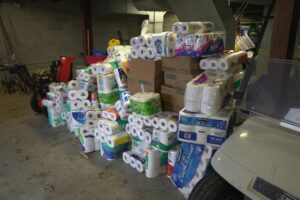 Phantoms players Adam Karashik and Adam Brooks, along with members of the Phantoms' front office staff and meLVin, dropped off four cars full of toilet paper at Camp Fowler, as well as soap and other necessities on Monday, January 23rd. This toilet paper took up multiple rooms of the lodges at Camp Fowler.