Friday, January 27, 2023 at 7:05 p.m.
Lehigh Valley Phantoms (19-15-5) vs. WBS Penguins (19-15-5)
PPL Center, Allentown, PA
TONIGHT
It's Flyers Night at PPL Center as the Lehigh Valley Phantoms host the Wilkes-Barre/Scranton Penguins in Game 6 out of 12 in the rivalry series. The Phantoms and Penguins have identical records and are tied for fourth-place in the ultra-competitive Atlantic Division.
Lehigh Valley won the last round between the two Keystone foes last Friday in Wilkes-Barre with a 5-2 thrashing that included four fights in the third period and some bad blood amongst the rivals.
It is Game 2 out of 5 in the team's longer homestand of the season.
GRITTY and Flyers P.A. Announcer Lou Nolan will be on hand for Flyers Night and former Phantoms great Sam Morin will conduct the ceremonial puck drop.
It's also a WHITEOUT Night. Fans are encouraged to wear white to the game.
LAST TIME
Wednesday, January 25, 2023
Bears 5 – Phantoms 2
Elliot Desnoyers (14th) and Hayden Hodgson (2nd) scored equalizing goals for the Phantoms in the first and second periods but visiting Hershey broke away in the third period with a  three-goal surge to forge a 5-2 victory in Allentown on Wednesday night. Joe Snively and Mason Morelli led the Bears with each scoring a pair of goals. Hershey ended Lehigh Valley's streak of 15 consecutive penalty kills by scoring a pair of power-play markers against Sam Ersson.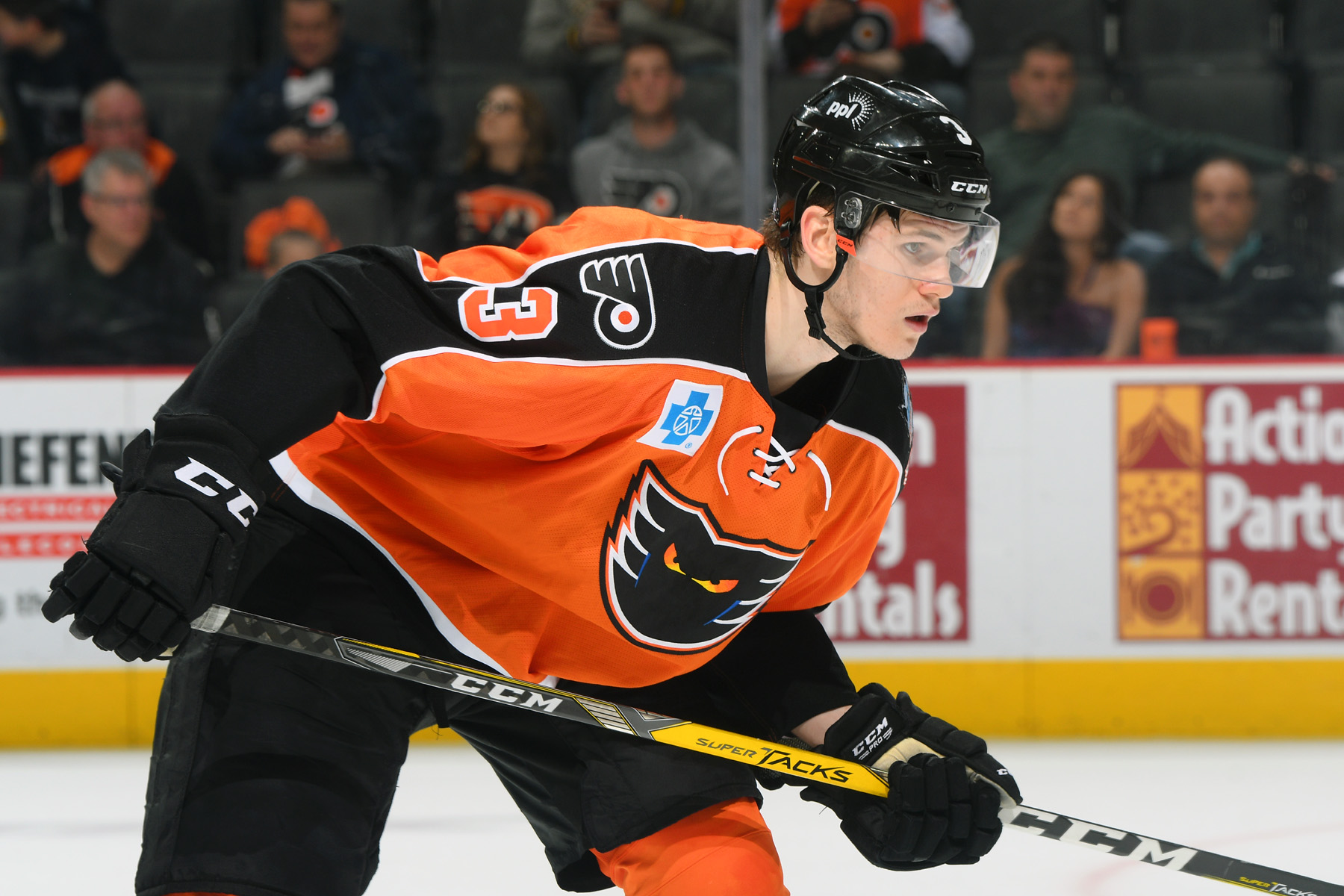 SAM MORIN RETURNS
One of the most popular players in Lehigh Valley Phantoms history will be in the building for Flyers Night when hulking defenseman Sam Morin conducts the ceremonial puck drop. Now retired as a player, Morin's character is well known and he quickly reached an agreement with the Philadelphia Flyers to stay with the organization in the Player Development department where he now works with and meets the Flyers' young prospects helping guide them towards becoming future Phantoms and Flyers talents.
Morin played in 177 career games with the Lehigh Valley Phantoms from 2015 through 2019 as well as 29 games with the Philadelphia Flyers. Last May, Morin announced his retirement as a player after courageously battling through several injuries.
AWAY ICE ADVANTAGE?
The Phantoms vs. Penguins rivalry series has been unusual this season in that the home team has had little success so far. Lehigh Valley has gone 2-0-1 in northeast Pennsylvania this year while the Wilkes-Barre/Scranton Penguins have gone 2-0-0 at PPL Center. The Phantoms are looking to change that trend tonight in the third Allentown excursion of the campaign for the flightless fowl from the Wyoming Valley.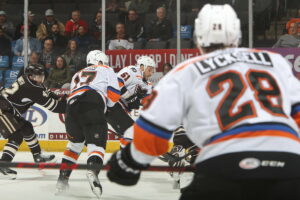 PHANTASTIC!
–  Elliot Desnoyers regained possession of the team in goals when he scored his 14th of the season on Wednesday. Tyson Foerster has surged to a tie with Desnoyers last Friday at Wilkes-Barre via his second two-goal game in barely over a week. Both young talents turned 21 years old last week.
– Hayden Hodgson found the scoring touch again with his steal and partial breakaway strike on Wednesday against Hershey. It was Hodgson's first goal since Opening Night when he scored the first goal of the season at PPL Center on October 22 against Cleveland. Hodgson was second on the Phantoms last year with 19 goals and also scored in his NHL debut last March.
– Cal O'Reilly notched an assist last Friday at Wilkes-Barre/Scranton to become the 25th player in AHL history to reach the 700-point milestone. O'Reilly is 7th all-time in AHL history with 546 career assists.
– Bobby Brink has scored four goals in eight games with the Phantoms since his debut on January 6 and all four have come in different arenas: Rochester, Bridgeport, Cleveland, Wilkes-Barre/Scranton. Brink has yet to score a goal at PPL Center.
– Jackson Cates has racked up four assists in the last four games with a pair of multi-helper nights on January 17 and January 20.
– The Phantoms went 3-0-0 on their recent road-trip and have won four consecutive away games. Lehigh Valley is 5-0-1 on the road in January through a busy travel schedule.
– The Phantoms are….
14-4-4 when scoring 3 or more goals
16-1-1 when allowing 2 goals or fewer
13-3-5 in one-goal games
10-1-5 when scoring the first goal
12-0-4 when leading after two periods
4-3 in overtime and 2-2 in shootouts
ABOUT THE PENGUINS
Wilkes-Barre/Scranton (19-14-5) is tied for fourth-place with the Phantoms entering tonight's important game. The Penguins have been impacted by several recalls to Pittsburgh including former Phantoms Dustin Tokarski and Mark Friedman and veteran defenseman Xavier Ouellet. Wilkes-Barre/Scranton has dropped four of its last five including a 3-2 decision at Rochester on Wednesday and a 5-1 loss at Utica in the completion of a game that was suspended in October due to a power outage. Valtteri Puustinen (14-16-30) has scored three of his 14 goals against Lehigh Valley. Former Buffalo first-rounder Alex Nylander (17-16-33) is tops on the team and is also on a tear with goals in three of the last four games. The Penguins have the second-best defense in the conference (behind Hershey) allowing just 2.7 goals per contest but that didn't bother the Phantoms last Friday when they exploded for a season-best four goals in a period in the middle stanza at Wilkes-Barre.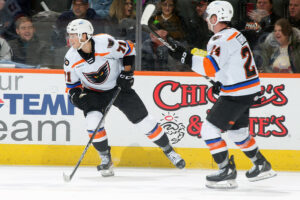 Phantoms Scoring Leaders
Olle Lycksell 7-20-27
Tyson Foerster 13-13-26
Elliot Desnoyers 14-9-23
Artem Anisimov 12-8-20
Garrett Wilson 5-12-17
Jackson Cates 7-9-16
Wilkes-Barre/Scranton Scoring Leaders
Alex Nylander 17-16-33
Valtteri Puustinen 14-18-32
Drake Caggiula 9-19-28
Filip Hallander 8-17-25
x Drew O'Connor 8-14-22
Phantoms Tickets are available HERE
SPECIAL TEAMS 
Lehigh Valley Power Play – 22.%, 7th – (vs. WBS 2/16, 12.5%)
Lehigh Valley Penalty Kill – 73.9%, 31st
Wilkes-Barre/Scranton Power Play – 17.0%, 26th – (vs. LV 3/20, 15%)
Wilkes-Barre/Scranton Penalty Kill – 82.5%, 10th
UP NEXT
The homestand continues Saturday with a rematch against the Hershey Bears featuring meLVin Youth Winter Hats for the first 2,000 youths presented by Lehigh Valley Reilly Children's Hospital.
Phantoms Tickets are available HERE
UPCOMING SCHEDULE
Friday, January 27 (7:05) vs. WILKES-BARRE/SCRANTON PENGUINS
Saturday, January 28 (7:05) vs. HERSHEY BEARS
Wednesday, February 1 (7:05) vs. HERSHEY BEARS
Friday, February 3 (7:05) vs. PROVIDENCE BRUINS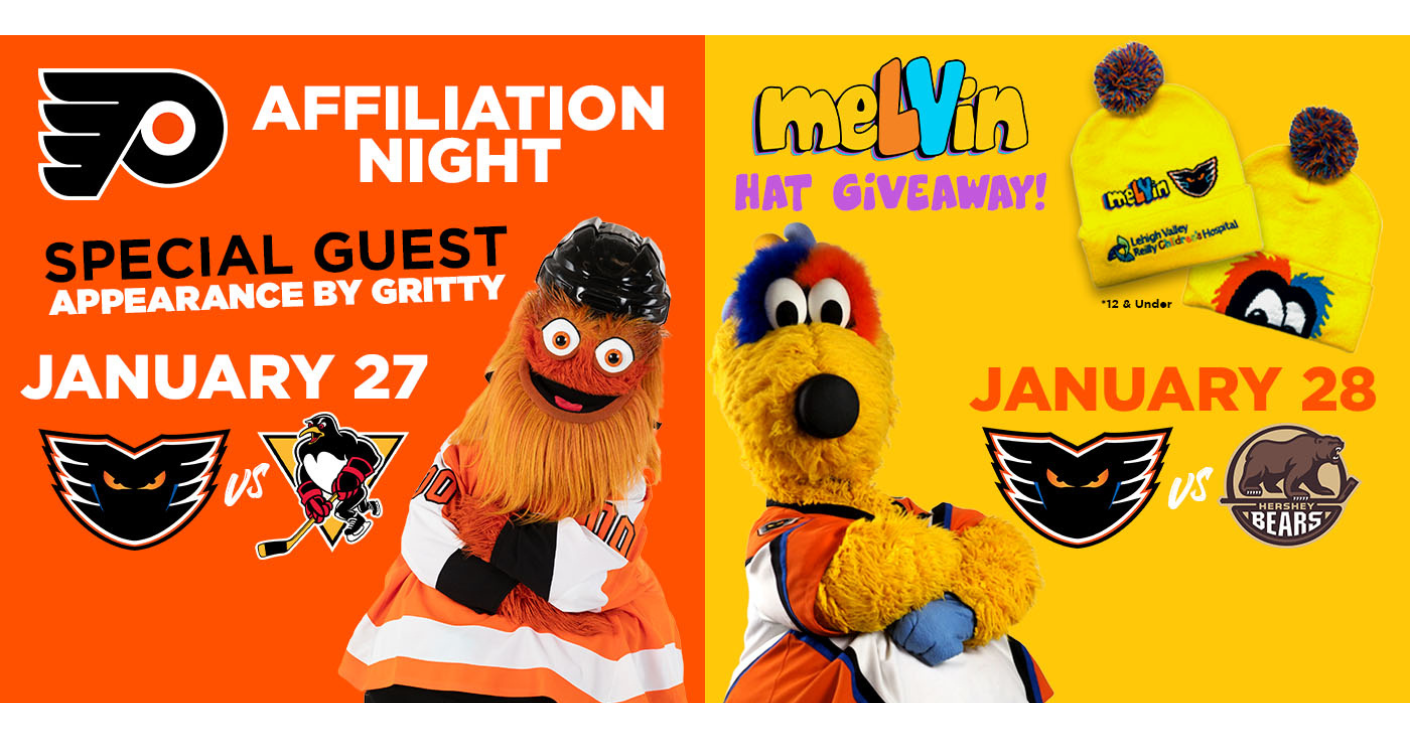 UPCOMING PROMOTIONS
Friday, January 27 (7:05) vs. Wilkes-Barre/Scranton Penguins – Flyers Night with Lou Nolan and GRITTY!!!
WHITEOUT – Wear white to the game!
Saturday, January 28 (7:05) vs. Hershey Bears – meLVin Youth Winter Hats presented by Lehigh Valley Reilly Children's Hospital (first 2,000 kids age 12 and younger)
Wednesday, February 1 (7:05) vs. Hershey Bears – Pregame Happy Hour. $2 Miller Lites and Yuenglings available until Puck Drop
Friday, February 3 (7:05) vs. Providence Bruins – Phantoms Premier Member Appreciation Night. Great Prizes! Berks $1 Hot Dogs

Broadcast coverage of all Phantoms games with Bob Rotruck is available on the Phantoms 365 app and on Real Oldies 1470-AM in Allentown. Also available on the Listen Live button at phantomshockey.com
Fans can also watch the games on AHLTV.com or can listen on their Smart Speakers at: "Play Phantoms Radio 24/7."