Phantoms players and meLVin took a trip to Lehigh Valley Reilly Children's Hospital to bring smiles and brighten the day of patients currently under care at the hospital.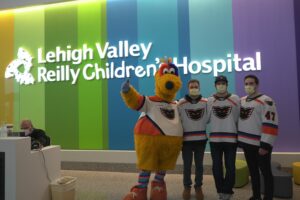 Players Louie Belpedio, Troy Grosenick, Cooper Marody, and meLVin visited patients on Tuesday, January 24th and delivered gifts as well. The gift bags, loaded with stickers, a meLVin trading card, and a meLVin hat, sponsored by Lehigh Valley Reilly Children's Hospital,  brought lots of joy to seven patients at the hospital.
"It's amazing. The kids here are fighting hard and are so inspirational, it's an honor to get to meet them and learn a little bit about their lives. It was really special for us to have the opportunity to be here today," Cooper Marody said. "They're going through so much at such a young age, we just want them to smile, see meLVin, and chat with them about whatever their interests are…. we really enjoyed it."
The meLVin hat, part of a giveaway that will take place at the Phantoms game on January 28th, made its debut while being worn by patients like Joseph, 3, and Amir, 8.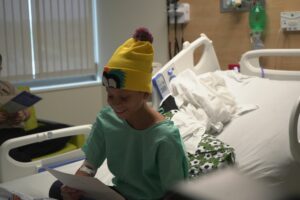 "It was great to see the kids light up when the players and meLVin walked in the room. Kids like Joseph are the reason we do this," Community Relations Manager Caitlin Burns said of the visit. "He was so excited to see the guys and show them his dance moves. The guys love getting to visit the kids and getting out into the community and we love bringing meLVin out to get the kids excited and take their minds off of being in the hospital for a little bit. It's an integral part of what we stand for."