Corban Knight Scores Pair of Goals
February 16, 2019
Hershey, Pa. – Corban Knight scored a tying goal with just 1:09 remaining in the third period but the Hershey Bears eventually hung on for a 3-2 shootout win on Saturday night at Giant Center. Knight scored a pair of goals in just his third game of the season with the Phantoms since recovering from shoulder surgery last October. Lehigh Valley extended its point streak to three games with the valuable standings point in the shootout loss.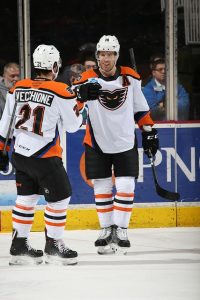 The Phantoms had a couple tremendous chances to take the W back home with them but Jori Lehtera was denied on the doorstep with 12 seconds left in the third period on a fine stop by Bears netminder Ilya Samsonov. Then in overtime Corban Knight spotted Mike Vecchione in the clear for a breakaway but Samsonov against came up with the big stop in a clutch moment.
Mike Sgarbossa scored the shootout winner in the third round against Alex Lyon and also recorded his team leading 22nd goal earlier in the game. Jayson Megna (12th) scored for the Bears as well while Riley Barber and Aaron Ness each notched a pair of power-play assists.
Hershey (28-20-3) extended its point streak to 14 straight with a 13-0-1 mark since January 12th. The Bears have also won eight in a row to catch up to the Phantoms in the extremely tight Atlantic Division Standings. The two teams will rematch on Sunday evening at 5:05 p.m. at PPL Center in Allentown in a showdown for sole possession of the fourth place position and playoff spot.
Lehigh Valley (27-19-6) with 60 standings points is one ahead but Hershey has a game-in-hand and therefore is barely ahead on points percentage by the slimmest of margins at .578 to .577. That's how tight it has become in the exciting stretch run of the 2018-19 playoff chase.
The Phantoms took control of the game early and scored a 5-on-3 goal off the stick of Knight for the initial 1-0 lead just 4:36 into the game. T.J. Brennan's shot from center-point was deflected down low by Knight for the marker. Mike Vecchione also received an assist on the play.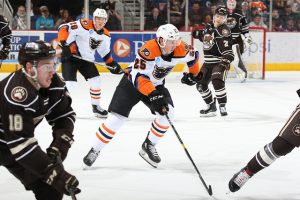 Hershey rallied back with a pair of power-play conversions in the second period. The Bears had gone 0-for-33 against Lehigh Valley this season but finally broke through on Sgarbossa's snipe from the left dot over the right shoulder of Lyon at 11:50 into the second period. Later in the period, Megna would deflect a Riley Barber blast at 18:42 into the frame for a 2-1 lead.
The Phantoms took advantage of a late power play to earn the equalizer with just 1:09 left. With their goalie pulled for a 6-on-4 attack, Greg Carey forced a turnover and Knight went wide to the right of the cage. Samsonov initially made a great save practically off the left toe but Knight stayed with it and appeared to bank the tying tally off a Bears defenseman in another thrilling Phantoms comeback.
But after the teams traded chances in the overtime, Hershey eventually pulled through to remain as one fo the hottest teams in the AHL. The Phantoms, in the meaning, have a three-game point streak at 2-0-1 entering the Sunday rematch at PPL Center.
Sunday's game also features meLVin's Birthday Celebration with over 20 fellow mascots joining in to celebrate including Gritty from the Philadelphia Flyers. The night will be capped by a postgame skate for the fans with the Phantoms players and meLVin. Tickets are available at PPLCenter.com
Lehigh Valley Phantoms 2 at Hershey Bears 3 – Status: SO
Saturday, February 16, 2019 – Giant Center
Lehigh Valley 1 0 1 0 – 2
Hershey 0 2 0 0 – 2
1st Period-1, Lehigh Valley, Knight 1 (Brennan, Vecchione), 4:36 (PP). Penalties-Siegenthaler Her (slashing), 3:40; Lewington Her (delay of game), 3:48; served by Ikonen Her (bench minor – too many men), 7:06; Vecchione Lv (hooking), 14:01.
2nd Period-2, Hershey, Sgarbossa 22 (Barber, Ness), 11:50 (PP). 3, Hershey, Megna 12 (Barber, Ness), 18:42 (PP). Penalties-Aube-Kubel Lv (boarding), 7:21; Froese Lv (tripping), 11:08; Huntebrinker Lv (tripping), 18:08.
3rd Period-4, Lehigh Valley, Knight 2 (Carey), 18:51 (PP). Penalties-served by Huntebrinker Lv (bench minor – too many men), 2:36; Friedman Lv (tripping), 14:14; O'Brien Her (high-sticking), 16:51.
OT Period- No Scoring.Penalties-No Penalties
Shootout – Lehigh Valley 0 (Knight NG, Aube-Kubel NG, Carey NG), Hershey 1 (Barber NG, Walker NG, Sgarbossa G).
Shots on Goal-Lehigh Valley 10-9-8-3-30. Hershey 10-15-7-2-34.
Power Play Opportunities-Lehigh Valley 2 / 4; Hershey 2 / 6.
Goalies-Lehigh Valley, Lyon 11-10-1 (34 shots-32 saves). Hershey, Samsonov 12-11-1 (30 shots-28 saves).
A-10,587
Referees-Michael Markovic (47), Carter Sandlak (6).
Linesmen-Colin Gates (3), Richard Jondo (55).
NEXT TIME OUT: Lehigh Valley will rematch against the Hershey Bears Sunday at PPL Center to celebrate meLVin's birthday bash with all his mascot friends!
Follow the action @LVPhantoms on Twitter, on AHLTV or the Phantoms365 App.
Ticket Information
Tickets for each and every Phantoms home game throughout the 2018-19 season are available online at pplcenter.com, by calling 610-347-TIXX [8499] or in-person at the QNB Box Office [7th & Hamilton].