Lehigh Valley, PA – Phantoms Charities, a dedicated leader in community initiatives, has partnered with iconic singer-songwriter James Taylor, PPL Corporation and the Air Products Foundation to donate $2,000.00 to the Community Music School of the Lehigh Valley in honor of James Taylor's performance at PPL Center on July 2.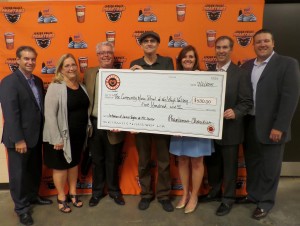 "After learning about James Taylor's passionate support of music education, we were compelled to make a donation in his honor to the Community Music School of the Lehigh Valley," said Rob and Jim Brooks, owners of the Lehigh Valley Phantoms and BDH Development, LLC, the master leaseholder of PPL Center. "We feel very strongly about investing in and strengthening the Lehigh Valley community, so we are thrilled that James Taylor, PPL Corporation and the Air Products Foundation have each decided to match the donation made by Phantoms Charities."
Located in Center City Allentown, the Community Music School of the Lehigh Valley is dedicated to providing high quality, accessible music instruction for all persons, including the talented, the hobbyist, the musically curious, the disabled and the disadvantaged. Its purpose is to provide the finest musical instruction to all persons regardless of race, creed, national origin, gender, physical/mental challenge, and financial means.
"On behalf of the board, staff, faculty, and especially the students of Community Music School, I sincerely thank Phantoms Charities, James Taylor, PPL Corp, & Air Products for this generous donation," said Jeff Reed, Director of Community Music School. "CMS started in downtown Allentown in 1981 and as the city revitalizes, we are truly blessed to have support of so many of our old and new downtown Allentown neighbors. With their support, CMS will continue to carry on our mission of providing quality music education to all with the desire to learn, including those who might not be able to afford it or attend a school where music programs have been cut. Our goal is to not only create musicians, but to expose students to the life-long benefits of music study through performance and collaborative opportunities."
The mission of Phantoms Charities, presented by Air Products, is to strengthen the community by developing, instituting and operating charitable and educational programs and services aimed at improving the lives of children and adults in the Lehigh Valley and the surrounding communities, with a special emphasis on youth health, fitness, sports and education.
About the Lehigh Valley Phantoms
On the cusp of their 20th season of operation, the Phantoms recently completed their Inaugural Season as the Lehigh Valley Phantoms playing at the brand-new PPL Center. Established in 1996, the Phantoms spent their first 13 seasons at the Spectrum in Philadelphia before re-locating to Glens Falls, New York in 2009 where the team spent the next five seasons as the Adirondack Phantoms. A new era of Phantoms hockey began in the fall of 2014 when the Lehigh Valley Phantoms began play at the state-of-the-art PPL Center. Through 19 incredibly successful campaigns, the Phantoms have captured two Calder Cup Championships (1998, 2005), two Conference Championships (1998, 2005), two Regular Season Titles (1996-97, 1997-98) and four Division Championships (1996-97, 1997-98, 1998-99, 2003-04).
About PPL Center
PPL Center (pplcenter.com), nominated by Pollstar as Best New Major Concert Venue, is a state-of-the-art multipurpose arena in downtown Allentown, Pa. The arena seats more than 10,000 for concerts and more than 8,500 for Lehigh Valley Phantoms professional hockey games, making it the region's largest events venue. The amenities-packed PPL Center will host more than 140 events each year, offering something for everyone, including the Phantoms, the AHL affiliate of the NHL Philadelphia Flyers, live concerts, family shows, trade shows, figure skating events, youth sports, high school and collegiate events, Disney on Ice, conferences, graduations and many more events. PPL Center is currently the main catalyst to the revitalization and growth of downtown Allentown.
About James Taylor:
As a recording and touring artist, James Taylor has touched people with his warm baritone voice and distinctive style of guitar playing for more than forty years, while setting a precedent to which countless young musicians have aspired. Over the course of his celebrated song-writing and performing career, Taylor has sold more than 100 million albums, earning gold, platinum and multi-platinum awards for classics ranging from Sweet Baby James in 1970 to October Road in 2002. He has won multiple Grammy awards, has been inducted into both the Rock and Roll and the prestigious Songwriters Halls of Fame and in February 2006, The National Academy of Recording Arts and Sciences selected James as its MUSICARES Person of the Year. Most recently, Taylor was awarded the distinguished Chevalier of the Order of Arts and Letters by the French government and the National Medal of Arts by President Barack Obama in a White House ceremony.