Aube-Kubel and Carey Strike for 2 Goals and 1 Assist Each
October 6, 2018
Lehigh Valley, Pa. – Nicolas Aube-Kubel and Greg Carey paced the Phantoms offense with multi-goal games and three-point nights while Carter Hart turned aside 30 Bridgeport chances in his pro debut allowing the Lehigh Valley Phantoms to double-up the Bridgeport Sound Tigers 6-3 on Opening Night. Rookie German Rubtsov scored a goal in his North American pro debut on an assist by newcomer David Kase who also was playing professionally on this side of the Atlantic for the first time.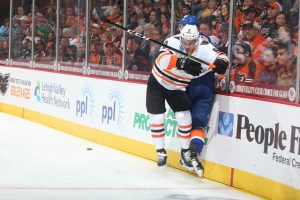 A Lehigh Valley Opening Night record crowd of 8,707 fans jammed into PPL Center to welcome the official return of hockey season to downtown Allentown. The 79th sellout in Lehigh Valley Phantoms history also marked the fifth consecutive Opening night sellout for the team and beat the old Opening Night record by 49 fans.
The atmosphere was electric early on, even through pregame warm-ups, in anticipation of the big night. The crowd roared through the opening introductions of their favorite players and then offered their approval at the showcasing of the team's Atlantic Division Championship banner of a season ago which this year's squad quickly showed they had full intentions of successfully defending.
The Phantoms players wore specialty jerseys, presented by Capital Blue Cross, featuring a Roman Numeral 'V' logo in recognition of the team's fifth season. And Lehigh Valley improved to 4-1-0 on Opening Nights.
Greg Carey joined some exclusive company by scoring the Phantoms' first goal of the season. After inadvertently blocking a point-shot by Phil Myers, he was able to find the puck at his skates and swing over towards the left post to beat Gibson's right pad. Carey's goal came immediately after a power play had expired and also came after a slower start for the Phantoms in which the team relied heavily on new netminder Carter Hart to make some nice stops early.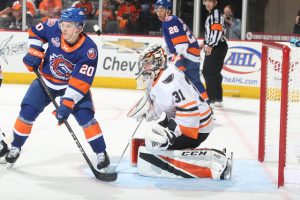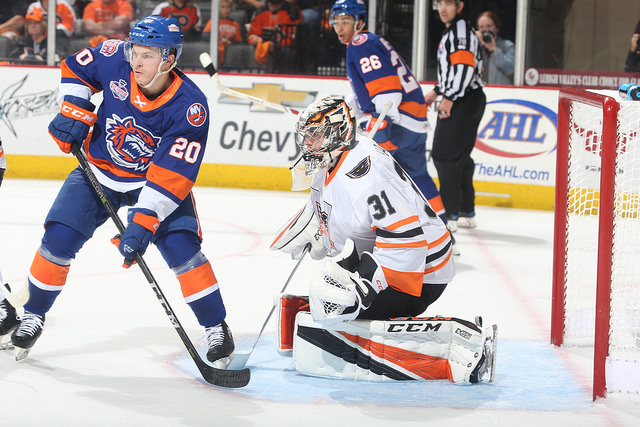 Lehigh Valley Phantoms players who have scored the first PPL Center goal of the season now include Carey (2018), Danick Martel (2017), Mark Zengerle (2016), Aaron Palushaj (2015) and Scott Laughton (2014).
Early in the second period came another big play when Hart denied highly touted Islanders' prospect Kiefer Bellows on a breakaway to preserve the 1-0 advantage. Phantoms head coach Scott Gordon observed that the result could have been much different had Hart not been on his toes at those key early moments.
"The first 5 minutes was a critical point in the game that (Hart) kept it nothing-nothing," Gordon said. "That gives the team confidence to go from there. In the 2nd period we're up 1-0 and we have a bad turnover and a timely (breakaway) save on Bellows. He was there at the critical times."
Shortly after the Hart breakaway save came a push the other way on an Aube-Kubel steal. With a defenseman narrowing down the angle on him, Aube-Kubel ripped a shot from the top of the right circle that he cranked off the left post and in for a 2-0 advantage just 2:00 into the second period.
Aube-Kubel's next strike came less than five minutes later when he blasted home a back-door slam on a cross-slot pass from reigning AHL MVP (Less Cunningham Award) Phil Varone just seconds after a power play had expired. And suddenly the Phantoms were feeling quite comfortable with a 3-0 advantage.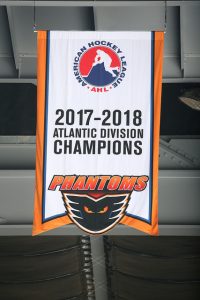 Bridgeport finally broke through on their 21st "shot" of the game that really wasn't exactly a shot. Chris Bourque's power-play entry from the right circle hit off the side of the skate of Bellows in the low slot and redirected in to cut the Phantoms margin to 3-1.
Both teams traded some rapid-fire scoring outbursts in the third period.
The Phantoms scored back-to-back just 51 seconds apart to stretch its advantage to 5-1. German Rubtsov smartly pushed the puck over to his backhand in the low slot to find an opening past the left skate of Gibson for his first career pro goal at 7:50 into the third after a nice assist by Kase in transition. Mark Friendman's secondary assist connecting with Kase through center sparked the play.
And at 8:41 it was vintage Greg Carey for his second goal of the night as he received a puck on the right boards with his back turned to the net but created an impressive shot when none seemed available thus scoring on a rocket of a goal that was assisted by T.J. Brennan and Friedman.
Lehigh Valley's 5-1 lead was in jeopardy when the team took consecutive penalties thus affording the Sound Tigers 90 seconds of 5-on-3 time. Hart came through with some of his best stops of the night but Bridgeport finally broke through on a Mitch Vande Sompel strike for a 5-2 margin. Just 17 seconds later it was Michael Dal Colle ripping one in the high slot for a 5-3 game and suddenly the Sound Tigers had life.
But Lehigh Valleey successfully killed Bridgeport's 6-on-5 desperation at the end leading to Phil Varone's empty-net goal with 42 seconds remaining following a steal by Tyrell Goulbourne and also assisted by Colin McDonald.
Bridgeport out shot the Phantoms 33-29. Lehigh Valley was 0-for-4 on the power play however two of their goals were scored immediately after power plays had expired. Bridgeport finished 2-for-5 on the man advantage.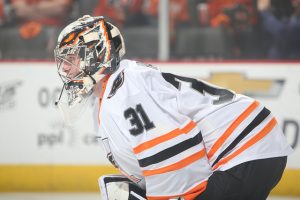 The Lehigh Valley Phantoms return to PPL Center on Friday, October 12 against the Springfield Thunderbirds for Game #2. The Phantoms will travel to Springfield the following night for the team's first away game of the season.
Friday, October 19 is hat Trick or Treat Night featuring a Halloween theme and a Phantoms Ballcap Giveaway presented by Service Electric. Tickets for upcoming Phantom games are available at PPLCenter.com
Bridgeport Sound Tigers 3 at Lehigh Valley Phantoms 6 – Status: Final
Saturday, October 6, 2018 – PPL Center
Bridgeport 0 1 2 – 3
Lehigh Valley 1 2 3 – 6
1st Period-1, Lehigh Valley, Carey 1 (Myers, Aube-Kubel), 5:52. Penalties-Toews Bri (boarding), 3:40; Bardreau Lv (boarding), 12:34.
2nd Period-2, Lehigh Valley, Aube-Kubel 1 2:00. 3, Lehigh Valley, Aube-Kubel 2 (Varone, Carey), 6:51. 4, Bridgeport, Bellows 1 (C. Bourque, Aho), 16:54 (PP). Penalties-Ho-Sang Bri (elbowing), 4:45; Wotherspoon Bri (interference), 8:56; served by Vecchione Lv (bench minor – too many men), 10:30; Bardreau Lv (holding), 16:19; Jones Bri (roughing), 19:47; Friedman Lv (slashing), 19:47.
3rd Period-5, Lehigh Valley, Rubtsov 1 (Kase, Friedman), 7:50. 6, Lehigh Valley, Carey 2 (Brennan, Friedman), 8:41. 7, Bridgeport, Vande Sompel 1 (Ho-Sang, Dal Colle), 11:01 (PP). 8, Bridgeport, Dal Colle 1 (Ho-Sang, Vande Sompel), 11:18. 9, Lehigh Valley, Varone 1 (McDonald, Goulbourne), 19:18 (EN). Penalties-Jones Bri (roughing), 4:34; Myers Lv (hooking), 8:55; de Haas Lv (cross-checking), 9:25.
Shots on Goal-Bridgeport 10-11-13-34. Lehigh Valley 10-10-9-29.
Power Play Opportunities-Bridgeport 2 / 5; Lehigh Valley 0 / 4.
Goalies-Bridgeport, Gibson 0-1-0 (28 shots-23 saves). Lehigh Valley, Hart 1-0-0 (34 shots-31 saves).
A-8,707
Referees-Jordan Deckard (14), Jeremy Tufts (78).
Linesmen-Luke Murray (92), Jud Ritter (34).
Season tickets offering a wide range of benefits as well as 20-Game and 12-Game plans and 10-game Flex-Voucher Packs are available by calling the Phantoms at 610-224-GOAL (4625).