3 Power Play Goals in 5-1 Win
January 22, 2017
Hershey, Pa. – Greg Carey scored his league-leading 22nd goal of the season to help lead a balanced attack in a Phantoms rivalry victory 5-1 at the Hershey Bears on Sunday evening.
Colin McDonald (15th), Chris Conner (10th), Jordan Weal (13th) and Scott Laughton (8th) all found the back of the net for a Phantoms offensive corps that struck for three of their markers on the power play. Andy Miele set up three of the goals with his assists while Alex Lyon turned in a 25-save performance for his league-leading 17th win of the season while falling just a few minutes short of his third career shutout.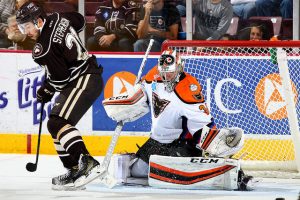 Lehigh Valley's 27th victory in only 40 games played this season came on the heels of their lone loss of the weekend. The Phantoms displayed their character in rebounding from the setback and ultimately secured four out of six points against a tough lineup of opponents over the weekend.
The Phantoms improved to 27-11-2 overall and also took a lead in the rivalry series against Hershey 5-4. The 3-for-6 performance on the power play represented the 15th time this season the Phantoms have scored two or more power-play goals in a game. Lehigh Valley is 12-2-1 in those games. The Phantoms have scored a power-play tally in seven of their last eight games going 13-for-41 in that stretch for a gaudy success rate of 31.7%.
Alex Lyon was tested early on a couple quality chances for the Hershey Bears that easily could have given the hosts the starting tally of the night. Lyon made a nice stop point-blank on Christian Thomas off his left arm. A few minutes later he rotated to his right to make a sparking glove denial on Travis Boyd's blast from the left circle on the power play. The big stops by the rookie out of Yale University caught the attention of a certain former goaltender observing from the Phantoms bench.
"Alex was awesome tonight," said Phantoms head coach Scott Gordon. "He had stretches of no shots and then all of a sudden he would make that big save that was huge. And he did it every period for us."
The Phantoms found their stride and struck for consecutive goals 31 seconds apart late in the first period.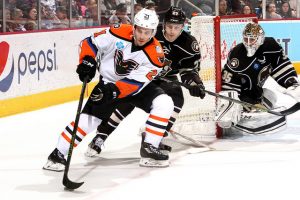 Carey converted concisely on Cannata snapping it through on the right skate of the Bears netminder. Carey busted in across the line receiving a quick feed from T.J. Brennan while Hershey was trying to scramble in a change on their penalty-kill. Carey has 12 goals in his last 17 games to take over sole leadership of the AHL top spot in lamplighters from Wilkes-Barre's Jake Guentzel. His 22 goals overall as well as his 14 power-play conversions both place the third-year pro out of St. Lawrence University at the top of the circuit.
Just 31 seconds later the Phantoms took advantage of a generous bounce off the end-boards for a 2-on-1 rush back the other way. But the 2-on-1 was really more like a 2-on-3 with back-skaters on each side of Colin McDonald rushing up the middle. Taylor Leier smartly recognized the situation and snapped a shot from the top of the left circle off the pads of Cannata sliding across. McDonald driving to the net busted his way through to nudge in the rebound opportunity for the 2-0 lead. The 15 goals for the team's captain are second on the Phantoms only to Carey's 22.
Hershey was handcuffed for much of the second period by the inspired Phantoms defense and the Bears generated zero shots in the first 12:00 of the frame. Alex Lyon was tested after almost no action for a very long stretch and came through with some big stops including a close-range try for Stan Galiev followed by a power-play 2-on-1 rush that culminated in Lyon's flashy sliding blocker stop against Liam O'Brien on the backdoor. Those were big stops for the Phantoms goaltender in preserving the 2-0 advantage to the second intermission.
The Phantoms successfully pushed through midway through the third period to put the game away with three quick goals in less than four minutes. Chris Conner crafted a goal on a rebound in the slot following a close call on the back door by Greg Carey on a left-wing feed by Andy Miele. The left leg save for Cannata was scooped up by Conner who quickly turned for the top-shelf strike while Cannata was still attempting to regain his position. The Phantoms second power-play goal of the evening gave the Phantoms a 3-0 lead at 8:02 into the third.
The Phantoms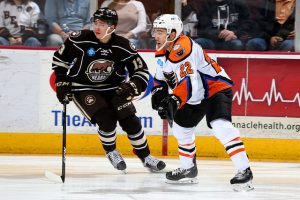 received another power-play opportunity and just over a minute later it was Jordan Weal with a low-slot redirection of T.J. Brennan's shot from the point for the team's third power-play marker and a 4-0 lead.
Lehigh Valley would strike with a man advantage again but this time it wouldn't count as a power play goal. Skating 4-on-4, the Hershey Bears were charged with a penalty allowing the Phantoms to pull their goalie on the delayed call. Andy Miele found Scott Laughton on the left circle who knocked the water bottle with his snipe to the upper left corner of the cage at 11:42 into the third period. Laughton's fifth goal in his last eight games was good for his eighth of the year allowing the Phantoms to breathe comfortably with a 5-0 advantage.
The goal that came with a delayed penalty in effect is technically not a power-play goal even though the Phantoms had an additional skater on the ice when it was scored.
Chris Bourque's high-slot blast for his 10th of the year coming on the power play would sneak through Lyon's five-home with just barely over 7:00 remaining to salvage a lone goal for the Bears.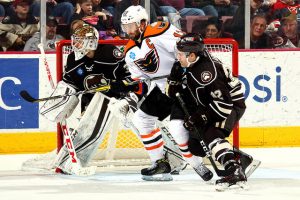 Lehigh Valley out shot the Bears 30-26. The Phantoms were 3-for-6 on the power play while Hershey finished at 1-for-7. After seven meetings in December and January, the Phantoms vs. Bears rivalry will have a little time to cool off. The two teams do not meet again until a March 10 encounter at PPL Center. The Phantoms have gone 3-2 at Giant Center this year and will make their last sojourn to Chocolate Town on April 2.
The Phantoms return to action on Wednesday night hosting the Binghamton Senators in the team's final home game before the AHL All-Star Classic presented by Capital Blue Cross. Tickets for Wednesday's contest are available now at PPLCenter.com
Lehigh Valley Phantoms 5 at Hershey Bears 1 – Status: Final
Sunday, January 22, 2017 – Giant Center
Lehigh Valley 2 0 3 – 5
Hershey 0 0 1 – 1
1st Period-1, Lehigh Valley, Carey 22 (Brennan, Miele), 17:32 (PP). 2, Lehigh Valley, McDonald 16 (Leier, Laughton), 18:03. Penalties-Stephenson Her (slashing), 5:16; Zengerle Lv (goaltender interference), 7:17; Mitchell Her (goaltender interference), 10:11; Miele Lv (holding), 10:27; O'Brien Her (interference), 16:33.
2nd Period- No Scoring.Penalties-Hagg Lv (tripping), 9:17; Hagg Lv (roughing), 17:36.
3rd Period-3, Lehigh Valley, Conner 11 (Carey, Miele), 8:02 (PP). 4, Lehigh Valley, Weal 13 (Brennan, Zengerle), 9:17 (PP). 5, Lehigh Valley, Laughton 8 (Miele, Brennan), 11:42. 6, Hershey, C. Bourque 10 (Boyd, Stephenson), 12:43 (PP). Penalties-Willcox Lv (roughing), 4:10; Cannata Her (delay of game), 7:00; Ness Her (interference), 8:09; Zengerle Lv (high-sticking), 10:54; O'Brien Her (interference), 10:58; Martel Lv (hooking), 12:03.
Shots on Goal-Lehigh Valley 8-10-12-30. Hershey 9-6-11-26.
Power Play Opportunities-Lehigh Valley 3 / 6; Hershey 1 / 7.
Goalies-Lehigh Valley, Lyon 17-8-2 (26 shots-25 saves). Hershey, Cannata 10-5-4 (30 shots-25 saves).
A-8,294
Referees-Guillaume Labonte (35), Keith Kaval (40).
Linesmen-Scott Pomento (25), Jason Mandroc (17).
And for the latest Phantoms news, visit www.phantomshockey.com or follow the team on Facebook (www.facebook.com/lehighvalleyphantoms), Twitter (@lvphantoms), Instagram (@lehighvalleyphantoms) and Snapchat (lvphantoms).
The Phantoms are thrilled to host the 2017 AHL All-Star Classic presented by Capital BlueCross at PPL Center January 28-30. The AHL All-Star Classic weekend includes a Phan Fest during the day on Saturday, January 28 and a Tailgate Party that evening, followed by the AHL All-Star Skills Competition on Sunday, January 29 and the 2017 AHL All-Star Game on Monday, January 30. Don't miss this once-in-a-lifetime event. Packages starting at just $67 for the 2017 AHL All-Star Classic presented by Capital BlueCross are on sale now and include admission to Saturday's Phan Fest & Tailgate Party, Sunday's AHL All-Star Skills Competition and Monday's All-Star Game. To purchase tickets, please visit www.phantomshockey.com or www.pplcenter.com.
The Phantoms are coming off their 20th Anniversary Season and second campaign in the Lehigh Valley playing at the state-of-the-art PPL Center. Established in 1996, the Phantoms spent their first 13 seasons at the Spectrum in Philadelphia before re-locating to Glens Falls, New York in 2009 where the team spent the next five seasons as the Adirondack Phantoms. A new era of Phantoms hockey began in the fall of 2014 when the Lehigh Valley Phantoms began play at the state-of-the-art PPL Center. Through 20 incredibly successful campaigns, the Phantoms have captured two Calder Cup Championships (1998, 2005), two Conference Championships (1998, 2005), two Regular Season Titles (1996-97, 1997-98) and four Division Championships (1996-97, 1997-98, 1998-99, 2003-04).