Jason LaBarbera Posts 42-Save Game and Chris Conner Scores on Penalty Shot
January 17, 2016
Bridgeport, CT – Veteran goalie Jason LaBarbera gave himself an early birthday present in the form of a spectacular 42-save performance leading the Lehigh Valley Phantoms to a hard-earned 4-1 victory at the Bridgeport Sound Tigers on Sunday evening. One day away from turning 36-years-old, the oldest goalie in the American Hockey League posted perhaps his best performance of the season and made a number of showstoppers among his season-high 42 total denials.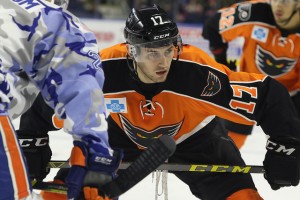 Taylor Leier (10th), Chris Conner (8th), Danick Martel (14th) and Kevin Goumas (4th) provided the offense for the Phantoms. Conner's goal in the first period came on a penalty shot which goes down as the second such conversion in Lehigh Valley history. Nick Cousins scored the first-ever penalty shot for Lehigh Valley last March in a game at the Toronto Marlies.
But it was absolutely LaBarbera's night as he stole the show on his way to #1 Star of the Game honors. LaBarbera's top save came early in the second period when the Phantoms were protecting a 2-0 lead. Pushing to his left to cover a backdoor opportunity for Taylor Beck, LaBarbera slid down to his right hip and then desperately reached up rapidly with the left arm to somehow spear Beck's bid leaving the Sound Tigers winger as well as the Webster Bank Arena gathering incredulous of the seemingly superhuman effort.
LaBarbera's 42 saves matched a season high for the Phantoms also accomplished by Anthony Stolarz who turned aside 42 out of 44 shots in a game at Hershey on December 5th.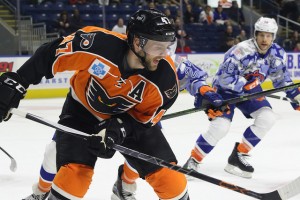 The Phantoms were able to take advantage of various Bridgeport penalties with three of their four goals coming as a direct result of Sound Tigers infractions. Besides the one power-play goal for Lehigh Valley was also a penalty-shot goal as well as another goal just seconds after a Bridgeport penalty had concluded while the Phantoms were still holding momentum from the just-expired power-play.
The Phantoms struck just past the midway point of the first when they converted on their first power play of the game. Taylor Leier found a free puck in the slot on the rebound of a Sam Gagner center-point slapper and promptly deposited the loose change past goaltender Parker Milner for the 1-0 advantage.
Less than two minutes later, Conner was sprung free on a breakaway and was hauled down hard from behind. Nick Cousins went after Kyle Burroughs sparking a line-scrum in the corner and then after the dust settled it was determined that Conner would be granted a penalty shot. Conner's conversion on the backhand extended his goal-scoring streak to three games as the speedy winger has fully found his stride in his second weekend back following a six-week stay on the sidelines with an injury.
The only other successful penalty shot for Lehigh Valley came in March of last season when Nick Cousins buried his opportunity at the Toronto Marlies in the third period to complete his second career hat trick.
Bridgeport finally broke through late in the second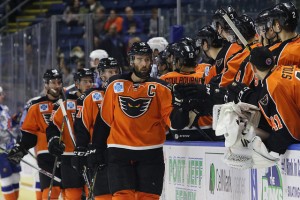 period when Mike Halmo's sixth goal capped their fourth power-play try of the game. After 31 consecutive saves, the Sound Tigers finally found a way to beat LaBarbera and climbed back into the game at 2-1.
The Phantoms salted things away early in the third period with tallies 30 seconds apart. First was Chris Conner's rapid-fire feed from the right corner just as a power play had expired. His gun across connected with Martel who chipped through his 14th of the season.
Then in was Kevin Goumas with a sneaky intercept at center sparking a 2-on-1 the other way. Goumas carried the puck the other way and opted to shoot the puck himself rather than pass across to line-mate Cole Bardreau. The Goumas snapper to the far post bested Milner high glove going bar-down for his fourth of the season.
The Phantoms improved to 1-1 against Bridgeport this year still in the early-going of their six-game divisional rivalry series. Lehigh Valley will again face the AHL affiliate of the New York Islanders with a February 5 invasion to Webster Bank Arena. The Sound Tigers next arrive to PPL Center on February 20.
Bridgeport out shot the Phantoms 43-28. Lehigh Valley finished 1-for-2 on the power play while Bridgeport was 1-for-4.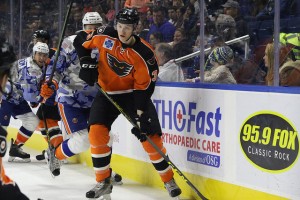 The Phantoms don't return to action until next Saturday when they travel to Chocolate Town to tangle with the rival Hershey Bears in Game 9 out of 12 in the wacky and wild rivalry series. The Phantoms are back PPL Center on Wednesday, January 27 for a 7:05 p.m. clash with the Binghamton Senators. Lehigh Valley is also at home on Friday, January 29 against the Wilkes-Barre/Scranton Penguins on another 20 Years of Phantoms Night. Be sure to secure your tickets now at pplcenter.com, by calling 610-347-TIXX [8499] or in person at the Mealey's Furniture Box Office at PPL Center [701 Hamilton Street].
RISE UP! Reserve your season tickets and groups now for the 2015-2016 season of Lehigh Valley Phantoms hockey. For more information on how to reserve your seat at PPL Center to the hottest ticket in town, call the Phantoms front office today at 610-224-GOAL (4625)!
Lehigh Valley Phantoms 4 at Bridgeport Sound Tigers 1 – Status: Final
Sunday, January 17, 2016 – Webster Bank Arena
Lehigh Valley 2 0 2 – 4
Bridgeport 0 1 0 – 1
1st Period-1, Lehigh Valley, Leier 10 (Gagner, MacDonald), 11:43 (PP). 2, Lehigh Valley, Conner 8 13:06 (PS). Penalties-Hagg Lv (hooking), 1:46; Brent Lv (roughing, fighting), 6:21; Burroughs Bri (fighting), 6:21; Czuczman Bri (cross-checking), 10:55; Cousins Lv (roughing, roughing), 13:06; Florek Bri (roughing, roughing), 13:06; Martel Lv (slashing), 16:33; Cullity Bri (roughing), 19:07.
2nd Period-3, Bridgeport, Halmo 6 (Burroughs, Czuczman), 17:15 (PP). Penalties-Martel Lv (diving/embellishment), 9:02; B. Holmstrom Bri (holding), 9:02; Gagner Lv (hooking), 15:47.
3rd Period-4, Lehigh Valley, Martel 14 (Conner, Cousins), 2:37. 5, Lehigh Valley, Goumas 4 (Bardreau, Goulbourne), 3:07. Penalties-Jones Bri (boarding), 0:28; Goumas Lv (roughing), 5:31; Leduc Bri (roughing), 5:31; Leier Lv (roughing, roughing), 19:04; Graham Bri (roughing, roughing), 19:04.
Shots on Goal-Lehigh Valley 9-9-10-28. Bridgeport 18-15-10-43.
Power Play Opportunities-Lehigh Valley 1 / 3; Bridgeport 1 / 4.
Goalies-Lehigh Valley, LaBarbera 5-9-0 (43 shots-42 saves). Bridgeport, Milner 1-2-0 (28 shots-24 saves).
A-4,444
Referees-Geoff Miller (28), Fred Leblanc (30).
Linesmen-Eric Ernst (24), Luke Galvin (2).
Upcoming Home Games:
Wednesday, January 27, 2016, Binghamton Senators vs. Lehigh Valley Phantoms, 7:05 p.m. | TIX
(First Responders Awareness Night.)
Friday, January 29, 2016, WB/Scranton Penguins vs. Lehigh Valley Phantoms, 7:05 p.m. | TIX
("20 Years of Phantoms" Night. Commemorative Poster Giveaway 3 of 4.)
Wednesday, February 10, 2016, Binghamton Senators vs. Lehigh Valley Phantoms, 7:05 p.m. | TIX
(Career Fair.)
In the midst of their 20th season of operation, the Phantoms are coming off their Inaugural Season as the Lehigh Valley Phantoms playing at the brand-new PPL Center. Established in 1996, the Phantoms spent their first 13 seasons at the Spectrum in Philadelphia before re-locating to Glens Falls, New York in 2009 where the team spent the next five seasons as the Adirondack Phantoms. A new era of Phantoms hockey began in the fall of 2014 when the Lehigh Valley Phantoms began play at the state-of-the-art PPL Center. Through 19 incredibly successful campaigns, the Phantoms have captured two Calder Cup Championships (1998, 2005), two Conference Championships (1998, 2005), two Regular Season Titles (1996-97, 1997-98) and four Division Championships (1996-97, 1997-98, 1998-99, 2003-04).