June 4, 2021
Lehigh Valley, PA – The National Hockey League has named Kurtis Gabriel of the San Jose Sharks as one of three finalists for the King Clancy Trophy. Pekka Rinne and P.K. Subban are the other finalists along with Gabriel.
The award is given annually to the player who best exemplifies leadership qualities on and off the ice and has made a noteworthy humanitarian contribution in his community.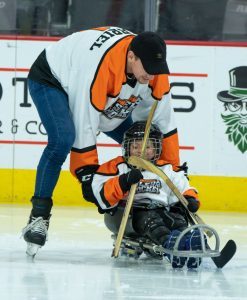 Gabriel was a popular forward with the Lehigh Valley Phantoms in the 2019-20 season where he was named the team's IOA/American Specialty Man of the Year for his outstanding contributions to the community.
Now with the San Jose Sharks, he has helped promote LGBTQ+ awareness, using his social media accounts to amplify and educate fans and players on LGBTQ+ causes by participating in events, having conversations and using rainbow-colored pride tape on his hockey sticks.
Gabriel has been a huge advocate for the You Can Play project and was the Phantoms' player ambassador for Pride Night. He also served as an assistant coach for the Phantoms Charities Youth Sled Hockey team in the 2019-20 season and participated in a wide variety of community events when he was with the team.
Gabriel, who lost his father to suicide when he was 10 years old, has also been a strong advocate for mental health awareness.
A first-time finalist, Gabriel has supported Black Girl Hockey Club and will auction off his skates for the Sharks Foundation during their Juneteenth auction from June 17-19, with proceeds going to a diversity-focused non-profit organization.