Felix Sandstrom Enters in Relief in Phantoms Season Debut
January 31, 2020
Wilkes-Barre, Penn. – The Lehigh Valley Phantoms returned from a brief layoff for the AHL All-Star Break and took a rivalry loss at the Wilkes-Barre/Scranton Penguins 4-1 in Friday night. Andy Andreoff (6th) scored for the Phantoms while goalie Felix Sandstrom made his season debut in the AHL in a relief effort in the third period stopping all seven shots he faced.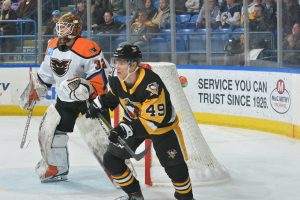 Wilkes-Barre/Scranton (23-16-7) received two goals from Jake Lucchini (5th, 6th) while Jan Drozg (3rd) and Sam Lafferty (3rd) also notched lamplighters for the Penguins with Casey DeSmith posting a 29-save effort on 30 Phantoms shots.
The Penguins jumped out to an early 2-0 lead on consecutive goals just 46 seconds apart in the first period. Lucchini took advantage of a hopping puck that was sent into the Phantoms zone and created his own mini-breakaway for the game's opening tally at 6:34 that was assisted by Jordy Bellevive. Then it was Jan Drozg from behind the net to the left of the cage banking a saved puck off the back of J-F Berube and in for a 2-0 advantage. Pierre-Oliver Joseph's point-shot was redirected at close range by Joe Blandisi which was repelled off the right pad of Berube but Drozg's quick put-back finished the play.
Lehigh Valley (18-22-7) responded just over 12 minutes into the game when Kyle Criscuolo hustled over to intercept a Penguins lead pass and then quickly connected on his own stretch pass to Andreoff busting in across the Penguins' line. Andreoff sniped on the rush to the stick-side of DeSmith to pull the Phantoms to within a goal at 2-1.
The Phantoms primarily had the better of the chances for much of the rest of the first period but were unable to snag an equalizer.
Wilkes-Barre/Scranton pushed ahead in the second frame with a 16-shot attack. Berube made a couple of slick stops but was unable to deny the big one-timer of Lucchini from the right dot shortly after a faceoff win. David Warsofsky from center point slid the puck over for Lucchini's second goal of the night at 7:34 into the second period.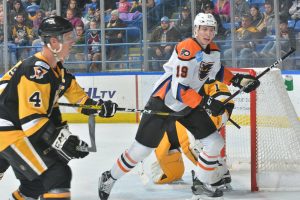 The Penguins extended their lead in the opening seconds of the third period when Sam Lafferty sped around a couple Phantoms pursuers and then went across the crease from left to right and around Berube for a 4-1 lead. The spelled the end of the night for Berube affording Sandstrom the opportunity to make his AHL season debut after 16 games with Reading of the ECHL. Sandstrom handled a couple toughies and looked sharp in his limited action with denials on all seven shots he faced.
It was not Sandstom's first-ever game for the Phantoms though. He made his North American pro debut last year on April 9 with a sterling 40-save effort at the Providence Bruins.
The Phantoms are now 3-4-1 against Wilkes-Barre/Scranton this season and the two teams will meet again in Wilkes-Barre next Saturday, February 8 for Round 9 of the 12-game rivalry series.
The Lehigh Valley Phantoms conclude their stretch of five consecutive road games with a Saturday night showdown at the Hershey Bears who are tied for first place in the division. The Phantoms return to PPL Center next Friday, February 7 and Sunday, February 9 against Springfield and Hershey. Friday's game is American Heart Association Go Red Night and the Sunday matinee is meLVin's Big Birthday Bash with his mascot friends plus a postgame skate with the Phantoms players presented by Dorney Park.
Lehigh Valley Phantoms 1 at Wilkes-Barre/Scranton Penguins 4
Friday, January 31, 2020 – Mohegan Sun Arena at Casey Plaza
Lehigh Valley 1 0 0 – 1
Wilkes-Barre/Scranton 2 1 1 – 4
1st Period-1, Wilkes-Barre/Scranton, Lucchini 5 (Bellerive), 6:34. 2, Wilkes-Barre/Scranton, Drozg 3 (Blandisi, Joseph), 7:20. 3, Lehigh Valley, Andreoff 6 (Criscuolo), 12:17. Penalties-Lafferty Wbs (high-sticking), 7:21; Wotherspoon Lv (tripping), 9:55; Czuczman Wbs (cross-checking), 15:43.
2nd Period-4, Wilkes-Barre/Scranton, Lucchini 6 (Warsofsky, Devane), 7:34. Penalties-No Penalties
3rd Period-5, Wilkes-Barre/Scranton, Lafferty 3 (Lizotte, Cassels), 0:53. Penalties-Almari Wbs (tripping), 10:50; Frost Lv (tripping), 18:58.
Shots on Goal-Lehigh Valley 11-10-9-30. Wilkes-Barre/Scranton 9-16-9-34.
Power Play Opportunities-Lehigh Valley 0 / 3; Wilkes-Barre/Scranton 0 / 2.
Goalies-Lehigh Valley, Berube 9-9-4 (27 shots-23 saves); Sandstrom 0-0-0 (7 shots-7 saves). Wilkes-Barre/Scranton, DeSmith 15-11-2 (30 shots-29 saves).
A-6,201
Referees-Jim Curtin (90), Sean MacFarlane (61).
Linesmen-Ben O'Quinn (92), Patrick Dapuzzo (57).
NEXT TIME OUT: The Phantoms conclude their five-game road trip on Saturday night at the Hershey Bears. The Phantoms next home games are Friday, February 7 on American Heart Association Go Red Night and Sunday, February 9 on meLVin's Big Birthday Bash including a post-game skate with the Phantoms players.
And for the latest Phantoms news, visit www.phantomshockey.com or follow the team on Facebook (www.facebook.com/lehighvalleyphantoms), Twitter (@lvphantoms), Instagram (@lehighvalleyphantoms) and Snapchat (lvphantoms).