David Kase Spectacularly Scores 1-on-3 to Seal the Win
February 1, 2020
Hershey, Penn. – J-F Berube turned aside 18 strong Hershey Bears offerings en route to his third shutout of the season and the Lehigh Valley Phantoms pushed through for a 3-0 road win on Saturday night.
Chris Stewart (1st), David Kase (5th) and MIsha Vorobyev (9th) propelled the Phantoms' offense while Maksim Sushko recorded two assists.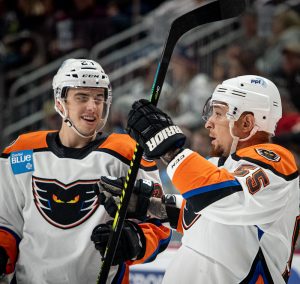 Lehigh Valley (19-22-6) was clinging to a 1-0 lead in the closing minutes of the game when second-year winger David Kase stole the puck along the right boards and drove to the slot all alone against three defenders to strike top-shelf over the glove of Bears' netminder Vitek Vanecek for a back-breaking goal with just 2:17 remaining. The Czech Republic speedster's 1-on-3 effort for a key tally late was one of the more spectacular goals of the season for the Phantoms. Kase has been causing all sorts of turnovers on the forecheck in the past two weeks and has recorded points in five of the last six games with two goals and four assists in the stretch.
Mere seconds later, Vorobyev sealed the win with an empty-netter from the Hershey line.
32-year-old veteran Chris Stewart opened the scoring just 4:11 into the game deflecting a right-point shot from Sushko that was also assisted by Morgan Frost. The experienced NHL'er of 667 career games was playing in just his second AHL game this season and scored in the AHL for the first time in over 11 years. Stewart's last goal in the American Hockey League was on November 19, 2008 while playing for the Lake Erie Monsters.
The Phantoms penalty kill came up with four big stops through the contest including three denials of Hershey power plays in the second period. The Lehigh Valley penalty kill is now clicking at over 90% in the past 19 games and has thwarted 13 consecutive opponent man-advantages in the past six games.
Berube made several impressive stops in achieving his third shutout of the season with all of them having come within the past month.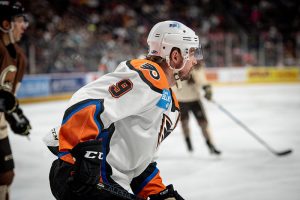 Lehigh Valley beat Hershey goalie Vitek Vanecek for the first time in six tries this season and won in regulation vs. Hershey for the first time in eight meetings and the second time overall.
The Phantoms out shot Hershey 30-18. Both teams were 0-for-4 on the power play.
The Phantoms wrapped up five consecutive away games and will return to PPL Center on Friday, February 7 against the Springfield Thunderbirds. The Phantoms are also at home on Sunday, February 9 in an afternoon rematch against the Hershey Bears also featuring meLVin's birthday celebration and a post-game skate with the Phantoms players.
Lehigh Valley Phantoms 3 at Hershey Bears 0
Saturday, February 1, 2020 – Giant Center
Lehigh Valley 1 0 2 – 3
Hershey 0 0 0 – 0
1st Period-1, Lehigh Valley, Stewart 1 (Sushko, Frost), 4:11. Penalties-Gersich Her (delay of game), 17:07; Rubtsov Lv (delay of game), 19:24.
2nd Period- No Scoring.Penalties-Bigras Lv (interference), 5:24; Willman Lv (slashing), 11:07; McCarthy Her (hooking), 18:11.
3rd Period-2, Lehigh Valley, Kase 5 17:43. 3, Lehigh Valley, Vorobyev 9 (Sushko, Willcox), 18:19 (EN). Penalties-Lewington Her (holding), 3:34; Sushko Lv (holding), 7:22; Djoos Her (cross-checking), 9:59.
Shots on Goal-Lehigh Valley 8-8-14-30. Hershey 5-9-4-18.
Power Play Opportunities-Lehigh Valley 0 / 4; Hershey 0 / 4.
Goalies-Lehigh Valley, Berube 10-9-4 (18 shots-18 saves). Hershey, Vanecek 13-9-1 (29 shots-27 saves).
A-10,363
Referees-Jim Curtin (90), Furman South (44).
Linesmen-Ben O'Quinn (92), Colin Gates (3).
NEXT TIME OUT: The Phantoms next home games are Friday, February 7 on American Heart Association Go Red Night and Sunday, February 9 on meLVin's Big Birthday Bash including a post-game skate with the Phantoms players.
And for the latest Phantoms news, visit www.phantomshockey.com or follow the team on Facebook (www.facebook.com/lehighvalleyphantoms), Twitter (@lvphantoms), Instagram (@lehighvalleyphantoms) and Snapchat (lvphantoms).