The Lehigh Valley Phantoms return from the All-Star Break and head up the Northeast Extension of the Pennsylvania Turnpike to take on the rival Wilkes-Barre/Scranton Penguins on Friday night, January 31, at 7:05 p.m.
The game will mark the eighth overall meeting between the two teams in which the Phantoms hold a respectable 3-3-0-1 record.
Phantoms @ Wilkes-Barre/Scranton Penguins
Phantoms Leading Scorers
Greg Carey (42 GP, 13G-10A, 23 PTS)
Cal O'Reilly (35 GP, 4G-17A, 21 PTS)
Mikhail Vorobyev (28 GP, 8G-12A, 20 PTS)
Morgan Frost (28 GP, 8G-11A, 19 PTS)
Maksim Sushko (39 GP, 7G-8A, 15 PTS)
Penguins Leading Scorers
Andrew Agozzino (37 GP, 14G-19A, 33 PTS)
Sam Miletic (44 GP, 8G-19A, 27 PTS)
David Warsofsky (34 GP, 7G-20A, 27 PTS)
Adam Johnson (30 GP, 7G-19A, 26 PTS)
Anthony Angello (45 GP, 16G-9A, 25 PTS)
Prior Meetings This Season
Oct. 11 — LV 4, WBS 1
Nov. 1 — WBS 4, LV 3 (SO)
Nov. 6 — LV 4, WBS 2
Nov. 16 — WBS 2, LV 1
Nov. 27 — WBS 6, LV 2
Nov. 29 — LV 6, WBS 5 (OT)
Dec. 27 — WBS 4, LV 2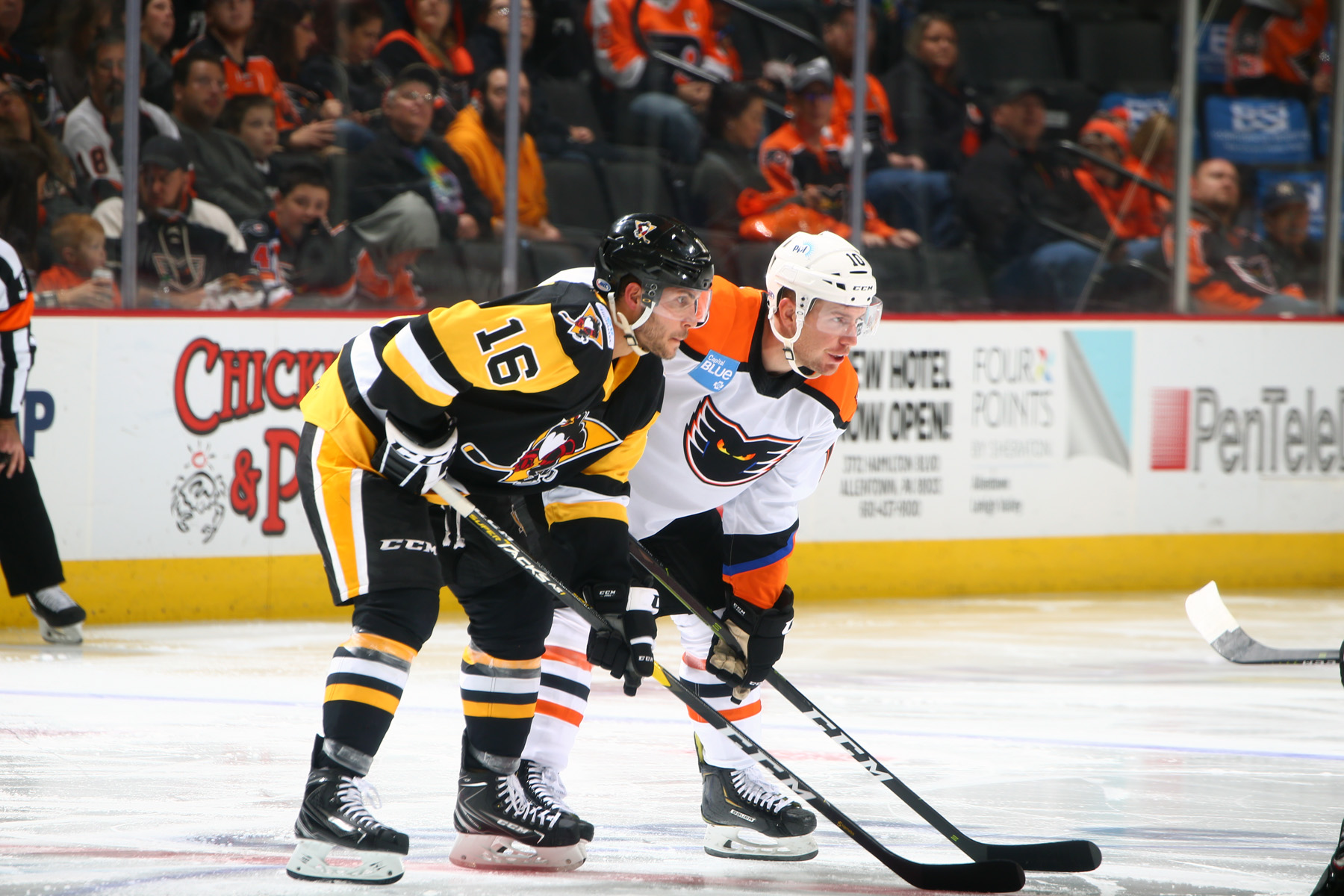 Snap Shots
Should the Phantoms win tonight, Lehigh Valley Head Coach Scott Gordon will move into a tie for seventh place in all-time coaching wins in the AHL at 384.
Lehigh Valley defenseman Chris Bigras is just a single point (20G-79A) away from 100 professional points.
Andy Welinski could potentially make his return to the Phantoms lineup this weekend for the first time since January 3.
Phantoms forward Greg Carey currently leads the team with six points (2G-4A) against the Penguins through all seven prior games this season.
If goaltender J-F Berube gets the start between the pipes for Lehigh Valley tonight, it will mark the netminder's seventh start in the past eight games.  Over his past six starts in net, the Repentigny, Quebec, native holds a 1.71 goals-against average and a .937 save percentage with two shutouts.
Scoring first could be a key to victory for the Phantoms in Friday night's contest.  Lehigh Valley is tied for ninth in the AHL for most first goals scored in a game with 24 and has points in 17 of those games.
The Penguins will be without forwards Anthony Angello and Andrew Agozzino as they were recalled by Pittsburgh on Thursday.  The two have a combined total of 58 points (30G-28A) this season in the AHL.
Players to Watch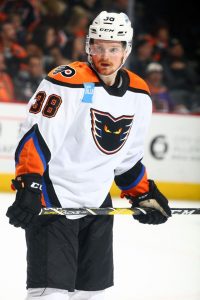 David Kase is currently riding a four-game point streak in which he has produced a goal and four assists for five points.  Since his return to the Phantoms lineup, the speedy winger has consistently created chaos on the forecheck resulting in takeaways for the Phantoms.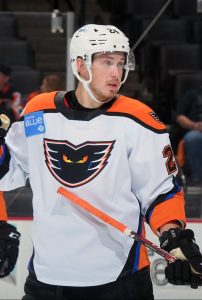 Mikhail Vorobyev has two goals and four total points to go along with a plus-four rating in just five games against the Penguins this season.  The Russian forward has also produced six points (3G-3A) in his past nine games with the Phantoms.
Recent Transactions
January 30, 2020: The Philadelphia Flyers recalled from loan goaltender Alex Lyon and forward Connor Bunnaman from the Lehigh Valley Phantoms.
January 30, 2020: The Philadelphia Flyers reassigned goaltender Felix Sandstrom from the Reading Royals to the Lehigh Valley Phantoms.
January 30, 2020: The Lehigh Valley Phantoms returned on loan defenseman Eric Knodel to the Reading Royals.
The Road Ahead
The Lehigh Valley Phantoms face off against the rival Hershey Bears inside Giant Center on Saturday, February 1, at 7 p.m.  Tune into the game on AHLTV or listen live inside the Phantoms365 App.