Providence Bruins Hold Off Phantoms 4-3
January 24, 2020
Providence, R.I. – Veteran forward Cal O'Reilly became the 47th player in AHL history to record 600 points but the Providence Bruins overcame an early deficit and then held off a ferocious rally attempt to post a 4-3 victory on Friday night in Rhode Island.
Lehigh Valley (18-20-6) had its six-game point streak ended with its first regulation loss since January 9. Cal O'Reilly scored in the opening two minutes of the game and added an assist later in the first period for his 601st point all-time in his 701st AHL game.
Misha Vorobyev (8th) and Andy Andreoff (5th) also scored for Lehigh Valley and David Kase chipped in a couple assists. Providence's Karson Kuhlman (4th, 5th) struck for a pair of shorthanded goals to lead the Bruins attack.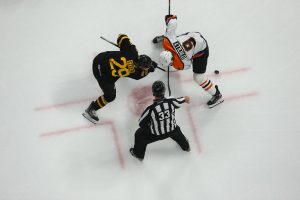 Kase forced a turnover behind the Bruins net and Greg Carey quickly fired the puck out in front for O'Reilly to bury his one-timer 1:57 into the game for an early 1-0 lead and O'Reilly's milestone point.
Providence stole the puck and raced away two-on-one shorthanded with Jack Studnicka from the left circle connecting with the onrushing Kuhlman on the backdoor for the goal.
But the Phantoms responded with Kase again working for the puck, this time on a tangle in the corner. O'Reilly zipped it to Vorobyev on the doorstep who slammed in the go-ahead strike just seconds after the Phantoms power play had expired. Lehigh Valley took a 2-1 lead into the first intermission.
Providence (25-16-4) scored three straight to open the second period and take charge of the game. Another Kuhlman shorthanded marker resulted from a steal by Zach Senyshyn who then wheeled around Phantoms goalie Alex Lyon to connect back to the recently returned Boston Bruin, Kuhlman, for a 2-2 deadlock in the opening minute of the middle frame.
The Bruins took their first lead of the series less than three minutes later with Brendan Gaunce (11th) firing from the left dot after a steal in the slot by Oskar Steen.
And Providence made it 4-2 past the midway mark of the game with Ryan Fitzgerald (10th) striking on another two-on-one this time on a connection from Brendan Woods.
The Phantoms had momentum into the locker-room on Andy Andreoff's power-play deflection on the backdoor of a power-play shot from above the left dot by Morgan Frost with 2:34 left in the second. Chris Bigras also assisted on the zippy power-play conversion to pull Lehigh Valley to within 4-3 at the break.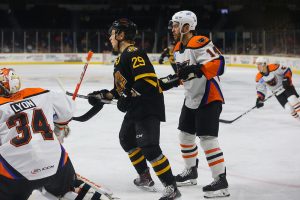 Lehigh Valley had some great chances in the third period that included a frenetic last-minute push. It looked like O'Reilly was on the verge of tying the game with about 15 seconds left when a hard-around bounced off a stanchion behind the goal to set up a glorious scoring opportunity. But Providence goal Dan Vladar made another sterling save with the left pad to finish the victory.
Providence out shot the Phantoms 36-30. Lehigh Valley was 1-for-3 on the power play while Providence finished at 0-for-1. The Phantoms play their last game before the All-Star Break with a visit to the first-place Hartford Wolf Pack on Saturday night. Lehigh Valley's next home games are Friday, February 7 and Sunday, February 9 against Springfield and Hershey.
Lehigh Valley Phantoms 3 at Providence Bruins 4
Friday, January 24, 2020 – Dunkin' Donuts Center
Lehigh Valley 2 1 0 – 3
Providence 1 3 0 – 4
1st Period-1, Lehigh Valley, O'Reilly 4 (Carey, Kase), 1:57. 2, Providence, Kuhlman 3 (Studnicka), 11:16 (SH). 3, Lehigh Valley, Vorobyev 8 (O'Reilly, Kase), 12:28. Penalties-Cehlarik Pro (slashing), 10:23; Frederic Pro (holding), 19:37.
2nd Period-4, Providence, Kuhlman 4 (Senyshyn), 0:57 (SH). 5, Providence, Gaunce 11 (Steen), 3:34. 6, Providence, Fitzgerald 10 (Woods, Senyshyn), 12:24. 7, Lehigh Valley, Andreoff 5 (Frost, Bigras), 17:26 (PP). Penalties-Sushko Lv (high-sticking), 6:23; Zboril Pro (high-sticking), 17:05.
3rd Period- No Scoring.Penalties-Bigras Lv (roughing), 13:55; Steen Pro (roughing), 13:55.
Shots on Goal-Lehigh Valley 10-8-12-30. Providence 7-16-13-36.
Power Play Opportunities-Lehigh Valley 1 / 3; Providence 0 / 1.
Goalies-Lehigh Valley, Lyon 9-12-2 (36 shots-32 saves). Providence, Vladar 7-6-0 (30 shots-27 saves).
A-7,610
Referees-Conor O'Donnell (41), Mike Sullivan (89).
Linesmen-Chris Millea (33), Michael Zyla (4).
NEXT TIME OUT: The Phantoms continue a five-game road trip on Saturday, January 25 when they take on the Hartford Wolf Pack at 7:05 p.m. The Phantoms next home games are Friday, February 7 on American Heart Association Go Red Night and Sunday, February 9 on meLVin's Big Birthday Bash including a post-game skate with the Phantoms players.
And for the latest Phantoms news, visit www.phantomshockey.com or follow the team on Facebook (www.facebook.com/lehighvalleyphantoms), Twitter (@lvphantoms), Instagram (@lehighvalleyphantoms) and Snapchat (lvphantoms).