Penguins Claim 3-0 Win in Rivalry Showdown
Lehigh Valley, PA – Red, white and blue mixed with orange and black Wednesday evening as the Lehigh Valley Phantoms hosted Military Appreciation Night at PPL Center. The contest featured a standing room-only sellout crowd of 8,468 raucous and patriotic supporters as the Phantoms renewed their in-state rivalry with the Wilkes-Barre/Scranton Penguins. In a game that featured suffocating defensive efforts on both sides, it was the Penguins who were able to muster just enough offense to outlast Lehigh Valley in a 3-0 decision.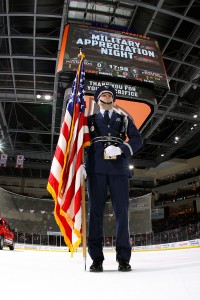 The capacity crowd marked the fifth standing room-only sellout this season for Lehigh Valley and the franchise's 27th regular season capacity crowd since opening PPL Center last Fall.
Tonight's showdown was the fourth of 12 total meetings during the 2015-2016 regular season between the Phantoms and Penguins with the two bitter rivals set to face off again in just over a week when they collide at Mohegan Sun Arena in Wilkes-Barre/Scranton on Sunday, December 27.
Wednesday's game was an emotional affair in downtown Allentown for Military Appreciation Night. As part of a stirring pre-game ceremony, a moment of silence was observed for those lost in combat followed by uplifting performances of God Bless America and the National Anthem. Then, during the first intermission, 50 new recruits to various branches of the military, including active duty and reserve components of the Marines, Army and Air Force, were sworn in on the ice with thunderous applause echoing through PPL Center throughout the ceremony followed by a U-S-A chant from the capacity crowd.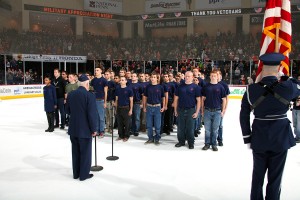 Wednesday's game also marked the return between the pipes of veteran goaltender Jason LaBarbera. The 16-year pro was back manning the Lehigh Valley goal crease for the first time since November 8 and displayed little rust turning aside 22 of Wilkes-Barre/Scranton's 25 total shots in the game.
Meanwhile, Penguins netminder Tristan Jarry earned the victory with a 17-save performance in claiming his second shutout of the season. The victory was Wilkes-Barre/Scranton's fourth in a row as the Penguins earned their third consecutive shutout and have now gone 180:29 without allowing a goal.
Clark Seymour, Jean-Sebastien Dea and Bryan Rust supplied the offense for Wilkes-Barre/Scranton with a goal each.
The Penguins opened the scoring just prior to the midway point of the first period when a knuckling offering from the right point by Seymour found daylight through LaBarbera for Seymour's first goal of the season and first career AHL marker. Ty Loney and Josh Archibald assisted on the even-strength strike netted 9:54 into the opening frame.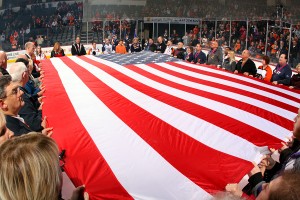 Wilkes-Barre/Scranton doubled its lead roughly 12 minutes into the second period when an attempted outlet pass by LaBarbera was intercepted by Dea who curled into the slot, shifted to the backhand and deposited his eighth goal of the season. The unassisted five-on-five conversion came 11:57 into the middle stanza.
The Phantoms nearly sliced the Penguins lead in half just before the close of the period when a heads-up play by Kevin Goumas at the Lehigh Valley blue line kick started a 2-on-1 between Tyrell Goulbourne and Davis Drewiske that resulted in a Drewiske drive from the right wing that just sizzled wide of the sprawling Jarry.
Wilkes-Barre/Scranton landed its final conversion of the evening with just under seven minutes left in regulation when Rust snapped in his first goal of the year. Tim Erixon and Will O'Neill assisted on the event-strength marker scored 13:28 into the final period.
The Phantoms conclude their season-high five-game home stand this Friday, December 18 when the Hershey Bears come to town for a 7:05 p.m. showdown presented by PPL. Friday's game features a Youth Winter Hat Giveaway where the first 2,500 kids 14 and under will receive a free Phantoms Youth Winter Hat presented by PPL Corporation. Tickets for Friday's game are currently available by logging on to pplcenter.com, by calling 610-347-TIXX [8499] or by visiting the Mealey's Furniture Box Office at PPL Center [701 Hamilton Street].
Wilkes-Barre/Scranton Penguins 3 at Lehigh Valley Phantoms 0 – Status: Final Wednesday, December 16, 2015 – PPL Center
W-B/Scranton 1 1 1 – 3
Lehigh Valley 0 0 0 – 0
1st Period-1, W-B/Scranton, Seymour 1 (Loney, Archibald), 9:54. Penalties-Archibald Wbs (hooking), 18:49.
2nd Period-2, W-B/Scranton, Dea 8 11:57. Penalties-Rowney Wbs (tripping), 2:19; Leier Lv (interference), 2:25; Morin Lv (closing hand on puck), 3:41; Hagg Lv (roughing), 19:29.
3rd Period-3, W-B/Scranton, Rust 1 (Erixon, O'Neill), 13:28. Penalties-Rowney Wbs (holding), 3:58; O'Neill Wbs (roughing), 19:59; Wilson Wbs (roughing), 19:59; Leier Lv (roughing), 19:59; Martel Lv (roughing), 19:59.
Shots on Goal-W-B/Scranton 11-5-9-25. Lehigh Valley 3-5-9-17.
Power Play Opportunities-W-B/Scranton 0 / 3; Lehigh Valley 0 / 3.
Goalies-W-B/Scranton, Jarry 8-1-0 (17 shots-17 saves). Lehigh Valley, LaBarbera 1-6-0 (25 shots-22 saves).
A-8,468
Referees-Cameron Voss (78).
Linesmen-Tom George (61), Matt McNulty (26).
Upcoming Home Games:
Friday, December 18, 2015, Hershey Bears vs. Lehigh Valley Phantoms, 7:05 p.m. | TIX
(Presented by PPL. Youth Winter Hat Giveaway presented by PPL Corporation. Free Youth Winter Hat to First 2,500 Kids 14 and Under.)
Saturday, December 26, 2015, Bridgeport Sound Tigers vs. Lehigh Valley Phantoms, 7:05 p.m. | TIX
(Presented by Service Electric. "20 Years of Phantoms" Night. Commemorative Poster Giveaway 2 of 4. Free to First 3,000 Fans in Attendance.)
Friday, January 8, 2016, WB/Scranton Penguins vs. Lehigh Valley Phantoms, 7:05 p.m. | TIX
Sunday, January 10, 2016, Binghamton Senators vs. Lehigh Valley Phantoms, 7:05 p.m. | TIX
(Star Wars Night.)
In the midst of their 20th season of operation, the Phantoms are coming off their Inaugural Season as the Lehigh Valley Phantoms playing at the brand-new PPL Center. Established in 1996, the Phantoms spent their first 13 seasons at the Spectrum in Philadelphia before re-locating to Glens Falls, New York in 2009 where the team spent the next five seasons as the Adirondack Phantoms. A new era of Phantoms hockey began in the fall of 2014 when the Lehigh Valley Phantoms began play at the state-of-the-art PPL Center. Through 19 incredibly successful campaigns, the Phantoms have captured two Calder Cup Championships (1998, 2005), two Conference Championships (1998, 2005), two Regular Season Titles (1996-97, 1997-98) and four Division Championships (1996-97, 1997-98, 1998-99, 2003-04).