By Dan Fremuth, Lehigh Valley Phantoms
It's just after 8:00 p.m. on Monday evening. In less than 12 hours, the Lehigh Valley Phantoms will host an earlier than normal practice at PPL Center before the team departs for a six-hour bus ride to Belleville, Ontario as part of a four-day road trip through Canada.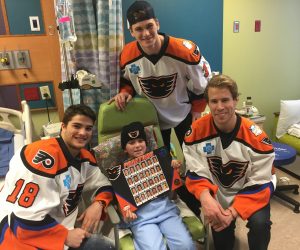 While most of the team is home resting and preparing for the swing up north, Phantoms forward Danick Martel is instead lacing up his skates. Not to fine tune his own game, however, but rather to assist in the development of some of Lehigh Valley's aspiring young hockey players. It's all part of Martel's commitment to community service and his tireless efforts to give back to the fans and community who have embraced him and the Phantoms.
"If I don't do these kinds of things, is there someone else who is going to? Maybe not," Martel notes as he tightens the laces on his right skate in preparation for joining the Phantoms Youth Girls 16UAA practice. "So I'm happy to take the time to do it to bring some fun for an hour or so, which hopefully they'll remember for a long time after."
Much has been made of Martel's prolific start to the 2017-18 season. And rightfully so.
The third-year winger from Drummondville, Quebec entered the weekend leading all AHL skaters with 14 goals and tied for second in total scoring with 19 points. He's already produced five multi-point outings this year, has found the back of the net in 10 of the Phantoms' 16 games to date and matched a Lehigh Valley franchise record with goals in six straight games from October 25 to November 8.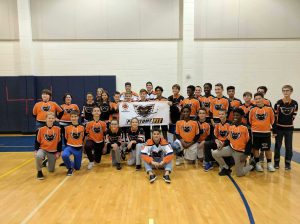 But as impressive as Martel has been on the ice, he's been equally integral to the team off it.
Fresh off being recognized as Lehigh Valley's IOA/American Specialty Man of the Year last season, Martel has continued his selfless commitment to the Lehigh Valley community this year. In fact, with 13 different community appearances already under his belt this season, there may be no more active community member in the entire AHL than Martel.
And at just 22 years old, he's been giving back to his local community a lot longer than you might think.
"It started really young. I was six years old and I would go out with my grandmother almost every Sunday to do community service," Martell recalls. "Sometimes in our home town there would be festivals and they always needed people to help. I was six years old so I couldn't do a lot of things but I was helping as much as I could and I really enjoyed it. I liked the smiles I was able to bring to people because I was helping them."
And Martel has been delivering those smiles ever since.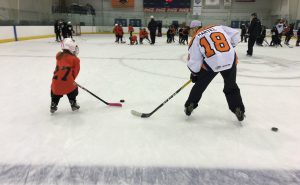 In his final year with the Blainville-Boisbriand Armada (QMJHL) he was named the Canadian Hockey League's Humanitarian of the Year following the 2014-15 season and has carried that selfless approach to the Lehigh Valley where he's participated in more than 70 community appearances in a little over two seasons.
From youth hockey practices to hospital visits to various school programs, Martel is routinely the first player to sign up to participate and often will tackle multiple appearances in the same week or even the same day.
One might think that Martel's dedication to use his platform as a professional athlete to give back to his local community stemmed from a similar, notable experience he had as a young, aspiring hockey player himself but that actually couldn't be further from the truth.
"I think that's one thing that never really happened to me and I would have liked it," Martel recalls. "If some famous guy had come to see me it would have been nice and certainly would have put a smile on my face. I wish someone had come to just see me and support me. After not experiencing that myself, that's definitely at least part of why I've been doing it a lot over the years."
Instead, he's continued to use his grandmother as a role model in following the example she set forth.
"When my grandmother passed away, I thought that I need to take her place to try and help everyone around me like she was doing," Martel says as he pulls his #18 Phantoms jersey over his head and reaches for his stick. "So I took that example into juniors and now to the AHL. It's always been part of my life and I'm going to continue doing it. It's bringing the smiles around me that really makes me happy."
And that's exactly what Martel is about to do yet again. Interview over. Time to go make more smiles.