Sold-Out PPL Center Crowd Treated to Instant Classic in Home Opener
October 17, 2014
Lehigh Valley, PA – "Today is such a great day for hockey," Lehigh Valley Phantoms' co-owner Jim Brooks said in a pre-game video in advance of Friday's home opener at PPL Center. "And it's a great day for the Lehigh Valley and Allentown."
Little did Brooks know those words would foreshadow one of the most magical wins in franchise history as the Phantoms outlasted the Adirondack Flames 4-3 in overtime in front of a sold-out, standing-room-only crowd of 8,647 raucous fans in the regular season opener of the Inaugural Season of Phantoms hockey at PPL Center. Scott Laughton scored a pair of goals and Petr Straka also tallied while Shayne Gostisbehere contributed three assists.
The victory was the milestone 700th triumph in Phantoms history and the second in as many games in the Lehigh Valley era. With the win, the Phantoms (2-0-0, 4 pts.) are tied for first place in both the Eastern Conference and East Division.
"We came here to build an arena that would bring high-quality entertainment to the Lehigh Valley," Brooks' brother and fellow co-owner Rob said. "And tonight we're delivering that."
Fans were greeted by a bright orange spectacle upon their arrival to PPL Center. Commemorative Opening Night T-Shirts were arranged on every seat in the building as part of the team's fun Orange Out promotion.
Then came the Opening Night ceremonies complete with swirling spotlights and smoke-machine as the Phantoms players were introduced one by one. After that came Allie Santos whose performance of the Star Spangled Banner was nothing short of spectacular. After a ceremonial puck-drop with Andrew Gordon of the Phantoms and Nolan Yonkman of the Flames we were ready to get started on an exciting, back-and-forth contest that was the perfect way to introduce the Lehigh Valley to the American Hockey League.
Partway into the game, SuperFan Cameron Hughes was featured on the video-board and pushed the enthusiasm of the crowd even further with T-Shirt tosses, screaming, funny dances, slow-claps and even a wave. It would be safe to say that the crazed cheerleader was a popular hit with the Phantoms fans.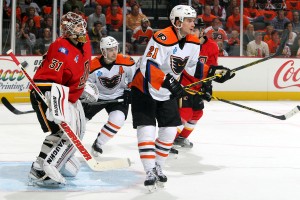 Scott Laughton opened the scoring just past the midway point of the first period with the Phantoms first-ever regular season goal at PPL Center. Andrew Gordon and Taylor Leier assisted on the 20-year-old rookie's power play tally that brought the sold-out PPL Center crowd, which was clad in orange, to its feet in unison. Laughton was a first-round selection of the Philadelphia Flyers in 2012.
Adirondack evened the contest and claimed its first and only lead of the night with a pair of second period goals from Sena Acolatse and David Wolf but Lehigh Valley answered back with a flourish when Laughton pounded in his second goal of the game with just 45 seconds remaining in the middle frame. Gordon and Shayne Gostisbehere assisted on the game-tying tally, which once again brought the orange-clad Phantoms into a frenzy.
Both sides traded goals in the final period as Petr Straka netted his first goal of the season 2:26 into the third frame with assists from Nick Cousins and Zack Stortini before Dustin Stevenson launched in a controversial game-tying tally 4:44 into the period which was upheld upon official review.
But the Phantoms and their fans would have the final say in this one as Brandon Manning slapped in his third career overtime game-winner just 1:24 into sudden death overtime. Gostisbehere and Cousins assisted on the conversion, which capped an historic and magical night in downtown Allentown and brought the sold-out PPL Center crowd to its loudest and most energetic pitch of the evening.
Phantoms goaltender Rob Zepp earned his second victory of the season after 29 saves on 32 Adirondack shots. The 33-year-old netminder, who displayed incredible agility and resiliency Friday evening, is now 2-0 on the young season.
While the game was a wildly entertaining affair for the historic Opening Night game, the spectacular PPL Center facility itself was also featured. On hand to enjoy the big debut was the President and CEO of the American Hockey League, David Andrews.
"It's a spectacular building," Andrews said. "It's really been well thought out. I'm very happy for the Brooks Group who have had this dream for about 10 years now and to see it to come to fruition tonight with Opening Night for the Phantoms is really special. This is really kind of a dream come true to have a fantastic facility like this. Today's a special day for fans here in Allentown and the Lehigh Valley and I'm very happy for them."
Lehigh Valley is back in action tomorrow when the team heads up to Glens Falls, NY to complete its home-and-home series with the Flames. The team played in Glens Falls, NY for five seasons from 2009 to 2014 as the Adirondack Phantoms. A large crowd is expected at the Glens Falls Civic Center for the area's only look at the team they had hosted and supported so well.
The Phantoms return to PPL Center next Friday evening when they renew their heated rivalry with the Hershey Bears. It will be the 185th all-time meeting between the Phantoms and Bears dating back to the beginning of the Philadelphia Phantoms in 1996.
Tickets for next Friday's game and all regular season home games are on sale now at the Mealey's Furniture Box Office at PPL Center (701 Hamilton Street), by calling 610-347-TIXX (8499) or logging on pplcenter.com.
Check it out! Don't miss the action and fun of Lehigh Valley Phantoms hockey at PPL Center in downtown Allentown! Contact the Phantoms Front Office for information on season tickets and affordable partial-season plans by calling 610-224-GOAL (4625).
Adirondack Flames 3 at Lehigh Valley Phantoms 4 (OT)
Friday, October 17, 2014 – PPL Center
Adirondack 0 2 1 0 – 3
Lehigh Valley 1 1 1 1 – 4
1st Period-1, Lehigh Valley, Laughton 1 (Gordon, Leier), 11:59 (PP). Penalties-Stevenson Adk (interference), 2:59; Hathaway Adk (tripping), 7:09; Van Brabant Adk (tripping), 11:37; Hextall Lv (interference), 12:49; Stevenson Adk (misconduct – unsportsmanlike conduct), 15:53; Stortini Lv (checking to the head), 15:53.
2nd Period-2, Adirondack, Acolatse 1 (Granlund), 6:07 (PP). 3, Adirondack, Wolf 1 (Tousignant, Ramage), 10:44 (PP). 4, Lehigh Valley, Laughton 2 (Gordon, Gostisbehere), 19:15 (PP). Penalties-Rosehill Lv (roughing, roughing, misconduct – unsportsmanlike conduct), 2:42; Lauridsen Lv (boarding), 4:12; Manning Lv (double minor – high-sticking), 7:36; Granlund Adk (cross-checking), 12:21; Stortini Lv (goaltender interference), 13:22; Van Brabant Adk (goaltender interference), 17:16; Stevenson Adk (hooking), 18:56.
3rd Period-5, Lehigh Valley, Straka 1 (Cousins, Stortini), 2:26. 6, Adirondack, Stevenson 1 (Granlund), 4:44. Penalties-Ramage Adk (hooking), 13:33.
OT Period-7, Lehigh Valley, Manning 1 (Gostisbehere, Cousins), 1:24. Penalties-No Penalties
Shots on Goal-Adirondack 6-14-11-1-32. Lehigh Valley 8-12-9-2-31.
Power Play Opportunities-Adirondack 2 / 8; Lehigh Valley 2 / 7.
Goalies-Adirondack, Ortio 0-2-0 (31 shots-27 saves). Lehigh Valley, Zepp 2-0-0 (32 shots-29 saves).
A-8,647
Referees-Darcy Burchell (42), Jonathan Alarie (38).
Linesmen-Bob Fyrer (72), Bob Goodman (90).
Upcoming:
Saturday, October 18 (7:00) – Lehigh Valley Phantoms at Adirondack Flames
Friday, October 24 (7:05) – Hershey Bears at Lehigh Valley Phantoms. A renewal of one of the great rivalries in the American Hockey League!
Photos courtesy Just Sports Photography
Contact:
Dan Fremuth
dfremuth@phantomshockey.com
Cell: 406-672-0438