35 Saves for Rookie Goalie in 3-1 Triumph in Chocolatetown
November 13, 2016
Hershey, PA – Rookie goaltender Alex Lyon stole the spotlight in Lehigh Valley's sixth consecutive victory repelling 35 Hershey shots to carry the Phantoms to a 3-1 decision. Lyon is coming off his first career professional victory just 48 hours earlier at the Utica Comets. But this one proved far more challenging as a determined Hershey Bears squad attacked in waves and forced the Yale University product to make a number of impressive stops with the glove and his pads.
Chris Conner (3rd), Reece Willcox (2nd) and Will O'Neill (1st) provided the offense for the visiting Phantoms who returned to Hershey two weeks after their most recent loss which happened back on October 30 at Giant Center. The Phantoms haven't lost since as the team has rocketed up the Atlantic Division standings.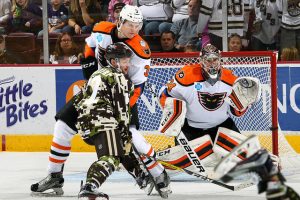 The Phantoms are enjoying their longest win streak in almost exactly three years. The Adirondack Phantoms won six in a row in November, 2013 in the team's final season in Glens Falls, New York prior to arriving at their sparking new digs in Center City Allentown.
Travis Boyd (2nd) scored the lone goal for the Bears early in the third period to deny Lyon's shutout bid.
A scoreless first period was not shy of entertainment value and exciting chances in the second of 12 rivalry tilts this season between the Keystone State foes. Jordan Weal and Greg Carey were denied by Bears goaltender Vitek Vanecek on breakaways and Carey was again robbed on a backdoor offering following a fine cross-ice pass by Chris Conner.
On the other side of the ice it was Lyon making one sparkling save after another to hold off the Bears who had a couple breakaway chances of their own.
Lehigh Valley broke through in the second period when Radel Fazleev smoothly carried around a defenseman in the right circle to set up his feed to the crease. The hacking and whacking for the loose puck down low eventually resulted in Chris Conner nudging home his third goal of the season just through the pads of Vanecek. The goal was originally credited to Greg Carey but was eventually changed to Conner with the assists going to Carey and Fazleev.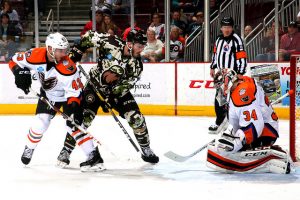 Alex Lyon produced some of his most show-stopping denials in the next few minutes to somehow preserve the 1-0 lead. Finally, the Phantoms pushed back in the Bears zone and didn't take long to gain a little breathing room. Nic Aube-Kubel nudged a puck back to Reece Willcox who was charging up the right boards. The rookie defenseman from Cornell laid everything he had into a picture-perfect slapshot that whizzed past the right ear of Vanecek and off the underside of the crossbar into the goal. It was the second goal of the weekend for the rapidly improving blueliner.
Hershey broke through a couple minutes into the third period to cut the margin back to a single goal. Paul Carey of Hershey was racing and battling Phantoms defenseman Robert Hagg for a puck coasting perilously close to Alex Lyon who pushed forward for a poke-check. But the puck was also met off the stick of Paul Carey and popped up into the air allowing Travis Boyd to rush into the slot and blast home his second of the year off the short-hop.
It was almost entirely Hershey pressuring in the Phantoms zone after that. Shots in the third period were 12-2 in favor of the Bears but somehow Lyon continued to make the dazzling denials. Paul Carey was tagged with a high sticking infraction with 1:28 left when he got a piece of Travis Sanheim. That late Phantoms' power play proved costly for the Bears who were never able to pull their goalie for an extra attacker.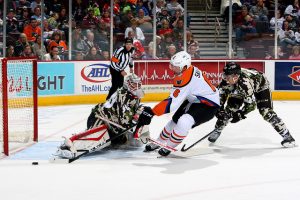 Jordan Weal won a series of face-offs in the attacking zone resulting in one shot after another. Weal's fourth straight faceoff win was knocked back to T.J. Brennan who quickly connected with will O'Neill who blasted his first goal of the season through the legs of Vanecek with just 20.5 seconds left to clinch the win.
Lehigh Valley improved to 8-3-1 with their sixth straight win while the Hershey Bears fell to 6-4-3.
Hershey out shot Lehigh Valley 36-31. The Phantoms were 1-for-3 on the power play while Hershey was limited to 0-for-4. The Phantoms penalty kill has allowed just one goal in 17 power plays faced (94.1%) over the course of the six-game win streak. In the meantime, Lehigh Valley's power play is clicking at 8-for-23 (34.8%) in the last five games.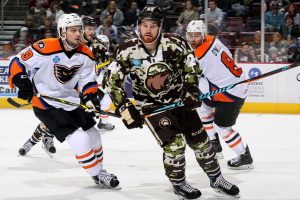 The win sets up an exciting early season showdown between the top two teams in the Atlantic when the Phantoms welcome the first-place Wilkes-Barre/Scranton Penguins to PPL Center on Wednesday night. The Penguins became the first team to reach double-digits in wins this year with a 4-1 victory at the Hartford Wolf Pack to improve their record to 10-2-1. The game is also Pink in the Rink and also BB&T Night. Tickets for the highly anticipated midweek engagement are available at PPLCenter.com or by calling 610-347-TIXX (8499).
Lehigh Valley Phantoms 3 at Hershey Bears 1 – Status: Final
Sunday, November 13, 2016 – Giant Center
Lehigh Valley 0 2 1 – 3
Hershey 0 0 1 – 1
1st Period- No Scoring.Penalties-Zengerle Lv (delay of game), 14:21; Stephenson Her (hooking), 16:31.
2nd Period-1, Lehigh Valley, Conner 3 (Carey, Fazleev), 7:27. 2, Lehigh Valley, Willcox 2 (Aube-Kubel), 17:30. Penalties-Zengerle Lv (high-sticking), 2:10; Williams Her (hooking), 4:54; Morin Lv (hooking), 8:46.
3rd Period-3, Hershey, Boyd 2 (Carey), 2:51. 4, Lehigh Valley, O'Neill 1 (Brennan, Weal), 19:39 (PP). Penalties-Brennan Lv (cross-checking), 8:56; Carey Her (high-sticking), 18:32.
Shots on Goal-Lehigh Valley 12-12-7-31. Hershey 10-14-12-36.
Power Play Opportunities-Lehigh Valley 1 / 3; Hershey 0 / 4.
Goalies-Lehigh Valley, Lyon 2-1-1-0 (36 shots-35 saves). Hershey, Vanecek 2-3-1-0 (31 shots-28 saves).
A-8,640
Referees-Terry Koharski (10), Olivier Gouin (54).
Linesmen-Tom DellaFranco (71), JP Waleski (14).
RISE UP! Another thrilling season of Lehigh Valley Phantoms hockey at PPL Center is underway! Reserve your season tickets and group outings for the 2016-2017 season of Phantoms hockey today. For more information on how to reserve your seat at PPL Center to the hottest ticket in town, call the Phantoms front office today at 610-224-GOAL [4625]!
And for the latest Phantoms news, visit www.phantomshockey.com or follow the team on Facebook (www.facebook.com/lehighvalleyphantoms), Twitter (@lvphantoms), Instagram (@lehighvalleyphantoms) and Snapchat (lvphantoms).
The Phantoms are thrilled to host the 2017 Capital BlueCross AHL All-Star Classic at PPL Center January 28-30. The Capital BlueCross AHL All-Star Classic weekend includes a Phan Fest during the day on Saturday, January 28 and a Tailgate Party that evening, followed by the AHL All-Star Skills Competition on Sunday, January 29 and the 2017 AHL All-Star Game on Monday, January 30. Don't miss this once-in-a-lifetime event. Packages starting at just $67 for the 2017 AHL All-Star Classic weekend are on sale now and include admission to Saturday's Phan Fest & Tailgate Party, Sunday's AHL All-Star Skills Competition and Monday's All-Star Game. To purchase tickets, please visit www.phantomshockey.com or www.pplcenter.com.
The Phantoms are coming off their 20th Anniversary Season and second campaign in the Lehigh Valley playing at the state-of-the-art PPL Center. Established in 1996, the Phantoms spent their first 13 seasons at the Spectrum in Philadelphia before re-locating to Glens Falls, New York in 2009 where the team spent the next five seasons as the Adirondack Phantoms. A new era of Phantoms hockey began in the fall of 2014 when the Lehigh Valley Phantoms began play at the state-of-the-art PPL Center. Through 19 incredibly successful campaigns, the Phantoms have captured two Calder Cup Championships (1998, 2005), two Conference Championships (1998, 2005), two Regular Season Titles (1996-97, 1997-98) and four Division Championships (1996-97, 1997-98, 1998-99, 2003-04).