Akeson Scores Twice in 5-4 Victory at Wilkes-Barre/Scranton
February 14, 2015
Wilkes-Barre, PA – Just two hours shy of his 21st birthday, rookie Taylor Leier decided to celebrate early with a shootout game-winning goal in the fourth round in a 5-4 decision on a snowy Valentine's Night at the Wilkes-Barre/Scranton Penguins. Leier ended up registering the first and last strikes of the evening as his 12th goal of the season opened the scoring.
Jason Akeson notched a pair of power-play goals in the come-from-behind win. His first goal of the night was good for his 200th point in a Phantoms sweater entering him into exclusive company in the team's 200 Point Club. Akeson joined Peter White, Mark Greig, John Slaney and Kirby Law as only the fifth player ever to tally 200 points with the Phantoms franchise. Akeson very narrowly missed a dramatic hat-trick overtime winner midway through the extra session.
Nick Cousins racked up three assists in the game to take the team-lead in helpers with 27. Brandon Manning with a pair of assists on the night now has 26 on the season.
The topsy-turvy game saw the Phantoms take leads of 1-0 and 2-1 before the game see-sawed the way of the Penguins who had advantage of 3-2 and 4-3 at different points. The Phantoms ended up rallying from a second-period deficit for just the third time this season (October 24 vs. Hershey and January 3 at Norfolk).
Rob Zepp was strong in net with 31 saves for his 13th win of the year outdueling Jeff Zatkoff in another battle of the Z's. The Phantoms improved to 4-2-1 against the Penguins this season and are 3-2 at Mohegan Sun Arena. Lehigh Valley rallied from behind for the victory at Wilkes-Barre exactly two weeks ago as well initially trailing 2-0 before surging to a 6-2 win.
The Phantoms' wins of 6-2 and 5-4 in their last two road appearances at Wilkes-Barre have been against the AHL's top defense. The Penguins entered the game first in the league allowing just 2.14 goals per game but that stalwart defending hasn't seemed to bother Lehigh Valley's scoring efforts.
The game was played on tinted-pink ice and the Penguins wore specialty pink jerseys as part of their Pink in the Rink promotion on Valentine's Day to promote breast cancer awareness and issues.
Leier's 12th of the season less than five minutes into the game came from the right circle on the rebound of a Nick Cousins shot to give the Phantoms a 1-0 lead.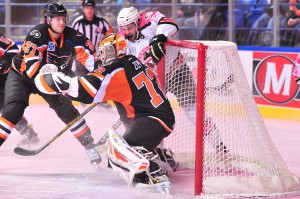 36-year-old veteran captain Tom Kostopoulus equalized for Wilkes-Barre/Scranton with his 11th of the season on a tip of a power-play slapshot.
But the Phantoms quickly retook the lead when a turnover came out perfectly to Adam Comrie who unloaded a monster slapshot top-shelf. Comrie's second goal of the season for the Phantoms came in the same building as his first; the big defenseman also scoring at Wilkes-Barre two weeks ago in the January 31 victory. On this one Jay Rosehill had deflected the clearing attempt to force the turnover. Rosehill received an assist while Austin Fyten's chip and pursuit on the forecheck was also a key element for the goal.
The Penguins would tie the score at 2-2 in the opening minute of the second period on a breakaway goal by rookie Connor Sheary who racked up his team-leading 16th of the season. And Bryan Rust cranked up a 5-on-3 goal a few minutes later for Wilkes-Barre's first lead of the night at 3-2.
Jason Akeson's first of the night for his historic 200th Phantoms point came 12 minutes in the second period to tie the score at 3-3 powering through the five-hole of Jeff Zatkoff a drive from the left circle. The tie lasted for just 71 seconds. Bobby Farnham was midway between the goal and defenseman Nick D'Agostino on the point when he was able to deflect a drive for his fourth goal of the season.
Akeson would again equalize for the Phantoms who had knocked on the door throughout the third period and continually had the Penguins scrambling and in trouble in their own zone. On Lehigh Valley's third consecutive power play, Akeson went top-shelf from the left circle with 9:04 remaining after some quick back-and-forth passing from Brandon Manning and Nick Cousins to set up the tally.
Akeson had a wonderful toe-drag and move into the slot in overtime for a chance at a game-winner but Zatkoff was there for the stop. Petr Straka also narrowly missed an overtime winner when his drag around a diving defenseman resulted in a shot off the arm of Zatkoff who barely got enough to nudge it wide.
Taylor Leier's fourth-round conversion going top-shelf on the blocker-side of Zatkoff was the first shootout winner in his pro career. Leier turns 21 years old on February 15.
The Phantoms outshot Wilkes-Barre/Scranton 40-35. Both teams were 2-for-5 on the power play.
The Phantoms conclude their three-in-three weekend (their sixth of the season) on Sunday evening at 5:00 at the Springfield Falcons, AHL affiliate of the Columbus Blue Jackets. Broadcast coverage commences at 4:20 on 1470-AM and Fox1470.com with the Nazareth Pallet Countdown to Faceoff.
The Phantoms return to PPL Center for three straight home games in four days next week with contests Wednesday, Friday and Saturday. Wednesday's rematch against the Binghamton Senators features $2 Draft Beer specials through the first intermission. Friday's game will be the lone Allentown appearance for the Providence Bruins. Saturday night against the Hartford Wolf Pack is Legends Night with Frank "The Animal" Bialowas when the Phantoms host the New York Rangers affiliate for the final time this season.
Tickets are available at the Mealey's Furniture Box Office inside PPL Center or at PPLCenter.com or by calling 610-347-TIXX (8499).
Lehigh Valley Phantoms 5 (SO) at Wilkes-Barre/Scranton Penguins 4 – Status: Final SO
Saturday, February 14, 2015 – Mohegan Sun Arena at Casey Plaza
Lehigh Valley 2 1 1 0 – 5
W-B/Scranton 1 3 0 0 – 4
1st Period-1, Lehigh Valley, Leier 12 (Cousins, Comrie), 4:54. 2, W-B/Scranton, Kostopoulos 11 (Dumoulin, Wilson), 13:18 (PP). 3, Lehigh Valley, Comrie 2 (Rosehill), 16:25. Penalties-Powe Lv (delay of game), 12:02; Delisle Lv (roughing), 17:28.
2nd Period-4, W-B/Scranton, Sheary 16 (Chorney, Zatkoff), 0:57. 5, W-B/Scranton, Rust 13 (Dumoulin, Ebbett), 7:50 (PP). 6, Lehigh Valley, Akeson 13 (Manning, Cousins), 11:59 (PP). 7, W-B/Scranton, Farnham 4 (D'Agostino, Marcantuoni), 13:10. Penalties-Rosehill Lv (slashing), 7:18; Manning Lv (delay of game), 7:20; McNeill Wbs (high-sticking), 9:30; Harrington Wbs (cross-checking), 10:59; Akeson Lv (holding), 20:00.
3rd Period-8, Lehigh Valley, Akeson 14 (Cousins, Manning), 10:56 (PP). Penalties-McNeill Wbs (tripping), 4:57; D'Agostino Wbs (holding), 7:25; Wilson Wbs (hooking), 10:37.
OT Period- No Scoring.Penalties-No Penalties
Shootout – Lehigh Valley 2 (Straka G, Akeson NG, Cousins NG, Leier G), W-B/Scranton 1 (Wilson NG, Rust G, Ebbett NG, D'Agostino NG).
Shots on Goal-Lehigh Valley 7-13-13-6-1-40. W-B/Scranton 14-10-6-4-0-34.
Power Play Opportunities-Lehigh Valley 2 / 5; W-B/Scranton 2 / 5.
Goalies-Lehigh Valley, Zepp 13-9-1 (34 shots-30 saves). W-B/Scranton, Zatkoff 12-10-3 (39 shots-35 saves).
A-7,778
Referees-Mark Lemelin (41), Ryan Fraser (14).
Linesmen-Leo Boylan (97), John Grandt (98).
Upcoming Home Games:
Wednesday, February 18, 2015 Binghamton Senators vs. Lehigh Valley Phantoms, 7:05 PM
($2 Beer Night! $2 beers from the time doors open until the start of the 2nd period. Please drink responsibly.)
Friday, February 20, 2015 Providence Bruins vs. Lehigh Valley Phantoms, 7:05 PM
Saturday, February 21, 2015 Hartford Wolf Pack vs. Lehigh Valley Phantoms, 7:05 PM
(Legends Night! Frank "The Animal" Bialowas, one of the most feared players in Phantoms history, will be at the game. FREE Collector's Edition Poster for all fans.)
Saturday, February 28, 2015 Binghamton Senators vs. Lehigh Valley Phantoms, 7:05 PM
(Little League Night!)
In their 19th season of operation, the Phantoms are currently in the midst of their Inaugural Season as the Lehigh Valley Phantoms playing at the brand-new PPL Center. Established in 1996, the Phantoms spent their first 13 seasons at the Spectrum before re-locating to Glens Falls, New York in 2009 where the team spent the next five seasons as the Adirondack Phantoms. A new era of Phantoms hockey began in the fall of 2014 when the Lehigh Valley Phantoms began play at the state-of-the-art PPL Center. Through 18 incredibly successful campaigns, the Phantoms have captured two Calder Cup Championships (1998, 2005), two Conference Championships (1998, 2005), two Regular Season Titles (1996-97, 1997-98) and four Division Championships (1996-97, 1997-98, 1998-99, 2003-04).