October 31, 2014
By Kinsey Janke for NHL.com
Scott Laughton has already been a first-round NHL draft pick, debuted in the National Hockey League at 18 years old, and left a lasting impression on many of the sport's biggest decision makers.
But it's not his age that sets him apart anymore. In a league full of fresh-faced rookies looking to reach the NHL, it's Laughton's poise on the ice in tough situations that is helping to differentiate him from his peers.
Beginning his first pro season this year with the Lehigh Valley Phantoms, AHL affiliate of the Philadelphia Flyers, Laughton, now 20, has made a statement right from the get-go.
"He makes a lot of plays that generate a lot of space for himself," said Phantoms right wing Andrew Gordon. "You'll think the defense has him cornered but he'll be able to open himself up and find six feet of space to get that next play made. That's a sign of maturity in his game – his ability not to panic and to make something out of nothing."
Gordon, a two-time Calder Cup champion and two-time AHL All-Star, is in his eighth pro season after being drafted by the Washington Capitals in 2004. He and rookie left wing Taylor Leier have flanked Laughton so far this season, and the trio has accounted for seven goals and 14 points through the team's first seven games.
The Flyers have had an impressive run of recent first-rounders being successful in the NHL, and Laughton, the 20th overall pick in 2012, doesn't seem to be too far off that mark.
"Scott got some NHL time really early in his career, so he's hungry to get back there and you can sort of see that in his game," said Gordon. "He's got the pace of [the AHL] down pat already. If he keeps going, he's not going to be in this league very long."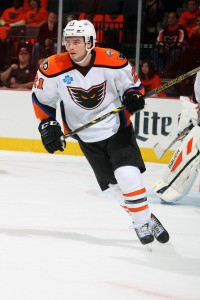 For Laughton, who cites Philadelphia captain Claude Giroux (who shined for half a season in the AHL as a rookie in 2008-09) as one of the guys he watches closely, the expectations set – fairly or not – are often just background noise as he moves through the day.
"I try not to let it affect me, and I think pressure is a good thing," he said. "I think I've played well under it and I'm just trying to continue to play my game and not worry about the outside stuff too much."
That plan seems to be working out swimmingly so far for the centerman; among all AHL rookies, he is tied for first with his team-leading five goals and tied for third with seven points.
His play has ignited the Lehigh Valley squad to begin the year, something that has not gone unnoticed.
"Right from the drop of the puck in game one he was really impressive to me with the way he makes plays under pressure," said Gordon. "The game just comes very naturally to him."
On Oct. 20, Laughton was recognized with the CCM/AHL Player of the Week award after netting four goals in two games, including two power-play tallies and a shorthanded goal. His first goal of the season was also the first goal ever at the beautiful new PPL Center, getting the Phantoms on the board as they began their first season in Allentown, Pa.
Laughton made his debut with the Flyers just seven months after draft day and appeared in five games with Philadelphia in 2012-13 before returning to Oshawa. He got his first taste of the AHL that spring and recorded his first professional points, putting up a goal and two assists in six games with the then-Adirondack Phantoms.
Despite all that, it's no secret that adjusting to pro hockey isn't always a walk in the park. Laughton knows that, and learning from the leadership group in Lehigh Valley has helped him grow his game both on and off the ice.
"The stuff in the gym is a lot different than in junior hockey where you're coming from school and you're just kind of getting right on the ice," he said. "But this is your job now. It's your lifestyle. The way [guys like Darroll Powe and Andrew Gordon] spend their extra time on their game after practice… It's been huge for me to see them doing what it takes."
Attitude is everything, and so is perspective. Both are things Laughton has in abundance.
"That's the biggest thing for me: To get better and hopefully make my way up [to Philadelphia] at some point and stay there and try and be a reliable guy," he said. "When I go up, I want to stay and try to make an impact."
Everyone's dream is the NHL, and Laughton's brief taste of being up with the big club certainly hasn't faded from his memory. But his focus is on the here and now, fine tuning his game and helping his team stay steady in the standings.
"We've gotten off to a pretty good start, and I think we've been close in every game," he said. "I definitely want to help this team make the playoffs. They've been out the last three years or so and I want to help try and get us back in there and have a good push."