Goumas and Cousins Both Score for Lehigh Valley Saturday at PPL Center
November 1, 2014
Lehigh Valley, PA – The Lehigh Valley Phantoms, proud AHL affiliate of the Philadelphia Flyers, enjoyed their second-largest regular-season crowd on Saturday evening in a 4-2 setback against the Hartford Wolf Pack.  Kevin Goumas and Nick Cousins both scored for the Phantoms while goaltender Rob Zepp recorded 27 saves in front of 8,114 raucous Lehigh Valley supporters at PPL Center. The result represented the first regulation-loss on home-ice for the Phantoms snapping their three-game PPL Center point-streak.
The Phantoms are now 4-3-1 overall and 2-1-1 in their new home.  Lehigh Valley currently sits just three standings points back of first-place Hershey in the East Division despite having played one fewer game than the Bears.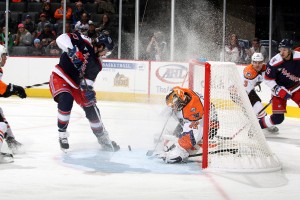 Lehigh Valley returns to action this Wednesday when the Phantoms kick off a four-game road trip with a 7:00 PM clash at the Worcester Sharks.  From there, Lehigh Valley visits Manchester on Friday, November 7, Portland on Saturday, November 8 and Wilkes-Barre/Scranton on Friday, November 14 before returning to PPL Center on Saturday, November 15 for the team's only showdown at home during the 2014-2015 regular season with the Toronto Marlies.  Tickets for the November 15th contest are available now at the Mealey's Furniture Box Office at PPL Center (701 Hamilton), by calling 610-347-TIXX (8499) or online at pplcenter.com.Phantoms fans at PPL Center were sent into a frenzy early as Lehigh Valley netted its fastest goal of the season when a perfect pass from below the goal line by Darroll Powe found a wide-open Goumas in the slot who made no mistake in driving home his first goal of the season.  Brandon Alderson grabbed the secondary assist on the even-strength strike which came just 28 seconds into Saturday's tilt.  The conversion was Goumas' second professional tally after the Long Beach, New York native tallied one goal and four points in 11 games with the Adirondack Phantoms after completing his senior season at the University of New Hampshire last year.
The fireworks didn't end there though.  Just a little over two minutes later, Phantoms fans were given yet another reason to stand and cheer when Derek Mathers dropped the gloves against Hartford's Nick Tarnasky.  Both heavyweights landed some big blows in the early fisticuffs. The scrap was Lehigh Valley's 10th fight in eight games this season and the fourth in four outings at PPL Center.
The Wolf Pack were able to level the contest just over four and a half minutes into the second period when Oscar Lindberg connected on his fourth goal of the season from Chris Bourque and Tommy Hughes.  The 1-1 deadlock stuck through the remainder of the second period despite a thrilling, back-and-forth pace that was stalled by only a single penalty in the entire 20-minute frame.
Hartford then captured its first lead of the night just over two minutes into the third period when Ryan Potulny deflected Matt Bodie's shot from the high slot for Potulny's first tally of the season.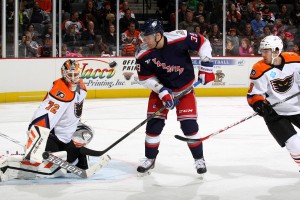 The Phantoms remained resilient though and continued to apply pressure but Hartford goaltender Mackenzie Skapski turned in one miraculous denial after another.  In a two-minute span in the middle portion of the final frame, the 20-year-old netminder made a desperation save on Taylor Leier following a tremendous two-on-one setup by Scott Laughton and followed that with a left wing breakaway closure on Brett Flemming.
Those saves preserved the slim advantage until Justin Vaive was able to slide in the eventual game-winning tally with a sharp-angle shot that just beat Zepp inside the left post.  Potulny garnered the only assist on the five-on-five netted 13:12 into the third period.
The Wolf Pack landed their final conversion of the night 14:18 into the period when Chris Bourque notched his second goal of the season but Lehigh Valley bounced right back as Cousins snapped in his third goal of the season shortly thereafter.  Flemming and Petr Straka assisted on Cousins' team-leading 10th point of the year as the second-year forward produced at least one point for the sixth time in eight games this season.
Unlike Wednesday's contest with the Wilkes-Barre/Scranton Penguins which featured 15 combined power plays, Saturday's showdown boasted far more discipline overall as the Phantoms and Wolf Pack combined for just four total power plays.  Both sides were 0-for-2 with the man-advantage.
Again, Lehigh Valley opens a four-game road trip this Wednesday in Worcester before returning to PPL Center on Saturday, November 15 against the Toronto Marlies.  Tickets are currently available for each of the Phantoms' 34 remaining home games at the Mealey's Furniture Box Office at PPL Center (701 Hamilton), by calling 610-347-TIXX (8499) or online at pplcenter.com.
Check it out!  Don't miss the action and fun of Lehigh Valley Phantoms hockey at PPL Center in downtown Allentown! Contact the Phantoms Front Office for information on season tickets and affordable partial-season plans by calling 610-224-GOAL (4625).
Hartford Wolf Pack 4 at Lehigh Valley Phantoms 2 – Status: Final
Saturday, November 1, 2014 – PPL Center
Hartford 0 1 3 – 4
Lehigh Valley 1 0 1 – 2
1st Period-1, Lehigh Valley, Goumas 1 (Powe, Alderson), 0:28. Penalties-Tarnasky Hfd (fighting), 2:26; Mathers Lv (fighting), 2:26.
2nd Period-2, Hartford, Lindberg 4 (Bourque, Hughes), 4:35. Penalties-Lamarche Lv (hooking), 9:05; Miller Hfd (roughing), 19:19.
3rd Period-3, Hartford, Potulny 1 (Bodie, Vaive), 2:03. 4, Hartford, Vaive 2 (Potulny), 13:12. 5, Hartford, Bourque 2   14:18. 6, Lehigh Valley, Cousins 3 (Flemming, Straka), 17:38. Penalties-Vaive Hfd (slashing), 5:32; Straka Lv (hooking), 6:25.
Shots on Goal-Hartford 10-9-12-31. Lehigh Valley 10-9-10-29.
Power Play Opportunities-Hartford 0 / 2; Lehigh Valley 0 / 2.
Goalies-Hartford, Skapski 2-0-0 (29 shots-27 saves). Lehigh Valley, Zepp 4-1-0 (31 shots-27 saves).
A-8,114
Referees-Stephen Reneau (34), Chris Brown (86).
Linesmen-Bill Lyons (27), Luke Murray (92).
Upcoming Home Games:
Saturday, November 15 (7:05) – Toronto Marlies at Lehigh Valley Phantoms.Wednesday, November 19 (7:05) – Hershey Bears at Lehigh Valley Phantoms.Friday, November 21 (7:05) – Worcester Sharks at Lehigh Valley Phantoms.