Petr Straka and Tyrell Goulbourne Shine in 6-5 Victory
By Adam Zielonka, Lehigh Valley Phantoms
November 27, 2015
Lehigh Valley, PA – To cap off a wild, back-and-forth game that featured several gripping storylines and impressive individual performances, the Lehigh Valley Phantoms defeated the Hershey Bears 6-5 Saturday evening in an electrifying shootout. Tim Brent scored the winning goal in the fifth round in front of a Black Friday crowd of 8,262 at PPL Center, the seventh crowd of more than 8,000 fans this year.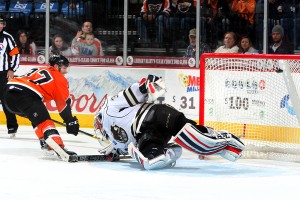 With the win, the Phantoms improved to 9-10-1-0 overall this season and have won five of their last eight games overall. What's more, Lehigh Valley has claimed 11 of a possible 16 standings points during its recent surge.
It's the second time this month the Phantoms have topped their bitter rivals in shootout fashion. The team opened its month with a thrilling 5-4 shootout victory over Hershey at Giant Center on Nov. 1. This time, they brought home the excitement, which wasn't limited to the shootout – fans were treated to a back-and-forth game throughout regulation with two goals apiece from Petr Straka and Tyrell Goulbourne. Taylor Leier (goal and an assist), Chris Conner (2 assists) and Kevin Goumas (2 assists) also helped guide the multi-faceted offensive attack for the Phantoms.
And it wasn't just the offense that was on display. Just hours after being called up from the ECHL Reading Royals, goalie Connor Knapp won his Lehigh Valley debut between the pipes. He saved 24 of Hershey's 29 shots and shone in the overtime and shootout, keeping the Bears out of the goal when it mattered most.
Brent's go-ahead goal came following four scoreless shootout rounds, right after Knapp made an improbable save against Hershey's Dustin Gazley by stopping the puck within the crease and less than a foot from the goal line. Knapp followed Brent's score with the game-sealing stop against Sean Collins.
The shootout came after an overtime period in which the Phantoms outshot their rivals, 4-2, though neither team was able to score.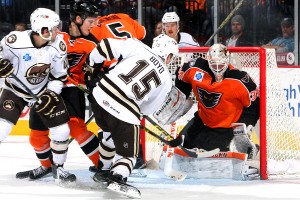 It didn't take long for the Phantoms to draw first blood. Just 1:22 into the game, Goulbourne scored on a one-timer from Goumas's behind-the-net pass. It was the rookie's fifth score of the season while Robert Hagg recorded the second assist.
At the 8:38 mark, however, the Bears leveled the contest. Fighting a relentless attack in their defensive zone for upwards of two minutes, Knapp defended Connor Carrick's wrap-around attempt, but Mike Moore received the rebound and scored on the putback. Travis Boyd was credited with the second assist.
A few minutes later, Hershey defenseman Tyler Lewington received the puck from a scuffle in the Phantoms' corner and scored from just inside the blue line 12:24 into the period. Sean Collins and Nathan Walker assisted on Lewington's first career AHL marker.
The Phantoms answered quickly while on the power play at the 14:09 mark. Leier, newly back from a six-game stint playing for the Philadelphia Flyers, took a Conner feed with him on a breakaway and sent it right past Bears' goalie Dan Ellis for the game-tying goal, his fifth of the season. Andrew MacDonald notched the secondary assist, his ninth helper of the year.
At 4:35 into the second period, Hershey's Austin Fyten sent a short pass from behind Knapp's left pipe to Boyd, who snuck in his third goal of the year.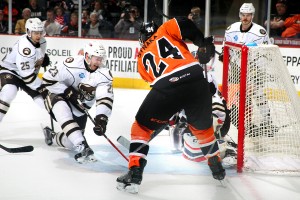 But the Phantoms refused to lie down to their rivals, with Straka's scoring prowess leading the way. Leier sent a pass to Straka in front of the crease during a power play at 10:51, despite being tripped as he passed it. Straka netted the ensuing one-timer to tie the game. Conner notched the secondary assist, his second helper of the night and team-leading 11th of the year.
The Phantoms rode this momentum back into the lead. Davis Drewiske attempted a long shot that Brent tipped along the way, and once Ellis defended it, Straka was there to clean it up and give Lehigh Valley a 4-3 lead at 16:58. Straka's two second-period goals were his 13th and 14th tallies of the season, tying and then surpassing the Texas Stars' Devin Shore for the AHL lead, which he's contended for all season.
Having seen his six-game goal-scoring streak snapped in Utica last Wednesday, Straka made up for it with his second multi-goal game of the season. Coincidentally, the other time the winger scored a pair of goals this year was Nov. 1 in Hershey, the same night the Phantoms first defeated them in a shootout.
The Bears wouldn't go quietly after Straka's go-ahead tally. The third period began with 12 minutes of scoreless hockey, but Hershey tied the game again at 12:08 when Walker received the rebound of his own saved shot and shoved it past Knapp.
Goulbourne found the spotlight once again by scoring his second goal of the night at 16:13, off assists from Evan Rankin and Goumas. Fans hoped it would be the game-winner, but just 20 seconds later, Paul Carey scored his team-high ninth goal of the year to tie it up yet again and force overtime.
Lehigh Valley's two power play goals broke a five-game streak of failing to score while up a man. The Phantoms also continued their recent success on the penalty kill: They killed both of Hershey's power play opportunities Friday, making them 16-for-18 in their last five outings.
Friday's game was the 199th meeting between the two teams. The milestone 200th meeting will take place Saturday, Dec. 5 at the Giant Center in Hershey.
The Phantoms return to PPL Center on Saturday, November 28 when the Providence Bruins come to town. Get up close and personal with your favorite Phantoms players during a post-game autograph session featuring a team poster giveaway. Puck drop is scheduled for 7:05 p.m. Tickets for Saturday's game are currently available by logging on to pplcenter.com, by calling 610-347-TIXX [8499] or by visiting the Mealey's Furniture Box Office at PPL Center (701 Hamilton).
RISE UP! Reserve your season tickets and groups now for the 2015-2016 season of Lehigh Valley Phantoms hockey. For more information on how to reserve your seat at PPL Center to the hottest ticket in town, call the Phantoms front office today at 610-224-GOAL (4625)!
Hershey Bears 5 at Lehigh Valley Phantoms 6 (SO) – Status: Final SO
Friday, November 27, 2015 – PPL Center
Hershey 2 1 2 0 – 5
Lehigh Valley 2 2 1 0 – 6
1st Period-1, Lehigh Valley, Goulbourne 5 (Goumas, Hagg), 1:22. 2, Hershey, Moore 1 (Carrick, Boyd), 8:38. 3, Hershey, Lewington 1 (Collins, Walker), 12:24. 4, Lehigh Valley, Leier 5 (Conner, MacDonald), 14:09 (PP). Penalties-Carrick Her (slashing), 13:18.
2nd Period-5, Hershey, Boyd 3 (Fyten), 4:35. 6, Lehigh Valley, Straka 13 (Leier, Conner), 10:51 (PP). 7, Lehigh Valley, Straka 14 (Brent, Drewiske), 16:58. Penalties-Moore Her (high-sticking), 9:42; Lewington Her (fighting), 11:16; Goulbourne Lv (fighting), 11:16; Morin Lv (interference), 17:34; Ness Her (cross-checking), 17:47.
3rd Period-8, Hershey, Walker 3 (Sill, Collins), 12:08. 9, Lehigh Valley, Goulbourne 6 (Rankin, Goumas), 16:13. 10, Hershey, Carey 9 (Barber, Camper), 16:33. Penalties-Brent Lv (roughing), 1:12; Bourque Her (tripping), 7:17; Gazley Her (goaltender interference), 12:35.
OT Period- No Scoring.Penalties-No Penalties
Shootout – Hershey 0 (Carey NG, Carrick NG, Bourque NG, Gazley NG, Collins NG), Lehigh Valley 1 (Leier NG, Straka NG, Goulbourne NG, Palushaj NG, Brent G).
Shots on Goal-Hershey 8-8-10-3-0-29. Lehigh Valley 9-16-4-5-1-35.
Power Play Opportunities-Hershey 0 / 2; Lehigh Valley 2 / 5.
Goalies-Hershey, Ellis 5-3-2 (34 shots-29 saves). Lehigh Valley, Knapp 1-0-0 (29 shots-24 saves).
A-8,262
Referees-Dave Lewis (46), Greg Kimmerly (18).
Linesmen-Matt McNulty (26), Ryan Knapp (73).
Upcoming Home Games: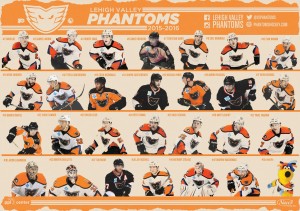 Saturday, November 28, Providence Bruins vs. Lehigh Valley Phantoms, 7:05 p.m. | TIX
(Post-Game Autographs with Phantoms Players. Team Poster Giveaway.)
Wednesday, December 9, 2015, Hershey Bears vs. Lehigh Valley Phantoms, 7:05 p.m. | TIX
(Light the Night.)
Friday, December 11, 2015, WB/Scranton Penguins vs. Lehigh Valley Phantoms, 7:05 p.m. | TIX
(T-Shirt Giveaway. Free Ugly Holiday Sweater Phantoms Shirt to First 8,500 Fans in Attendance.)
Saturday, December 12, 2015, Springfield Falcons vs. Lehigh Valley Phantoms, 7:05 p.m. | TIX
(Post-Game Skate with Phantoms Players presented by Big Woody's. Teddy Bear Toss presented by Dan's Camera City.)
In the midst of their 20th season of operation, the Phantoms are coming off their Inaugural Season as the Lehigh Valley Phantoms playing at the brand-new PPL Center. Established in 1996, the Phantoms spent their first 13 seasons at the Spectrum in Philadelphia before re-locating to Glens Falls, New York in 2009 where the team spent the next five seasons as the Adirondack Phantoms. A new era of Phantoms hockey began in the fall of 2014 when the Lehigh Valley Phantoms began play at the state-of-the-art PPL Center. Through 19 incredibly successful campaigns, the Phantoms have captured two Calder Cup Championships (1998, 2005), two Conference Championships (1998, 2005), two Regular Season Titles (1996-97, 1997-98) and four Division Championships (1996-97, 1997-98, 1998-99, 2003-04).