Heavy Rivalry Battle in Chocolate Town
December 7, 2019
Hershey, Pa. – The Lehigh Valley Phantoms poured in 32 shots in Saturday's goaltenders' battle but Vitek Vanecek and the Hershey Bears held on for a nail-biting win in a 1-0 decision on Saturday night. J-F Berube turned aside 19 of 20 offerings from the Bears but Mike Sgarbossa's power-play tally late in the second period proved to be the difference.
Phantoms second-year winger David Kase had four different chances right on top of Vanecek but the Hershey net-minder was on top of it every time. With 1:00 remaining, Matt Strome from the right of the cage had a chance to put home the tying goal and appeared to have briefly thought that he had done so but somehow Vanecek stopped that one as well. Greg Carey had several monster shots as well while T.J. Brennan, Andy Welinski and Tyler Wotherspoon all cranked up big chances from the blue-line. Reece Willcox had a nice dangle around a defender to set up yet another scoring try in the second period but despite the continued pressure and solid play, the Phantoms simply were unable to break through.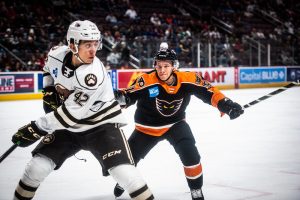 It was the fifth straight game between the Phantoms and Bears to be decided by one goal. Lehigh Valley (10-10-5) leads the AHL with 18 games decided by one goal of the 25 games the Phantoms have played in total.
The physical and hard game saw a handful of scraps and collisions between the heated rivals. Hershey tough guy Kale Kessy delivered a hard hit on Cal O'Reilly in the second period that sent the Phantoms co-captain out of the game with injury. Greg Carey stepped in to challenge Kessy at that point. And Kessy later would drop the gloves with Phantoms heavyweight Kurtis Gabriel in the second fight of the season between the two.
Mike Sgarbossa broke a scoreless tie late in the second period with his snipe from above the left dot to the upper, far corner past the glove of Berube for the only goal of the game.
It was the second time this season for Lehigh Valley to be held off the scoreboard and the first time since sustaining a shutout in the team's season opener on October 5 against Providence.
The game marked the first time ever for Lehigh Valley to lose a 1-0 decision since the team arrived in Allentown in 2014. The last time the Phantoms franchise lost 1-0 decision was December 4, 2013 when the Adirondack Phantoms fell to the Bridgeport Sound Tigers. It was also the first time ever for the Phantoms to fall in a 1-0 decision against Hershey in the 249 games of the all-time rivalry series dating back to the beginning of the Philadelphia Phantoms in 1996.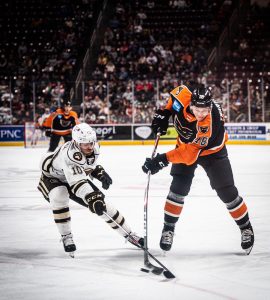 Exactly one year ago was a Phantoms 1-0 win against Hershey when Carter Hart racked up 26 saves in his first pro shutout on December 7, 2018. The Adirondack Phantoms also had a 1-0 win against Hershey on January 3, 2013 on a perfect night for Cal Heeter.
The Phantoms return to action on Friday night at the Hartford Wolf Pack and then will be back at PPL Center on Saturday for a rematch against Hartford on the team's annual Teddy Bear Tos Night to benefit area kids through Valley Youth House.
Lehigh Valley Phantoms 0 at Hershey Bears 1
Saturday, December 7, 2019 – Giant Center
Lehigh Valley 0 0 0 – 0
Hershey 0 1 0 – 1
1st Period- No Scoring.Penalties-de Haas Lv (holding), 10:29; Gersich Her (tripping), 15:42.
2nd Period-1, Hershey, Sgarbossa 9 (Alexeyev, Djoos), 14:16 (PP). Penalties-Carey Lv (roughing, roughing), 11:49; Kessy Her (roughing, roughing), 11:49; Ratcliffe Lv (roughing, elbowing, misconduct – unsportsmanlike conduct), 12:36; Lewington Her (roughing, misconduct – unsportsmanlike conduct), 12:36; Nardella Her (tripping), 14:58; Willcox Lv (interference), 17:15.
3rd Period- No Scoring.Penalties-Gabriel Lv (fighting, misconduct – abuse of officials), 2:38; Kessy Her (instigating, fighting, misconduct – instigating, game misconduct – fighting at puck drop), 2:38; Brennan Lv (cross-checking), 3:21; Fehervary Her (hooking), 12:53.
Shots on Goal-Lehigh Valley 13-7-12-32. Hershey 7-8-5-20.
Power Play Opportunities-Lehigh Valley 0 / 4; Hershey 1 / 4.
Goalies-Lehigh Valley, Berube 4-3-3 (20 shots-19 saves). Hershey, Vanecek 5-4-1 (32 shots-32 saves).
A-7,531
Referees-Dan Kelly (45), Tim Mayer (19).
Linesmen-Colin Gates (3), Richard Jondo (55).