Travis Sanheim and Greg Carey Score Two Goals Apiece
January 14, 2017
Hershey Pa. – A determined Hershey Bears squad held off a late Lehigh Valley Phantoms comeback effort and held on for a 6-4 win to split an intense and hard weekend rivalry series. The Phantoms had won 6-2 in the weekend opener on Friday in Allentown but the Bears proved how difficult it can be to defeat the same team on consecutive nights.
Travis Sanheim scored a pair of second period goals including a tremendous individual effort dangling around defenseman Darren Dietz and then burying a breakaway on Joe Cannata on perhaps the most spectacular goal of the year. The 2014 Flyers first-rounder took nearly two months to crack the goal column but once he finally did the goals have started to snowball for him. Sanheim's seven goals have all come in the past 13 games since the beginning of Lehigh Valley six-game pre-Holiday homestand on December 9. The night marked Sanheim's second career multi-goal effort.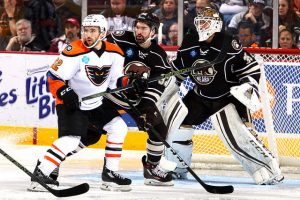 The Bears had little trouble finding their motivation in their drive to end a five-game losing streak. Hershey led 5-2 with 7:00 remaining in the third period but Greg Carey's consecutive goals late in the third pulled the Phantoms to within one and then Will O'Neill's effort in the slot with the goalie pulled was deflected just wide by goalie Joe Cannata allowing the hosts to hang on. Zach Sill sealed the Hershey victory with an empty netter in the closing seconds.
Hershey had the early jump and energy back at their home building and emerged from the first period with a 2-0 lead on goals by Paul Carey and Aaron Ness. Carey's 11th of the season came after an impressive power-play effort. He zig-zagged across the zone and cut right back to the slot from the corner to snipe the first tally of the night to the blocker side of Alex Lyon.
Aaron Ness converted his second of the weekend from center-point on the power play on a perfect blast to the upper-ninety going bar-down over Lyon's right shoulder.
Mark Zengerle was on top of the slot for a perfect opportunity but his chip on net hit off the post and away just tensions were again coming to a boil in the hard-checking and physical and feisty first period. Shortly after the Zengerle post-shot Will O'Neill and Brad Malone were involved in a wrestling match. Both received misconduct penalties while other players modestly paired off as well. Garrett Mitchell for Hershey had a shorthanded breakaway at the very end of the first period but missed just wide as time expired allowing the Phantoms to escape with only the two-goal deficit.
The Phantoms bounced back in the second with consecutive goals from Sanheim. His first came immediately off a faceoff win by Andy Miele that connected with an open Sanheim in the slot for his first of the night.
The next one for Sanheim just 2:30 later at almost the midway point of the game was the real jaw-dropper and his individual effort around and through a couple of Hershey defenseman for a breakaway strike will be a tough one to top when considering the top goal of the season.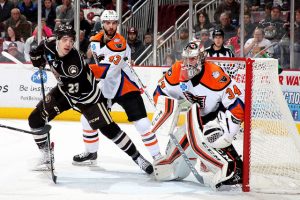 Hershey responded quickly and it was less than a minute later for defenseman Colby Williams effort from the corner and behind the line that his off a Phantoms back-checker in the slot for an unfortunate carom into the net. At 14:07 it was Stan Galiev in the slot on a give by Paul Carey to the side of the net for a power-play conversion and a 4-2 Hershey lead at the second break.
Jakub Vrana converted in the opening minutes of the third period on a 2-on-1 with Nathan Walker. Lyon had no chance as the Bears established a three-goal cushion at 5-2 at the 2:54 mark into the final frame.
The intense rivalry again heated up shortly thereafter with more big hitting eventually leading to big Samuel Morin dropping the gloves with Hershey captain Garrett Mitchell in a fight. Mitchell left some blood on the ice on his way back to the locker room after Morin connected with three consecutive punches but Mitchell was eventually able to return to the game.
Greg Carey (18th and 19th) at 13:20 and again at 16:31 pulled the Phantoms to within one again in their spirited comeback effort. The power-play goal with under four minutes remaining came on a hard forecheck to the corner for Weal, Miele and Conner setting up Carey on the left of the crease for the conversion.
Carey leads the American Hockey League with 11 power-play goals and is third in total goals and first on the Phantoms with 19.
O'Neill had the best opportunity to tie after Lyon was pulled for an extra attacked by Cannata and the Bears successfully hung on.
Hershey went 2-for-5 on the power play in ending their five-game winless slide. The Phantoms were 1-for-5. Hershey out shot Lehigh Valley 27-25.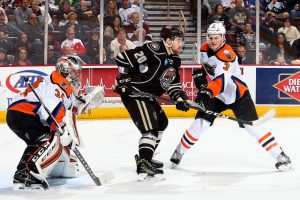 It took 36 games for the Phantoms to reach double digits in the regulation loss column. Lehigh Valley's three-game win streak came to an end as the team's mark moved to 24-10-2. Hershey improved to 19-9-9. The two teams will rematch in Chocolate Town next Sunday.
The Phantoms travel to Springfield for the first time this season for a Monday afternoon engagement with the Thunderbirds at 1:00 p.m.
The Phantoms return to PPL Center for their Pre-All-Star Game Celebration on Friday and Saturday nights against the Wilkes-Barre/Scranton Penguins and Providence Bruins. Saturday's game is Youth Jersey Night for the first 2,500 kids age 14 and younger. Tickets are available at PPLCenter.com
Lehigh Valley Phantoms 4 at Hershey Bears 6
Saturday, January 14, 2017 – Giant Center
Lehigh Valley 0 2 2 – 4
Hershey 2 2 2 – 6
1st Period-1, Hershey, Carey 11 (Thomas), 11:06. 2, Hershey, Ness 5 (Vrana, Thomas), 13:44 (PP). Penalties-Mitchell Her (tripping), 1:21; O'Neill Lv (cross-checking), 7:44; Malone Her (cross-checking), 7:44; Knight Lv (hooking), 8:49; Morin Lv (elbowing), 12:11; Carey Her (tripping), 17:23; O'Neill Lv (roughing, misconduct – continuing altercation), 19:08; Malone Her (hooking, roughing, misconduct – continuing altercation), 19:08.
2nd Period-3, Lehigh Valley, Sanheim 6 (Miele), 7:10. 4, Lehigh Valley, Sanheim 7 (Morin, Laughton), 9:40. 5, Hershey, Williams 3 (Carey, Boyd), 10:26. 6, Hershey, Galiev 7 (Carey, Vrana), 14:04 (PP). Penalties-Laughton Lv (hooking), 5:48; Ness Her (hooking), 6:19; Laughton Lv (roughing), 12:04.
3rd Period-7, Hershey, Vrana 10 (Walker), 2:54. 8, Lehigh Valley, Carey 18 (Miele, Hagg), 13:20. 9, Lehigh Valley, Carey 19 (Conner, Weal), 16:31 (PP). 10, Hershey, Sill 7 (O'Brien), 19:25 (EN). Penalties-Morin Lv (fighting), 3:21; Mitchell Her (fighting), 3:21; Sanheim Lv (delay of game), 3:25; Boyd Her (tripping), 15:47.
Shots on Goal-Lehigh Valley 7-11-7-25. Hershey 8-10-9-27.
Power Play Opportunities-Lehigh Valley 1 / 5; Hershey 2 / 5.
Goalies-Lehigh Valley, Lyon 16-7-2 (26 shots-21 saves). Hershey, Cannata 10-3-4 (25 shots-21 saves).
A-10,362
Referees-Cameron Voss (41), Stephen Reneau (34).
Linesmen-Bob Goodman (90), Luke Murray (92).
And for the latest Phantoms news, visit www.phantomshockey.com or follow the team on Facebook (www.facebook.com/lehighvalleyphantoms), Twitter (@lvphantoms), Instagram (@lehighvalleyphantoms) and Snapchat (lvphantoms).
The Phantoms are thrilled to host the 2017 AHL All-Star Classic presented by Capital BlueCross at PPL Center January 28-30. The AHL All-Star Classic weekend includes a Phan Fest during the day on Saturday, January 28 and a Tailgate Party that evening, followed by the AHL All-Star Skills Competition on Sunday, January 29 and the 2017 AHL All-Star Game on Monday, January 30. Don't miss this once-in-a-lifetime event. Packages starting at just $67 for the 2017 AHL All-Star Classic presented by Capital BlueCross are on sale now and include admission to Saturday's Phan Fest & Tailgate Party, Sunday's AHL All-Star Skills Competition and Monday's All-Star Game. To purchase tickets, please visit www.phantomshockey.com or www.pplcenter.com.