Penalty-Shot Goal for Cousins Hat Trick Seals 4-3 Win at Toronto
March 11, 2015
Toronto, ON – Nick Cousins sealed his second hat trick of the year in dramatic fashion via a penalty shot late in the third period and the Lehigh Valley Phantoms prevailed at the Toronto Marlies 4-3 on Wednesday night in the opener of a five-game road trip.
With 2:22 remaining in the third and the Phantoms leading 3-2, Cousins was whacked on the arm on a breakaway try. On the first penalty shot in Lehigh Valley history, Cousins raced forward from the get-go but then put on the brakes and slowed to a crawl once he closed in. Then moving to his right, Cousins elevated a backhand beauty over the glove of Chris Gibson for the hat-trick clincher.
Cousins scored his opening two tallies in the first period, both from the right circle beating Gibson on the glove-side. Jason Akeson also lit the lamp for the Phantoms with a power-play strike in the second period and Rob Zepp turned aside 28 Marlies drives to preserve the win. Andrew Gordon recorded three assists in the game while Adam Comrie registered a pair of helpers.
The penalty-shot goal by Cousins was the first for the Phantoms' franchise since October 26, 2012 when Zac Rinaldo was successful in his attempt at the Albany Devils against Jeff Frazee.
Cousins has scored both hat tricks by the Lehigh Valley Phantoms having also accomplished the feat on January 17 at PPL Center against the Binghamton Senators. He is just the third player in the AHL to notch multiple hat tricks this season joining Teemu Pulkkinen of Grand Rapids and Garret Ross of Rockford.
The 21-year-old center also becomes the first player for the Phantoms franchise since 2010-11 to score multiple hat tricks in the same year. In that season, both Denis Hamel and Michael Ryan both had a pair of three-goal games for the Adirondack Phantoms.
Byron Froese had staked the Marlies to an early 1-0 lead following an earlier attempt by former Phantom Kevin Marshall from the left wing. But Cousins goals later in the period would push Lehigh Valley to a 2-1 advantage at the first break.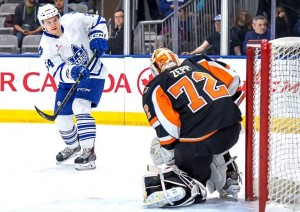 Matt Frattin had blasted home a power-play strike late in the second period to even the score at 2-2. But Jason Akeson responded with a center-point drive early in the third on a Phantoms' power-play that glanced off the left pad of Gibson on the other side of a Zack Stortini screen.
Teenage prospect William Nylander scored in the closing seconds of the third period for Toronto a couple minutes after Cousins' hat-trick tally. But the Marlies last-ditch efforts for the equalizer fell just short when the buzzer sounded ending a frenetic scramble in the slot.
Lehigh Valley swept the two-game season series against Toronto and also finished with a 3-0 record north of the border including a pair of wins at St. John's in January.
The Marlies outshot the Phantoms 31-30. Lehigh Valley was 2-for-4 on the power-play while holding Toronto to 1-for-5.
The Phantoms' five-game road-swing continues on Friday and Saturday at the Providence Bruins and Bridgeport Sound Tigers. Be sure to catch each of Lehigh Valley's next five games on Fox 1470 AM, online at www.fox1470.com or via the iHeartRadio app. Coverage begins at 6:20 p.m. each night with the Nazareth Pallet Countdown to Faceoff.
The Phantom return to downtown Allentown on Sunday, March 22nd at 5:05 p.m. when they welcome the Wilkes-Barre/Scranton Penguins to town for another Pennsylvania rivalry showdown. Sunday's contest features a FREE youth street hockey stick giveaway for the first 3,000 kids in attendance ages 14 and under. A limited number of tickets for Lehigh Valley's next home game are available now at pplcenter.com, by calling 610-347-TIXX (8499) or in person at the Mealey's Furniture Box Office at PPL Center (701 Hamilton).
Check it out! Reserve your season tickets now for the 2015-2016 season of Lehigh Valley Phantoms hockey. For more information on how to reserve your seat at PPL Center to the hottest ticket in town call the Phantoms front office today at 610-224-GOAL (4625)!
Lehigh Valley Phantoms 4 at Toronto Marlies 3
Wednesday, March 11, 2015 – Ricoh Coliseum
Lehigh Valley 2 0 2 – 4
Toronto 1 1 1 – 3
1st Period-1, Toronto, Froese 12 5:55. 2, Lehigh Valley, Cousins 18 (Gordon, Comrie), 12:08. 3, Lehigh Valley, Cousins 19 (Comrie, Gordon), 19:51 (PP). Penalties-Lauridsen Lv (interference), 3:51; Hextall Lv (slashing), 5:36; McKegg Tor (slashing), 5:36; McKegg Tor (boarding), 17:39; Marshall Tor (slashing), 18:21.
2nd Period-4, Toronto, Frattin 19 (Nylander, Brown), 17:58 (PP). Penalties-Powe Lv (slashing), 0:36; Mathers Lv (high-sticking), 3:20; Rupert Tor (slashing), 7:44; Powe Lv (hooking), 16:19.
3rd Period-5, Lehigh Valley, Akeson 19 (Cousins, Gordon), 1:38 (PP). 6, Lehigh Valley, Cousins 20 17:38 (PS). 7, Toronto, Nylander 4 19:34. Penalties-Comrie Lv (fighting), 0:27; McKegg Tor (roughing, fighting), 0:27; Hagg Lv (diving/embellishment), 0:53; Froese Tor (hooking), 0:53; Mathers Lv (roughing), 4:30; Pettersson Lv (high-sticking), 9:21.
Shots on Goal-Lehigh Valley 9-13-8-30. Toronto 9-8-14-31.
Power Play Opportunities-Lehigh Valley 2 / 4; Toronto 1 / 6.
Goalies-Lehigh Valley, Zepp 16-11-1 (31 shots-28 saves). Toronto, Gibson 16-13-0 (30 shots-26 saves).
A-2,511
Referees-Dave Lewis (46), Darcy Burchell (42).
Linesmen-Kevin Ferguson (31), Mike Hamilton (60).
Upcoming Home Games:
Sunday, March 22, 2015 Wilkes-Barre/Scranton Penguins vs. Lehigh Valley Phantoms, 5:05 PM
(Youth Street Hockey Stick Giveaway (first 3,000 kids ages 14 and under)! Charities Night!)
Wednesday, March 25, 2015 Syracuse Crunch vs. Lehigh Valley Phantoms, 7:05 PM
($2 Beer Night! $2 Coors Light drafts available from the time doors open until the start of the 2nd period.)
Saturday, March 28, 2015 Wilkes-Barre/Scranton Penguins vs. Lehigh Valley Phantoms, 7:05 PM
(Faith Night! Post-Game Concert!)
Sunday, March 29, 2015 Manchester Monarchs at Lehigh Valley Phantoms, 3:05 PM
(Post-Game Skate with the Players! Legends Day and Poster Giveaway featuring Brian Boucher!)
In their 19th season of operation, the Phantoms are currently in the midst of their Inaugural Season as the Lehigh Valley Phantoms playing at the brand-new PPL Center. Established in 1996, the Phantoms spent their first 13 seasons at the Spectrum before re-locating to Glens Falls, New York in 2009 where the team spent the next five seasons as the Adirondack Phantoms. A new era of Phantoms hockey began in the fall of 2014 when the Lehigh Valley Phantoms began play at the state-of-the-art PPL Center. Through 18 incredibly successful campaigns, the Phantoms have captured two Calder Cup Championships (1998, 2005), two Conference Championships (1998, 2005), two Regular Season Titles (1996-97, 1997-98) and four Division Championships (1996-97, 1997-98, 1998-99, 2003-04).