Anthony Stolarz Turns Aside 41 Shots
January 25, 2017
Lehigh Valley, Pa. – Danick Martel recorded the first hat trick of the season for the Lehigh Valley Phantoms while all three of the team's All-Stars also lit the lamp in a 7-2 demolition of the Binghamton Senators on Wednesday night at PPL Center.
T.J. Brennan (13th), Taylor Leier (9th) and Jordan Weal (14th) all scored in the blowout win in something of a preview of the All-Star Fun to come this weekend. All three will represent the Phantoms on the Atlantic Division All-Star squad. Nicolas Aube-Kubel (5th) also struck as a result of a Martel steal behind the Senators net while Anthony Stolarz racked up 41 saves including a handful of sensational stops in a performance perhaps somewhat overshadowed by the high-octane offense.
Martel's hat trick is the fourth all-time at PPL Center. Interestingly, all four PPL Center hat tricks have come against the Binghamton Senators. Nick Cousins had the team's first hat trick in the inaugural season on January 17, 2015 while Colin McDonald and Taylor Leier notched home-ice hatties a season ago. It was also the second hat trick of Martel's career but his first game scoring three goals last February came on the road at Bridgeport in a game in which the Phantoms would eventually lose.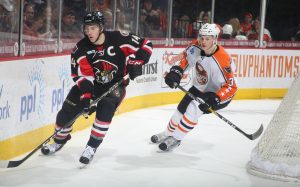 Martel had been slightly snake-bit in his efforts to score goals in the past few games but the team's leading goal scorer from a season ago was able to build on the positive energy of striking early.
"After the first one , the stress would go down. I needed that," Martel said. "Then after the second one I thought it might be my night. I didn't stop working. I played the right way on defense. When they're coming, they're coming. I'll take it."
Head coach Scott Gordon was equally impressed with Martel's game as a whole.
"I think Danick was destined to get that third goal," Gordon said. "He had a lot of opportunities. You could see that he felt it tonight. He had a great game."
The victory also represented the fourth time this season for the Phantoms to reach the seven-goal mark. Lehigh Valley remains the highest scoring team in the AHL at 3.8 goals per game as they improved to an overall mark of 28-11-2 at the 41-game mark of the regular season.
Martel got started on his four-point night with a pair of lamplighters in the first period against B-Sens netminder Matt O'Connor. Midway through the first period, Martel collected a back-boards rebound of a Mark Alt point shot and played a bank off the back of O'Connor for the first goal of the game.
Four minutes later, Martel converted from the same side of the net. This time his backhand wraparound attempt deflected into the air and his second backhander would be a mid-air swat using some terrific hand-eye coordination to knock the puck past the right shoulder of O'Connor.
Binghamton surged back with a number of strong opportunities against Anthony Stolarz who was forced to make 14 saves in the opening frame in order to preserve the 2-0 advantage.
Martel rushed in for a forecheck steal behind the Senators goal and nicely rifled a drop across the slot to an onrushing Nicolas Aube-Kubel in the right circle who snapped home his sixth of the season in the opening minutes of the second period for a 3-0 lead.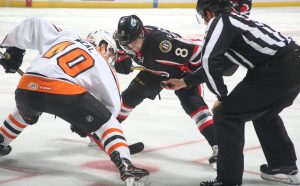 At 6:52 into the second period, All-Star Jordan Weal was allowed some room and time behind the net to create an opportunity and he opted for a wide backhand wraparound carrying into the slot and going to the far post on the left-wing side past O'Connor's blocker. His impressive move and 13th goal of the season was assisted by Samuel Morin and Travis Sanheim and came at the conclusion of a sustained Phantoms attack in the Binghamton end.
Lehigh Valley salted the game away in the opening moments of the third period with consecutive power-play goals from a couple more All-Stars exactly one minute apart. T.J. Brennan blasted through his 13th of the season from the right dot on a nifty cross-ice feed by Andy Miele from near the left corner. And Taylor Leier's 9th of the season came from the left circle after some nice work by Jordan Weal and Colin McDonald left him with a corner to neatly pick.
Chad Nehring scored on a right-pad rebound of a Jason Akeson shot for a 5-on-3 power-play strike at 6:46 into the second period to put the Senators on the board at 6-1 and break the Stolarz shutout bid. Nick Paul scored unassisted past Stolarz to cut the margin to 6-2.
Martel capped his hat trick with a shot lifted over the right shoulder of relief goalie Scott Greenham at 11:50 into the third to send the hats flying inside PPL Center on a fourth occasion in the venue's two-and-a-half seasons hosting the Phantoms.
Lehigh Valley struck for multiple power-play goals for a 17th time this season improving their record to 14-2-1 in such games. The Phantoms have 15 power-play goals in their last nine games going 15-for-46 for a lofty 32.6% conversion rate in that span.
The Phantoms improved to 28-11-2 overall and 3-0 against Binghamton. Lehigh Valley was out shot in the game 43-33. The Phantoms were 2-for-5 on the power play while the Senators finished at 1-for-2.
Lehigh Valley Hat Tricks:
Jan. 17, 2015 – Nick Cousins vs. Binghamton (5-1) (Andrew Hammond)
Mar. 11, 2015 – Nick Cousins at Toronto (4-3) (Christopher Gibson)
Jan. 27, 2016 – Colin McDonald vs. Binghamton (6-3) (Matt O'Connor)
Feb. 5, 2016 – Danick Martel at Bridgeport (3-6) (Christopher Gibson)
Feb. 10, 2016 – Taylor Leier vs. Binghamton (7-2) (Chris Dreidger)
Apr. 8, 2016 – Adam Comrie at Wilkes-Barre/Scranton (4-0) (Tristan Jarry)
Jan. 25, 2017 – Danick Martel vs. Binghamton (7-2) (Matt O'Connor/Scott Greenham)
The Phantoms and Senators will rematch Friday night in Binghamton. And Lehigh Valley will conclude play before the All-Star Break with a Saturday night engagement at the Bridgeport Sound Tigers. Friday's game will be broadcast on 1470-WSAN while Saturday's is on NewsRadio 790-WAEB. All Phantoms broadcasts can be heard on the Phantoms 365 app available on Google Play or the iTunes store.
Binghamton Senators 2 at Lehigh Valley Phantoms 7 – Status: Final
Wednesday, January 25, 2017 – PPL Center
Binghamton 0 0 2 – 2
Lehigh Valley 2 2 3 – 7
1st Period-1, Lehigh Valley, Martel 9 (Alt, Hagg), 9:58. 2, Lehigh Valley, Martel 10 (Weal), 13:59. Penalties-McCormick Bng (holding the stick), 6:35; Englund Bng (charging, fighting), 13:49; Gordon Lv (instigating, fighting, misconduct – instigating), 13:49.
2nd Period-3, Lehigh Valley, Aube-Kubel 5 (Martel), 1:20. 4, Lehigh Valley, Weal 14 (Morin, Sanheim), 6:52. Penalties-Sieloff Bng (roughing, interference), 19:15; Gordon Lv (roughing), 19:15.
3rd Period-5, Lehigh Valley, Brennan 13 (Miele, Conner), 1:14 (PP). 6, Lehigh Valley, Leier 9 (Weal, McDonald), 2:14 (PP). 7, Binghamton, Nehring 2 (Akeson, Varone), 6:46 (PP). 8, Binghamton, Paul 5 11:41. 9, Lehigh Valley, Martel 11 (Aube-Kubel), 11:50. Penalties-Akeson Bng (tripping), 1:28; Sanheim Lv (holding), 4:54; Willcox Lv (slashing), 6:22; Englund Bng (double minor – high-sticking), 16:56.
Shots on Goal-Binghamton 14-11-18-43. Lehigh Valley 12-10-11-33.
Power Play Opportunities-Binghamton 1 / 2; Lehigh Valley 2 / 5.
Goalies-Binghamton, O'Connor 10-11-1 (25 shots-19 saves); Greenham 0-1-0 (8 shots-7 saves). Lehigh Valley, Stolarz 10-3-0 (43 shots-41 saves).
A-6,455
Referees-Evgenii Romasko (39).
Linesmen-Tim Lyons (33), Jud Ritter (34).
And for the latest Phantoms news, visit www.phantomshockey.com or follow the team on Facebook (www.facebook.com/lehighvalleyphantoms), Twitter (@lvphantoms), Instagram (@lehighvalleyphantoms) and Snapchat (lvphantoms).
The Phantoms are thrilled to host the 2017 AHL All-Star Classic presented by Capital BlueCross at PPL Center January 28-30. The AHL All-Star Classic weekend includes a Phan Fest during the day on Saturday, January 28 and a Tailgate Party that evening, followed by the AHL All-Star Skills Competition on Sunday, January 29 and the 2017 AHL All-Star Game on Monday, January 30. Don't miss this once-in-a-lifetime event. Packages starting at just $67 for the 2017 AHL All-Star Classic presented by Capital BlueCross are on sale now and include admission to Saturday's Phan Fest & Tailgate Party, Sunday's AHL All-Star Skills Competition and Monday's All-Star Game. To purchase tickets, please visit www.phantomshockey.com or www.pplcenter.com.