Phantoms Rally in 3rd for 2-1 Comeback Win
January 27, 2017
Binghamton, NY – Nicolas Aube-Kubel raced up the right-wing boards and drove home a late game-winning goal to cap a third-period comeback for the Lehigh Valley Phantoms at the Binghamton Senators in a 2-1 victory on Friday night. Aube-Kubel's sixth of the season was likely the most spectacular goal of his professional career and came at the right time too in breaking a 1-1 deadlock with 5:05 remaining in regulation.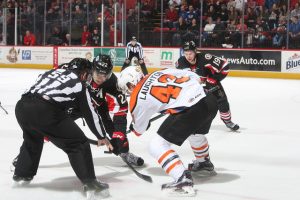 The rookie winger who was a second-round selection of the Flyers in 2014 picked off a puck at the red-line and drove up the right-wing boards. After giving a little pump-fake on a Binghamton defenseman, Aube-Kubel was successfully able to go inside-out on the lone man covering him before rifling a shot on the low near corner of the net. Chris Driedger thought he had the post sealed but the shot still had enough to sneak through and deflect into the back of the net to spoil an otherwise spectacular game for the Senators netminder.
Trailing 1-0 after 40 minutes, the Phantoms finally broke through on goalie Chris Dreidger with almost 15:00 remaining in regulation. Danick Martel across the line on the left-wing connected on a perfect timing play for Jordan Weal rushing in from the other side for a lightning quick one-stride breakaway. Weal was able to push the puck to his backhand and go around the right skate of Dreidger for the tying goal. Weal's 16th goal of the season is second most on the Phantoms and his 43rd point of the year is now good for sole-possession of second in the entire AHL.
Alex Lyon was magnificent in a 31-save performance that included perhaps a little more luck than usual. Moments before Weal would tie the game, Lyon was in trouble after a shot from Jason Akeson had Lyon scrambling. Lyon was on his belly just trying to cover space while Jack Roewald was ready on the left of the cage to put Binghamton up 2-0. But somehow Lyon was able to kick up his right leg while still laying mostly face-down to almost miraculously deflect away Rodewald's virtual sure thing.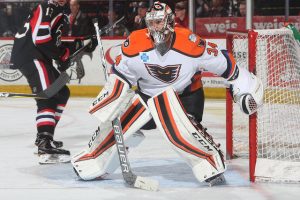 Binghamton's Jason Akeson scored 5-on-3 late in the second period to put the Senators in front against his former team after a disputed too-many-men penalty tagged on the Phantoms provided the hosts with the mega-advantage.
The Phantoms had their own 5-on-3 for a full two minutes in the first period in the middle of a Binghamton double-minor for high-sticking. But the Phantoms potent power play was stuffed by the spectacular goaltending of Dreidger who made one tremendous save after another in thwarting the recently almost-unstoppable Phantoms extra-man attack.
The Phantoms won their third in a row and their fifth in their last six while they also improved to 4-0-0 against the Binghamton Senators. Lehigh Valley has one more game before the AHl All-Star Break.
Lehigh Valley improved to 29-11-2 overall after 42 games into the regular season and remains on pace to potentially become the first-ever Phantoms team to win 50 games in a season. The current high for the franchise is 49 wins established by the Philadelphia Phantoms in 1996-97 in the inaugural season of the team's existence.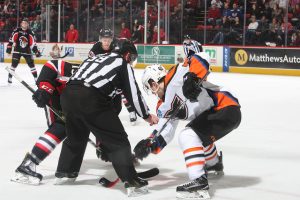 The Phantoms travel to Bridgeport, Connecticut for a 7:00 engagement on Saturday night to take on a surging Sound Tigers squad that has won six in a row. Saturday's game can be heard on 790-WAEB, the Phantoms 365 app, and Phantoms Radio 24/7 available on TuneIn.
Binghamton out shot the Phantoms 42-32. Lehigh Valley was 0-for-6 on the power play while Binghamton finished 1-for-5. The Phantoms and Senators will meet in Lehigh Valley's next home game on Wednesday, February 8 at PPL Center.
Lehigh Valley Phantoms 2 at Binghamton Senators 1
Friday, January 27, 2017 – Floyd L. Maines Veterans Memorial Arena
Lehigh Valley 0 0 2 – 2
Binghamton 0 1 0 – 1
1st Period- No Scoring.Penalties-Weal Lv (high-sticking), 4:09; Weal Lv (tripping), 6:54; Englund Bng (double minor – high-sticking), 14:11; Kostka Bng (tripping), 15:46.
2nd Period-1, Binghamton, Akeson 5 (Varone, Perron), 15:51 (PP). Penalties-Sieloff Bng (holding), 9:50; Laughton Lv (roughing), 14:12; served by Martel Lv (bench minor – too many men), 15:19.
3rd Period-2, Lehigh Valley, Weal 15 (Martel, Willcox), 4:51. 3, Lehigh Valley, Aube-Kubel 6 14:55. Penalties-Laughton Lv (high-sticking), 1:03; Paul Bng (holding), 5:20; Willcox Lv (holding), 7:59; Weal Lv (holding), 15:03; Flanagan Bng (high-sticking), 15:03.
Shots on Goal-Lehigh Valley 16-11-5-32. Binghamton 13-12-17-42.
Power Play Opportunities-Lehigh Valley 0 / 5; Binghamton 1 / 6.
Goalies-Lehigh Valley, Lyon 18-8-2 (42 shots-41 saves). Binghamton, Driedger 8-7-2 (32 shots-30 saves).
A-3,051
Referees-David Banfield (77).
Linesmen-Jim Harper (59), Jud Ritter (34).
And for the latest Phantoms news, visit www.phantomshockey.com or follow the team on Facebook (www.facebook.com/lehighvalleyphantoms), Twitter (@lvphantoms), Instagram (@lehighvalleyphantoms) and Snapchat (lvphantoms).
The Phantoms are thrilled to host the 2017 AHL All-Star Classic presented by Capital BlueCross at PPL Center January 28-30. The AHL All-Star Classic weekend includes a Phan Fest during the day on Saturday, January 28 and a Tailgate Party that evening, followed by the AHL All-Star Skills Competition on Sunday, January 29 and the 2017 AHL All-Star Game on Monday, January 30. Don't miss this once-in-a-lifetime event. Packages starting at just $67 for the 2017 AHL All-Star Classic presented by Capital BlueCross are on sale now and include admission to Saturday's Phan Fest & Tailgate Party, Sunday's AHL All-Star Skills Competition and Monday's All-Star Game. To purchase tickets, please visit www.phantomshockey.com or www.pplcenter.com.
The Phantoms are coming off their 20th Anniversary Season and second campaign in the Lehigh Valley playing at the state-of-the-art PPL Center. Established in 1996, the Phantoms spent their first 13 seasons at the Spectrum in Philadelphia before re-locating to Glens Falls, New York in 2009 where the team spent the next five seasons as the Adirondack Phantoms. A new era of Phantoms hockey began in the fall of 2014 when the Lehigh Valley Phantoms began play at the state-of-the-art PPL Center. Through 20 incredibly successful campaigns, the Phantoms have captured two Calder Cup Championships (1998, 2005), two Conference Championships (1998, 2005), two Regular Season Titles (1996-97, 1997-98) and four Division Championships (1996-97, 1997-98, 1998-99, 2003-04).