Phantoms Win Wild Affair 5-4 in Return From Holiday Break
December 27, 2017
Wilkes-Barre, PA – Tyrell Goulbourne registered his first career Gordie Howe Hat Trick in helping the Lehigh Valley Phantoms in a crazy and feisty 5-4 victory at the Wilkes-Barre/Scranton Penguins on Wednesday night. Goulbourne's fight and goal (6th) came in the second period and then he registered an assist on an empty-netter in the third to cap the accomplishment.
Also scoring goals for the Phantoms were T.J. Brennan (3rd), Mike Vecchione (8th), Chris Conner (7th) and Phil Varone (10th). Despite allowing four goals, Dustin Tokarski was tremendous between the pipes with 32 saves in a game that turned into a virtual shinny-style track-meet at times including significant portions of the crazy second period.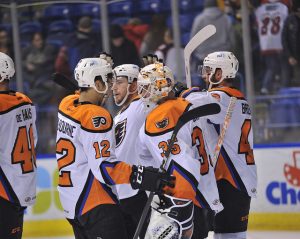 Vecchione's goal came in his first game back from an injury he had sustained on December 9th. It was assisted by Philippe Myers who was playing his second game back in his return from an injury taken on November 25th.
Lehigh Valley now has a five-game point streak at 4-0-1 and improved their December record to 8-2-2. The Phantoms are also 9-3-2 in their last 14 games and boast a mark of 4-2-1 against the rival Penguins after winning a pair of one-goal contests immediately before and after the holiday break at Wilkes-Barre's home arena. The Phantoms improved to 10-1-4 in one-goal decisions.
More importantly, Lehigh Valley's overall record was upped to 20-9-4 allowing the Phantoms to leapfrog the Charlotte Checkers for second place in the Atlantic Division heading into the pivotal weekend showdown series between the two highest scoring teams in the conference.
At some point in the second period it was like a switch went on for both teams and the game completely opened up with crazy breakaways and odd-man rushes racing back and forth at the respective goaltenders.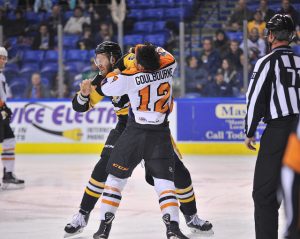 "I thought we had more (chances) than they did," head coach Scott Gordon said. "DeSmith gave up five goals and it easily could have been ten. Between the breakaways and the power play with some backdoor plays, he made some phenomenal saves."
Goulbourne stepped up to the challenge when the game heated up in the second period in his fight with Jared Tinordi of the Penguins. The third-year winger has dropped the gloves in three consecutive games and of his four total fights this season, three have come against rival Wilkes-Barre/Scranton.
"I don't think this team likes me very much," Goulbourne said. "I sized up with that guy. I didn't realize how big he was but I tried to make the best of it. I'm pretty sure I had to jump in the air to try and reach him!"
The Phantoms may have benefited from a little bit of help from Lady Luck on three of their goals. T.J. Brennan's strike to open the scoring was into a mostly open net after Wilkes-Barre/Scranton goalie Casey DeSmith was taken out of the crease by his own teammate after an earlier collision. Mike Vecchione's power-play goal late in the first period was a strange bank off the leg of a Penguins defenseman on what was intended as a pass. And Goulbourne's goal came after a DeSmith breakaway save when the speedy forward jammed the puck home from the side of the cage that had been briefly lifted up in the air.
Brennan opened the scoring on the strange open-net goal that was almost blocked out by a Wilkes-Barre/Scranton defenseman. His third goal of the season at 2:57 into the game was also the 137th of his career moving him to within 29 of the all-time defenseman record held by the legendary former Phantom John Slaney.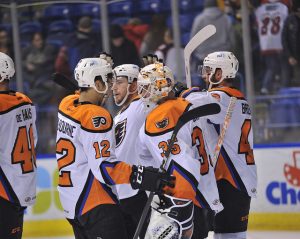 Lehigh Valley would strike again after Goulbourne's first breakaway of the game induced a tripping penalty and subsequent power play. Vecchione, from the left of the cage, was intending to pass but a bank-shot off the leg of Wilkes-Barre defenseman Frank Corrado caromed perfectly to the far post for a 2-0 lead. Corban Knight assisted on the first two Phantoms goals of the night.
Wilkes-Barre/Scranton struck back in the second period to even the score. Colin Smith (4th) converted on the rebound of a Daniel Sprong rocket from the left circle off the chest of Tokarski that was flipped across the slot by Garret Wilson. The goal came immediately after a Penguins' power play had expired and was essentially a consequence of the continuation of the man-advantage opportunity.
Gage Quinney (6th) equalized down low at 10:54 into the second to forge a 2-2 tie that wouldn't last long.
Goulbourne raced away on a lead pass by Brennan. His second breakaway of the game was initially denied by DeSmith but Goulbourne was able to stuff in the rebound while reaching in midair from an awkward angle for the acrobatic style tally and a 3-2 lead at 12:03 into the second.
As the track-meet was getting ratcheted up, the Phantoms would bury another one just 1:37 later. Steven Swavely won the puck in the neutral zone and found Radel Fazleev sprinting up the right wing who neatly connected to Chris Conner to bury the 2-on-1. Conner has scored in back-to-back games against his former team and eight of his 23 points this season have come against the Penguins. This goal gave Lehigh Valley a 4-2 lead but only for 17 seconds.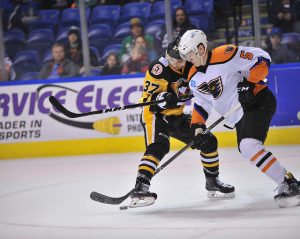 A Phantoms attempted pass was turned into a breakaway for the Penguins which Garret Wilson buried at 13:57 for his sixth to cut the Phantoms margin down to 4-3.
Lehigh Valley hung on to the one-goal lead for almost the rest of the contest in an exciting conclusion that featured numerous fine stops from Tokarski throughout much of the third period. The Phantoms tacked on their fifth goal via an empty-netter with 1:21 left when Phil Varone found the back of the net from just behind the blue-line.
Adam Johnson converted on the rush capping a Teddy Blueger entry pulling the Penguins back to within a goal at 5-4 but with only 10.5 seconds remaining. Lehigh Valley pushed through to the finish to secure the win.
The Penguins out shot Lehigh Valley 36-35. The Phantoms were 1-for-5 on the power play while Wilkes-Barre/Scranton was held to 0-for-3.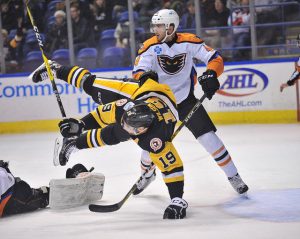 Lehigh Valley returns home on Friday, December 29 and Saturday, December 30 when the Phantoms host the Charlotte Checkers, AHL affiliate of the Carolina Hurricanes, for a two-game series at PPL Center. December 30th is Retro Night featuring 80's style fun and retro, purple jerseys that will be offered to the fans via a live post-game jersey auction. Tickets for are available now and can be purchased online by clicking HERE.
Lehigh Valley Phantoms 5 at Wilkes-Barre/Scranton Penguins 4 – Status: Final
Wednesday, December 27, 2017 – Mohegan Sun Arena at Casey Plaza
Lehigh Valley 2 2 1 – 5
W-B/Scranton 0 3 1 – 4
1st Period-1, Lehigh Valley, Brennan 3 (Knight, Martel), 2:57. 2, Lehigh Valley, Vecchione 8 (Knight, Myers), 14:35 (PP). Penalties-Aube-Kubel Lv (roughing), 2:57; Dea Wbs (slashing, roughing), 2:57; Dea Wbs (hooking), 9:54; Brennan Lv (elbowing), 10:53; Czuczman Wbs (tripping), 12:53; Vecchione Lv (high-sticking), 18:54.
2nd Period-3, W-B/Scranton, Smith 4 (Wilson, Sprong), 0:56. 4, W-B/Scranton, Quinney 6 (Tinordi, Sprong), 10:54. 5, Lehigh Valley, Goulbourne 6 (Brennan), 12:03. 6, Lehigh Valley, Conner 7 (Fazleev, Swavely), 13:40. 7, W-B/Scranton, Wilson 6 (Corrado, Quinney), 13:57. Penalties-Goulbourne Lv (fighting), 2:46; Tinordi Wbs (fighting), 2:46; Wilson Wbs (slashing), 3:16; Myers Lv (unsportsmanlike conduct), 5:23; Corrado Wbs (roughing), 5:23; Wilson Wbs (cross-checking), 5:23; Martel Lv (interference), 6:48.
3rd Period-8, Lehigh Valley, Varone 10 (Goulbourne), 18:39 (EN). 9, W-B/Scranton, Johnson 3 (Blueger, Dea), 19:48. Penalties-No Penalties
Shots on Goal-Lehigh Valley 10-15-10-35. W-B/Scranton 11-15-10-36.
Power Play Opportunities-Lehigh Valley 1 / 5; W-B/Scranton 0 / 3.
Goalies-Lehigh Valley, Tokarski 10-2-3 (36 shots-32 saves). W-B/Scranton, DeSmith 10-5-2 (34 shots-30 saves).
A-7,414
Referees-Peter Schlittenhardt (12), Olivier Gouin (54).
Linesmen-Tom DellaFranco (71), Ryan Knapp (73).
Reserve your group outings for the 2017-2018 season of Phantoms hockey. For more information on how to reserve your seat at PPL Center to the hottest ticket in town, call the Phantoms front office today at 610-224-GOAL [4625]!