Game Preview
Lehigh Valley Phantoms (8-2-2) vs. Hershey Bears (8-4-2)
Wednesday, March 24, 2021 at 7:05 p.m. – PPL Center, Allentown, PA
Tonight's Game – The first-place Lehigh Valley Phantoms carry a three-game win streak into tonight's game against the Hershey Bears. Lehigh Valley is 4-1-0 against Hershey entering Game 6 out of 14 in this season's rivalry series. This is the 13th game of the season for the Phantoms and the team's fifth home game. The Phantoms are 3-0-1 at PPL Center.
Last Time Out – Tanner Laczynski scored the overtime winner shortly after his first pro goal earlier in the game had tied the score in the third period and the Phantoms won a 5-4 thriller over the Wilkes-Barre/Scranton Penguins. Laczynski's first two pro goals led the Phantoms to their league-leading fifth overtime triumph this season. Wade Allison and Tyson Foerster both scored for a second consecutive game and Chris Mueller notched his 243rd career goal, most among active AHL players. After a scoreless first period, the two teams racked up six goals in barely more than 10 minutes to begin the second period. Lehigh Valley opened a 3-1 lead but fell behind 4-3 before yet another come-from-behind rally.
Get Your Tickets, Here!! – The Phantoms and PPL Center are pleased to announce they are "Back to Live." Lehigh Valley Phantoms home games at PPL Center will now be held at 15% capacity. Sunday's overtime win against Wilkes-Barre/Scranton was the first game in which hthe general public was allowed to attend. For many fans, it was their first game Back to Live in over a year.
The Phantoms will be allowed to allow 25% capacity beginning with their home game on Saturday, April 10. Limited tickets for all upcoming Phantoms home games are on sale to the general public at phantomshockey.com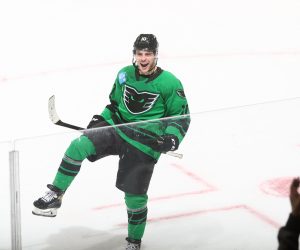 Let's Stay Late – The Lehigh Valley Phantoms have played SEVEN overtimes in 12 completed games to lead the AHL in extra-period hockey. Lehigh Valley also leads the circuit with five overtime wins.
The Phantoms had their first four overtime wins on the road this season with Ryan Fitzgerald (Feb 6 at Hershey), David Kase (February 14 at Hershey), Max Willman (February 20 at Binghamton) and Ryan Fitzgerald again (March 8 at Wilkes-Barre/Scranton) scoring the winners. Tanner Laczynski notched the first overtime winner at home for the Phantoms on March 21 against Wilkes-Barre/Scranton.
Binghamton's Brett Seney (February 10) and Wilkes-Barre/Scranton's Frederick Gaudreau (Feburary 27) have victimized the Phantoms in the 3-on-3 session. Ryan Fitzgerald became just the third player in Lehigh Valley history to score two overtime goals in a single season.
Red-Hot Rookies – Wade Allison and Tyson Foerster both scored their first career pro goals on March 14 at Hershey and since then followed it up with goals in a second consecutive game when both scored on March 21 vs. Wilkes-Barre/Scranton.
Killin' It! – The Phantoms have the top penalty kill in the AHL with a 91.4% success rate (32-for-35). Lehigh Valley's P.K. was strong out of the gates giving up just 1 out of 27 to open the season. The Phantoms have been especially strong against Hershey holding the Bears to 0-for-15.
Cal Closes In – Cal O'Reilly is knocking on the door to become only the 10th player in AHL history to record 500 assists. The AHL active's scoring leader currently has 491 helpers including six this season. O'Reilly's 618 career point rates 43rd all-time in AHL history. He currently stands 13th in assists and is two away from catching long-time Buffalo Bisons great Larry Wilson (1951-68) for 12th.
Milestone for Gordo – Head coach Scott Gordon has 397 career wins including 176 wins with the Lehigh Valley Phantoms and 221 wins with the Providence Bruins. Only five other coaches in AHL history have reached the 400 Win milestone.
Contract Extension – Defenseman Logan Day has been signed to a contract extension for the 2021-22 season. The righty-shooting talent in his third season as a pro has impressively produced at almost a point-per-game. Congrats to the product of DIII Endicott College, Logan Day!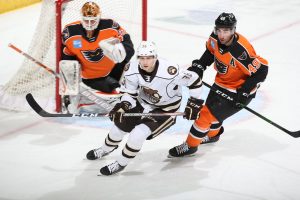 Scouting the Bears – Capitals first-rounder Connor McMichael scored a late tying goal with 54 seconds remaining and then a buzzer-beating overtime winner with just 0.5 seconds left in a Sunday comeback rally against the Binghamton Devils. Hershey blasted away for 51 shots in the overtime contest but trailed 2-1 until the last minute of regulation. McMichael leads the Bears with six goals which includes a hat trick against the Penguins a month ago. The Bears roster was juggled a little bit today as the team lost its top two scorers in Garrett Pilon (4-14-18) and Mike Sgarbossa (5-5-10) to the Capitals while two players returned to Hershey from the Washington taxi squad in Brian Pinho and Phillippe Maillet. 37-year-old veteran captain Matt Moulson has scored 3-6-9. He previously scored 30+ goals for the NY Islanders including one season when Scott Gordon was his head coach.
The Series – Lehigh Valley is 4-1-0 against the Bears this season including a 4-1 win at Giant Center on Sunday, March 14 that included the first pro goals for Wade Allison and Tyson Foerster. The Phantoms also had a pair of overtime wins at Hershey on February 6 (Ryan Fitzgerald) and February 14 (David Kase). Hershey lost at PPL Center on March 3 in their lone visitation to Allentown this season. Cal O'Reilly tied the game with under 8:00 remaining and then Derrick Pouliot's booming slapshot from the left point was the game-winner past Pheonix Copley with 5:59 to go. Hershey is 0-for-15 on the power play against the Phantoms this season.
David Kase has scored 1-4-5 in the season series and Zayde Wisdom has 2-2-4. Both had three-point games at Hershey on February 14.
Cameron Schilling has scored 1-3-4 vs. Lehigh Valley and Axel Jonsson-Fjallby has scored three of his four goals against the Phantoms.
Special Teams – Phantoms PP: 13.5%, 21st in AHL. 6-for-27 for 22.2% after beginning 1-for-25 / Phantoms PK: 91.4% (allow 3-for-35), 1st in the AHL
Hershey Power Play: 12.5%, 26th in AHL / Hershey PK: 82.0%, 11th in AHL
Phantoms PP vs. Hershey: 3/22, 13.6% / Bears PP vs. Lehigh Valley: 0/15, 0%
Upcoming – The Phantoms travel to Newark on Friday for a game vs. the Binghamton Devils. Lehigh Valley returns home on Saturday against Binghamton.
Provident Bank Pennsylvania Cup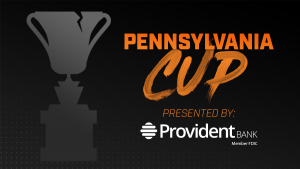 Phantoms 6-2-1 = 13
Bears 3-3-2 = 8
Penguins 3-2-2 = 8
Mar 21: Phantoms 5 – Penguins 4 (OT)
Mar 24: Bears at Phantoms
Mar 26: Bears at Penguins
Mar 31: Bears at Phantoms
April 3: Penguins at Phantoms