Maroon Faced with a Back-to-Back Run at Hockey's Ultimate Prize
When the puck drops for game one of the Stanley Cup Final between Tampa Bay Lightning and Dallas Stars this Saturday, September 19, former Phantoms forward Patrick Maroon will be helping to push his team towards raising the Stanley Cup.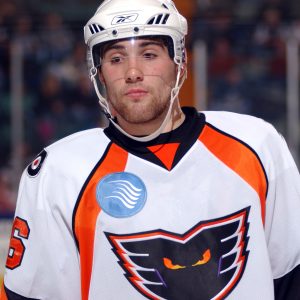 After lifting Lord Stanley's Cup as a member of the St. Louis Blues this past season, Maroon will be looking to help the Tampa Bay Lightning win both his and the franchise's second Stanley Cup.
Now in his 12th professional season, the St. Louis, Missouri, native has quite a lengthy playoff resume.  With 87 career playoff games in the bag, Maroon has seen postseason action with Philadelphia, Anaheim, Edmonton, New Jersey, St. Louis and now Tampa Bay.  Through those runs, the 32-year-old winger has amassed 16 goals and 21 assists for a total of 37 postseason points.
A sixth-round selection (161 overall) of the Philadelphia Flyers in the 2007 NHL Entry Draft, Maroon began his career with the Philadelphia Phantoms in 2008 and went on to play a total of 157 between Philadelphia and Adirondack in which he netted 39 goals and notched 67 assists for 106 points as well as 217 penalty minutes.  In total, the veteran has skated in 353 AHL tilts in which he has 278 points (118G-160A).
And while he never actually played a game for the Flyers, Maroon has appeared in 513 regular-season NHL contests and tallied a total of 229 points (97G-132A).
The Lightning, who have appeared in the Finals twice (2004, 2015), will look to claim the team's second Stanley Cup in the last 20 years.  Back in 2004, John Tortarella coached the Lightning with players like Martin St. Louis, Brad Richards, Vincent Lecavalier and former Philadelphia Phantoms and Flyers player Ruslan Fedotenko to the team's first Cup.
---
Check out the full schedule and broadcast information for the Stanley Cup Final below.
Tampa Bay Lightning vs. Dallas Stars
Saturday, September 19
Dallas at Tampa Bay, 7:30 p.m. – NBC
Monday, September 21
Dallas at Tampa Bay, 8 p.m. – NBCSN
Wednesday, September 23
Tampa Bay at Dallas, 8 p.m. – NBCSN
Friday, September 25
Tampa Bay at Dallas, 8 p.m. – NBC
*Saturday, September 26
Dallas at Tampa Bay, 8 p.m. – NBC
*Monday, September 28
Tampa Bay at Dallas, 8 p.m. – NBC
*Wednesday, September 30
Dallas at Tampa Bay, 8 p.m. – NBC
*if necessary