Lycksell with Pair of Helpers as Isles Prevail 4-3
January 13, 2023
Lehigh Valley, PA – Tyson Foerster (10th, 11th) scored twice and Jackson Cates (7th) converted late in the second period, but the Bridgeport Islanders came away with a 4-3 overtime victory on Aatu Raty's breakaway conversion  Friday night at PPL Center. Olle Lycksell finished the night with two helpers on both of Foerster's goals and continues to lead the Phantoms in scoring with 24 points in 23 games.
Lehigh Valley (16-13-5) now has a four-game point streak (2-0-2) to begin calendar 2023. The Phantoms had several great chances in the extra period but couldn't find the winner past veteran goaltender Cory Schneider.
Bridgeport (15-14-7) ended a franchise-record 11-game winless skid with its first win in over a month.
The Tyson Foerster Show started only 12:06 into the contest when he scored his first of two goals on Islanders netminder Cory Schneider. Kevin Connauton held the puck in the Bridgeport zone along the half-boards and connected with Olle Lycksell beneath the goal line. From behind the Islanders net, a centering pass to an open Foerster resulted in a lethal, bar-down shot past the glove of Schneider for the game's opening tally.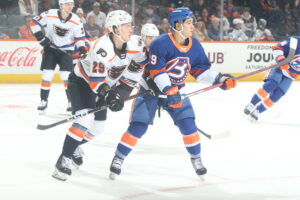 Felix Sandstrom stopped all 10 Bridgeport shots faced in the opening 20 minutes, and Lehigh Valley carried their one-goal margin into the first intermission.
The Islanders connected twice in the middle frame's opening 3:35 to grab a 2-1 advantage in sudden fashion. Former Phantoms forward Andy Andreoff brought his club even with his team-best 19th goal of the season on quick transition at 1:18 from Arnaud Durandeau and Chris Terry. Andreoff has four goals against ex-team this season scoring once in each of the four games the Phantoms and Islanders have played.
Just over two minutes later, Jeff Kubiak tickled the twine on Sandstrom off a quick transition into the Lehigh Valley zone. Another former Phantoms forward, Cole Bardreau, added the primary assist at 3:35.
The Phantoms quickly responded and found the equalizer with another dazzling goal from Foerster. After a trip in neutral ice went undetected, Foerster absorbed a perfect stretch pass at center ice from Lycksell. From 100 feet out, the Allison, Ontario native went 1-on-1 with Schneider and finished a shake-and-bake move past the left skate of the sprawled netminder with a shot low to the ice at 7:48 to forge a 2-2 tie.
Foerster becomes the third Lehigh Valley Phantom to reach double-digits in goals this season joining Elliot Desnoyers (12) and Artem Anisimov (12).
Later in the second period, Adam Brooks and Jackson Cates teamed to spark a 3-2 Phantoms advantage. At 15:50, Brooks raced to a puck sailed up the right boards by Jordy Bellerive from the defensive zone and then spun a perfect, centering pass to Cates for the scoring chance. The quick release fooled Schneider, and the Orange and Black held a 3-2 lead into the second intermission. Shots after 40 minutes were 20-19 Bridgeport.
But in the final frame, Otto Koivula tied the score at 3-3 with a power-play goal at 6:43. A clearing bid in the Lehigh Valley zone was unsuccessful, and immediately after, Koivula turned and fired a loose puck into the net past Sandstrom.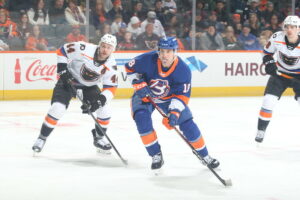 In the 3-on-3 frame, Foerster nearly completed the hat trick but fired the puck wide of Bridgeport's net. On the next shift, Kevin Connauton almost buried it on the backdoor from Adam Brooks but a strong pad save by Schneider kept the Islanders alive and allowed Aatu Raty to counter and score his sixth goal of the season on the breakaway for the overtime winner at 2:36.
The Phantoms are 2-1-1 against Bridgeport this season and went 1-0-1 against the Islanders in the home-and-home series.
The Phantoms return to PPL Center Saturday night hosting the Syracuse Crunch, AHL affiliate of the Tampa Bay Lightning.
SCORING SUMMARY
1st – 12:06 – LV T. Foerster (10) (O. Lycksell, K. Connauton) 1-0
2nd – 1:18 – BRI A. Andreoff (19) (A. Durandeau, C. Terry) 1-1
2nd – 3:55 – BRI J. Kubiak (5) (C. Bardreau, S. Helgeson) 1-2
2nd – 7:48 – LV T. Foerster (11) (O. Lycksell) 2-2
2nd – 15:50 – LV J. Cates (7) (A. Brooks, J. Bellerive) 3-2
3rd – 6:43 – BRI O. Koivula (8) (D. Cholowski) (PP) 3-3
OT – 2:36 – BRI A. Raty (6) (W. Dufour, R. Salo) 3-4
Shots:
LV 28 – BRI 27
PP:
LV 0/2, BRI 1/3
Goalies:
LV – F. Sandstrom (OTL) (2-0-2) (23/27)
BRI – C. Schneider (W) (11-3-2) (25/28)
Records:
Lehigh Valley (16-13-5)
Bridgeport (15-14-7)
Phantoms Tickets are available HERE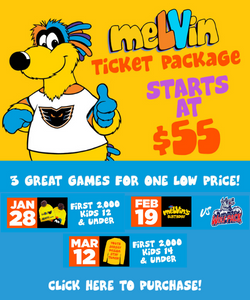 UPCOMING SCHEDULE
Saturday, January 14 (7:05) vs. SYRACUSE CRUNCH
Tuesday, January 17 (7:00) at Cleveland Monsters
Wednesday, January 18 (7:00) at Cleveland Monsters
Friday, January 20 (7:05) at Wilkes-Barre/Scranton Penguins
UPCOMING PROMOTIONS
Saturday, January 14 (7:05) vs. Syracuse Crunch – Valley Youth House Night Presented by Air Products – Toilet Paper Donation Drive with great prizes
Sunday, January 22 (11:00 a.m.) – Phantoms Outdoor Practice presented by Velaspan at Spring Mountain in Schwenksville. Free to the public!
Wednesday, January 25 (7:05) vs. Hershey Bears – Pregame Happy Hour. $2 Miller Lites and Yuenglings available until Puck Drop.
Friday, January 27 (7:05) vs. Wilkes-Barre/Scranton Penguins – Flyers Night with Lou Nolan and GRITTY!!!
Saturday, January 28 (7:05) vs. Hershey Bears – meLVin Youth Beanies presented by Lehigh Valley Reilly Children's Hospital (first 2,000 kids age 12 and younger)