Friday, January 13, 2023 at 7:05 p.m.
Lehigh Valley Phantoms (16-13-4) vs. Bridgeport Islanders (14-14-7)
PPL Center, Allentown, PA
TONIGHT
The Lehigh Valley Phantoms play their first home game of 2023 as they host the Bridgeport Islanders in the finale of a divisional home-and-home series. The Phantoms took the Wednesday meeting in Bridgeport 3-1.
Lehigh Valley (16-13-4) took five of six standings points on their three-game road trip to Rochester, Toronto and Bridgeport with a 2-0-1 record. The Phantoms have leapfrogged two teams up to fifth-place in the division on their three-game point streak
Bridgeport (14-14-7) has dropped a franchise-record 11 consecutive games. The Islanders have not won since December 11 as they have tumbled from third-best record in the AHL all the way down to seventh place in the Atlantic Division.
Lehigh Valley is 2-1-0 against the Islanders this year. This is Game 4 of 8 in the season series and is the third visit to PPL Center for the Islanders.
LAST TIME
Wednesday, January 11, 2023
Phantoms 3 – Islanders 1
Max Willman (4th) scored a fluky goal from the opposite goal-line to break a 1-1 tie in the second period and Felix Sandstrom made 35 saves to hold off Bridgeport's late push as the Phantoms won 3-1 at Bridgeport on Wednesday night. Adam Brooks (4th) and Bobby Brink (2nd) also scored for Lehigh Valley. But everyone was talking about Max Willman's length-of-the-ice clear in the second period that was misplayed on the side of the net by Islanders' goalie Ken Appleby who accidentally redirected it into his own goal from a sharp angle. The goal was technically not a shorthanded goal as the Lehigh Valley penalty had expired at exactly the same time the puck barely made it across the line.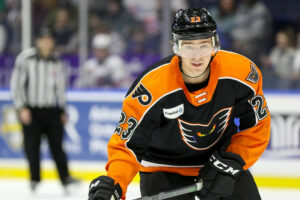 BOBBY DEBUTS AT PPL CENTER
This weekend will mark the PPL Center debut of forward Bobby Brink who has scored a goal in each of his first two games with the Lehigh Valley Phantoms. He sniped to the upper-left corner from the right dot last Friday at Rochester and then followed that one up by getting down low to knock in a rebound in the low slot on Wednesday at Bridgeport. The Flyers' second-round selection in 2019 out of the University of Denver was the NCAA scoring champ last year scoring 14-43-57 in just 41 games making him a Hobey Baker Award Hat Trick finalist. The year before, he won a gold medal for the USA at the World Juniors where he was teammates with Cam York.
Brink has been practicing and rehabbing in Allentown with the Phantoms and has been with the team since November before being officially activated and added to the roster. He had hip surgery last July and, more recently, has been practicing and rehabbing in Allentown with the Phantoms since November before being officially activated and added to the roster on Tuesday.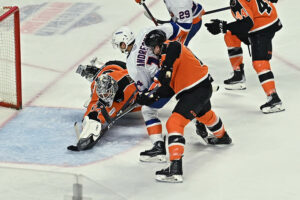 FELIX RETURNS
Goaltender Felix Sandstrom is back with the Phantoms on a two-week conditioning loan designed to provide him maximum opportunities to play. Sandstrom has started three straight games, all on the road, going 2-0-1, 2.27, .922. Wednesday at Bridgeport might have been his best as he turned aside 35 Bridgeport Islanders shots to preserve a 3-1 win.
Sandstrom has not played at PPL Center since April 30 of last season when he posted his second career shutout with 26 saves in the season finale against the Wilkes-Barre/Scranton Penguins. He's been the backup goalie with the Philadelphia Flyers this season and recorded his first NHL win on November 8 with 27 saves in a 5-1 win over the St. Louis Blues. The Flyers' third-round selection in the 2015 NHL Entry Draft has played in 14 career games with the Flyers including nine this season.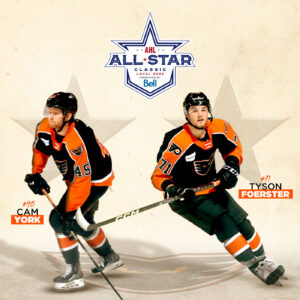 HEY NOW, YOU'RE AN ALL-STAR
Tyson Foerster and Cam York have been selected for the AHL All-Star Classic at Laval, Quebec February 5-6. The pair of talented first-rounders and World Juniors gold medalists have both thrived with the Phantoms this season. Foerster, 20, has scored 9-12-21 in 33 games with Lehigh Valley.
York, 22, scored 3-10-13 in 20 games with the Phantoms and earned a recall to the Philadelphia Flyers on December 8 where he has scored 1-7-8 in 15 games.
PHANTASTIC!
– Bobby Brink became the second Phantom this season to score in his first two career games in the AHL joining Elliot Desnoyers who scored in each of the first three games of the season.
– Artem Anisimov has moved into a tie for the team lead with 12 goals. He has four multi-goal games this season
– Elliot Desnoyers is tied for fourth among AHL rookies with Bridgeport's William Dufour with 12 goals.
– Cal O'Reilly has 699 career points. He will become the 25th player in AHL history to reach the 700-point milestone.
– Lehigh Valley's power play is sixth in the AHL at 23.6%.
– The Phantoms are….
12-4-3 when scoring 3 or more goals
12-2-1 when allowing 2 goals or fewer
12-3-4 in one-goal games
9-1-4 when scoring the first goal
10-0-3 when leading after two periods
3-2 in overtime and 2-2 in shootouts
ABOUT THE ISLANDERS
Bridgeport (14-14-7) has dropped a franchise-record 11 consecutive games (0-8-3) to tumble down the Atlantic Division standings. Former Phantom Andy Andreoff leads the Islanders with 18 goals including three against the Phantoms along with four assists in the season series.
Popular former Phantom Cole Bardreau has scored 9-6-15. Chris Terry (11-23-34) leads the Islanders in points and was the AHL scoring leader in 2017-18 with Laval in a 71-point campaign.
Lehigh Valley is 2-1-0 against Bridgeport this season including a 3-1 win at Bridgeport on Wednesday and a 6-5 shootout win on December 28 at PPL Center with Cal O'Reilly striking for the winner in the sixth round. Cooper Marody led the Phantoms in the December 28 triumph with two goals.
Adam Brooks has scored two of his four goals this season against Bridgeport.|This is Game 4 out of 8 in the season series. The Islanders make one more visit to PPL Center on February 11.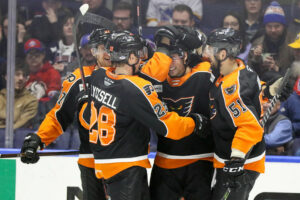 Phantoms Scoring Leaders
Olle Lycksell 6-16-22
Tyson Foerster 9-12-21
Elliot Desnoyers 12-7-19
Artem Anisimov 12-6-18
Garrett Wilson 5-10-15
Bridgeport Scoring Leaders
Chris Terry 11-23-34
Andy Andreoff 18-13-31
Ruslan Ishakov 8-17-25
Samuel Bolduc 6-17-23
William Dufour 12-10-22
Phantoms Tickets are available HERE
SPECIAL TEAMS 
Lehigh Valley Power Play – 23.6%, 6th
Lehigh Valley Penalty Kill – 71.4%, 31st
Bridgeport Power Play – 23.8%, 5th
Bridgeport Penalty Kill – 82.4%, 11th
UP NEXT
The Phantoms return to PPL Center Saturday night hosting the Syracuse Crunch, AHL affiliate of the Tampa Bay Lightning. The Phantoms ave another three-game road-swing next week beginning with a pair of games at the Cleveland Monsters on Tuesday and Wednesday.
Phantoms Tickets are available HERE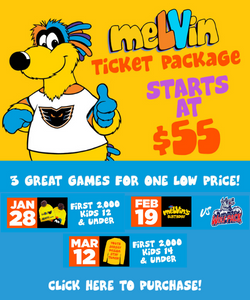 UPCOMING SCHEDULE
Wednesday, January 11 (7:00) at Bridgeport Islanders
Friday, January 13 (7:05) vs. BRIDGEPORT ISLANDERS
Saturday, January 14 (7:05) vs. SYRACUSE CRUNCH
Tuesday, January 17 (7:00) at Cleveland Monsters
Wednesday, January 18 (7:00) at Cleveland Monsters
UPCOMING PROMOTIONS
Friday, January 13 (7:05) vs. Bridgeport Islanders – Berks Dollar Dog Night
Saturday, January 14 (7:05) vs. Syracuse Crunch – Valley Youth House Night Presented by Air Products – Toilet Paper Donation Drive with great prizes
Sunday, January 22 (11:00 a.m.) – Phantoms Outdoor Practice presented by Velaspan at Spring Mountain in Schwenksville. Free to the public!
Wednesday, January 25 (7:05) vs. Hershey Bears – Pregame Happy Hour. $2 Miller Lites and Yuenglings available until Puck Drop.
Friday, January 27 (7:05) vs. Wilkes-Barre/Scranton Penguins – Flyers Night with Lou Nolan and GRITTY!!!
Saturday, January 28 (7:05) vs. Hershey Bears – meLVin Youth Beanies presented by Lehigh Valley Reilly Children's Hospital (first 2,000 kids age 12 and younger)

Broadcast coverage of all Phantoms games with Bob Rotruck is available on the Phantoms 365 app and on Real Oldies 1470-AM in Allentown. Also available on the Listen Live button at phantomshockey.com
Fans can also watch the games on AHLTV.com or can listen on their Smart Speakers at: "Play Phantoms Radio 24/7."